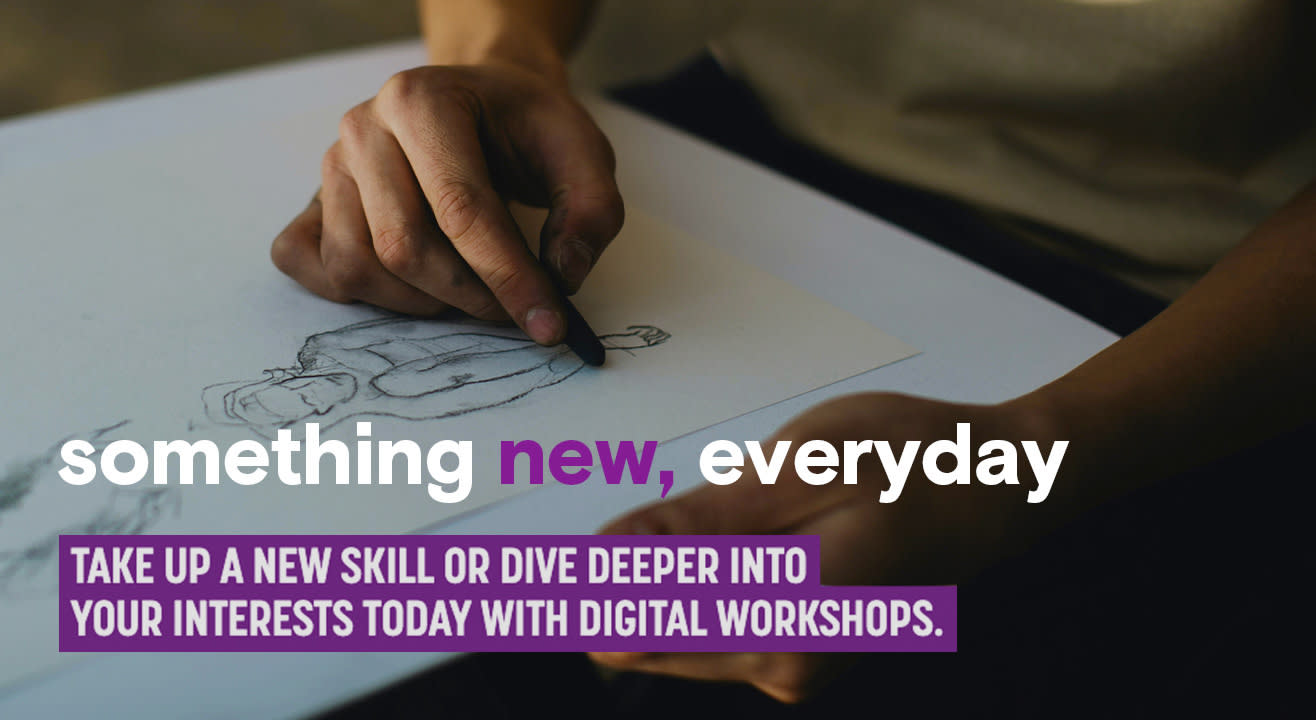 Cakes. Cartoons. Crafts. Create something everyday with digital workshops!
Check out digital workshops that'll help you make the most of your time at home.
Invite your friends
and enjoy a shared experience
Learning should never stop, and to make sure you're never out of things to do, we've got just the workshops you need. Time to get at par with all those people showing off their cooking skills on Instagram. (Yes, we're looking at all you dalgona and sourdough folks, and we're coming for you) Oh! Cooking isn't your jam? Don't worry, 'cause all these workshops need - is an appetite to learn. Choose from a wide variety of workshops that includes everything from food to art to dance, and so much more.

Create something today with these digital workshops:
What kind of workshops can I find?
Art: Bring your creativity to life
Been a while since you tried your hand at art? No better time than now to get back into it. Pick from watercolour painting, charcoal sketching, mandala making, doodling & so much more. There's a variety of digital art workshops - featuring live online demos to learn from. (We know craft can get complicated) Don't hold back at all, just bring all those colourful thoughts on paper and see it roll out step by step. Art is also therapeutic, so it might be a good idea to take up things other than your daily chores during this work from home period. You don't really have to be a pro to participate, and we can assure you this 'cause we're no experts either. Just Van Gogh get yourself registered and watch your masterpiece come alive.
Food: Treat yourself to something new!
It might be a tad bit difficult to grab a bite of your favourite street snack at this point in time. And how long can someone go without some junk? No Samosa, No Bhajiya, No Paani Puri, No Burgers, No Pizzas - tell us about it yaar. We can either continue waiting for it or just take batter into our own hands and make it at home. We all know how confusing DIY videos & online recipes can get, that's why these digital food workshops have the right food experts and talented chefs to guide you through it. With some, you even cook along as the live demo progresses. You don't have to be a sous-chef de cuisine to be a part of these food workshops, because once you begin it's like a cakewalk. Which reminds us, if you do bake some nice cakes please share it with us on Instagram. We're at @insider.in
Dance: Learn some steps, step-by-step
No need to be bummed about missing your dance classes. With digital workshops, you can continue learning new dance routines every week. Be it Bollywood, belly dance & even salsa, learn it from the best dance instructors out there. With live online workshops, you can even learn at your own pace and in the comfort of your own home.

Lots & lots more
Like we said, lots to choose from. Get started with these digital workshops and pick from fitness, yoga, gardening, coding, self-improvement. Bunch of these workshops come with a live online demo during the workshop, so learning is really convenient for you. There are workshops for kids too, something to keep the little ones entertained and busy while they're stuck indoors at home. We're all looking to do something productive with our time, aren't we? Kickstart something new or pick up a skill that you've always wanted to try. Digital workshops have plenty for you - It's online and oh it's ON!
How do I attend these digital workshops?
You can take one right from your home. Learn your favourite skills virtually with digital workshops via a live stream of the workshop that comes straight to your home. (comfort level max) Sign up and get tickets to the digital workshop of your choice now! Click here to check out all workshops.

Subscribe to receive our newsletter!
Find the best experiences happening out there in your city or enjoy handpicked content while sitting comfortably at home. Paytm Insider is your go-to place to figure out what to do today!