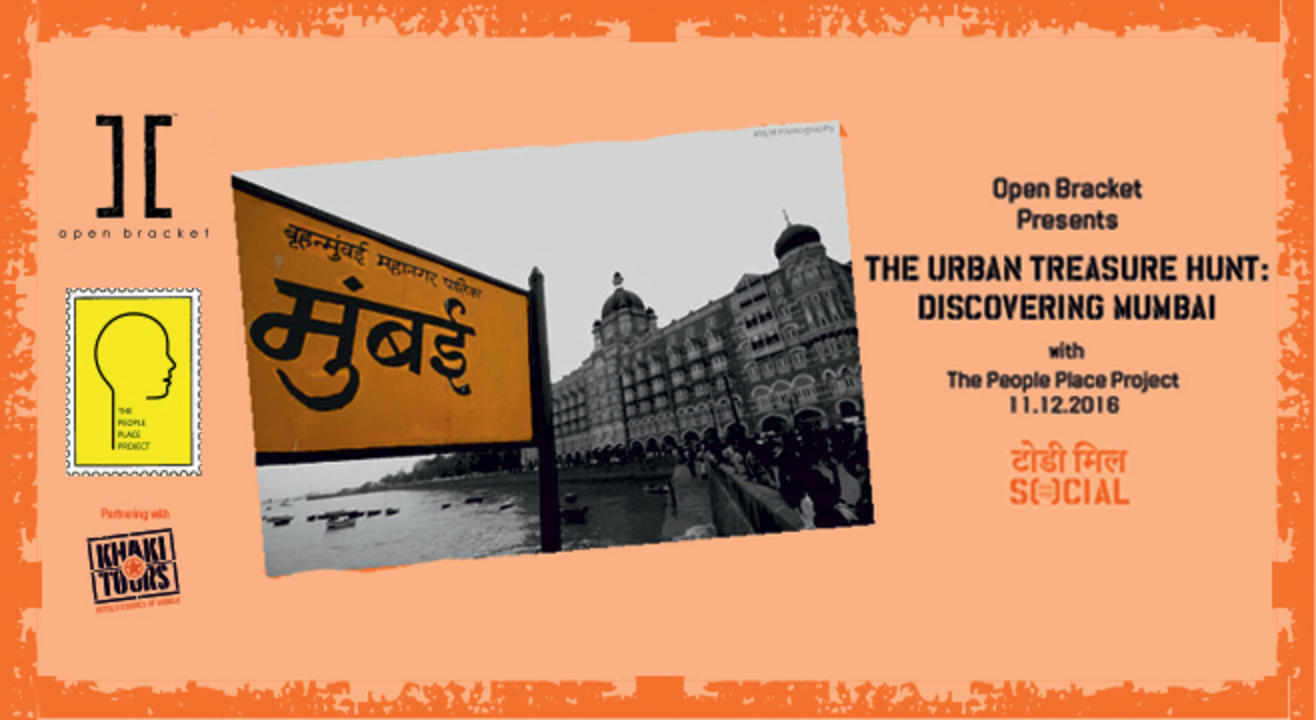 Open Bracket Presents- The Urban Treasure Hunt
Step out and enjoy this event
Event Guide
Digital Event
Todi Mill Social, Mumbai
A Story Trail
A Story Trail - A treasure hunt with clues hidden in stories
Open to everyone
Open to everyone - You and your family and friends can be a part of this
For those o a budget
For those o a budget - It's cheap and you learn photography and writing tips
On a Sunday
On a Sunday: Get out and discover Mumbai
Invite your friends
and enjoy a shared experience
Event Guide
Digital Event
Todi Mill Social, Mumbai
A Story Trail
A Story Trail - A treasure hunt with clues hidden in stories
Open to everyone
Open to everyone - You and your family and friends can be a part of this
For those o a budget
For those o a budget - It's cheap and you learn photography and writing tips
On a Sunday
On a Sunday: Get out and discover Mumbai
Invite your friends
and enjoy a shared experience
About the Event
How does one truly discover a place? We say, through engaging with the people who live, work and shape the place as we see it. Though we read so many books, watch so many
videos or movies, see so many photographs that celebrate the city, how often have you taken the effort to truly be out there and find out what the city and its people have to say. Here is your chance: Open Bracket brings to you the URBAN TREASURE HUNT- DISCOVERING MUMBAI; as a method of engaging you with your city. Designed in an entertaining manner, this Treasure Hunt is also the beginning point to discover your city, attempting to capture and understand the city through stories of its people. 
But you should be told that this a TREASURE HUNT WITH A TWIST. Yes you get a map, a trail and a few clues. But we are going to TREASURE HUNT FOR 'STORIES' THIS TIME. We will not only discover some hidden and unseen places, but also get to know some beautiful stories.
A LITTLE ABOUT THE HOWs: 
All participants will be oriented to who we are: Open Bracket and the People Place Project. A few tips for writing and photography will be discussed that will come in handy during the hunt. We have plotted trails across the precincts of Dadar and Lower Parel. You can take your pick and participate in this story hunt on basis of the 'clues'. And make sure you don't miss the surprises- reserved for you. ;-) All the participants will be teamed up in groups of 2 or 3.
WHO CAN APPLY?
-All of you!!! 
-Those who are excited about the possibility of being published. 
-Those who would like to see Mumbai differently.
-Photographers- amateur, professional or just interested.
-Those interested in writing or journalism.
About Open Bracket: Open bracket is an experimental platform for all things creative! We organize custom made workshops that stand firmly in the no man's land between classroom lectures and professional training, though never shying away from mandatory hops of fun. The workshops are conducted by professionals who are invited from an extensive list of artists and creators from all over the country. To know more log on to - http://openbracket.in/
This treasure hunt is in collaboration with the People Place Project. The People Place Project is a research and publication initiative engaged in mapping cities/places through personal narratives, stories of its citizens. In this light they have already published People Called Mumbai (2015) and are currently working on People Called Ahmedabad and People Called Shillong in the series. (2017) The books are an anthology of 55 true stories of the citizens, through which they hope to provide an intimate re-reading of the city. This treasure hunt is a part of their ongoing engagement with the idea of 'city consciousness'
Khaki Tours are our supporters for the treasure hunt. With the mission of 'Heritage Evangelism' they aim to generate awareness about heritage and encourage conservation.
Todi Mill Social, Mumbai
CS #242, Near Viva Centre, Mathuradas Mill Compund, Lower Parel West, Mumbai
GET DIRECTIONS