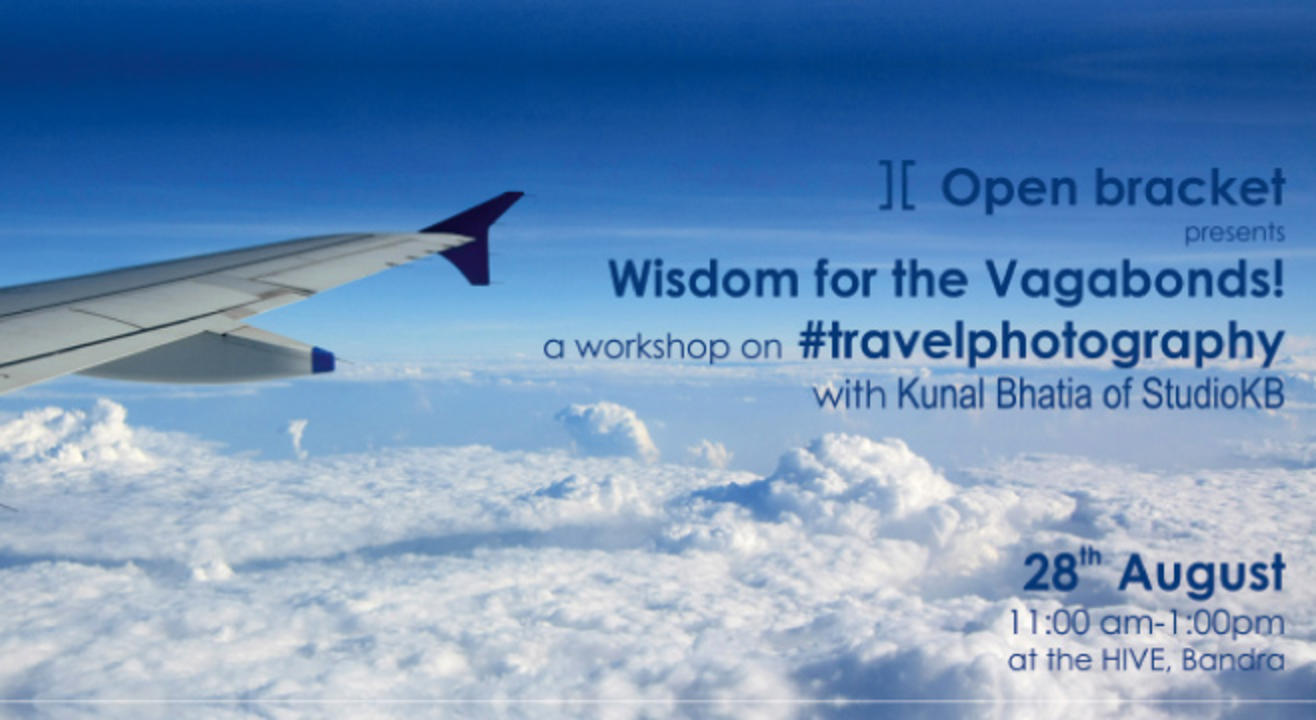 Workshops
Open Bracket presents- Wisdom for the Vagabonds, A travel photography workshop!
About
It has been said that 'travel' in all of it's far-reaching, subjective splendor, has the paradoxical power to leave you speechless even as it turns you to a storyteller. Most of us grappling with city life today cannot wait to pack up our bags and head out into the unknown, and once back, cannot resist sharing our experiences with the world. Documenting your travel has more benefits than it being an account of the amazing experiences you've had. It helps you capture the little moments of clarity and inspiration, and allows you to revisit them whenever you like! So if you want to travel blog the right way, for yourself or the world, let Open Bracket show you how!
Our upcoming series of workshops will focus on why to document your travelling and how, from when to experience and what to capture, to putting up the good stuff on your blog or social media. Through two inventive, fun sessions, on TRAVEL BLOGGING and TRAVEL PHOTOGRAPHY we turn you into a storyteller, with the wisdom of the world! This one will focus on Travel photography.
Workshop on travel photography: Want to bring back memories, tell a story and relive the best moments from your adventures? Then our workshop on travel photography is for you! As varied as the many facets that make up a travel experience; photographing while travelling makes one shoot everything from people to places, foods to festivals and monumental buildings to natural wonders. Let our guest Kunal Bhatia of Studio KB help you discover the world of travel photography beyond casual snapshots and group selfies: with dozens of tips and techniques to plan for the best photos, shoot a variety of subjects and sometimes even capture beyond what your eye can see.
About Open Bracket: Open bracket is an experimental platform for all things creative! We organize custom made workshops that stand firmly in the no man's land between classroom lectures and professional training, though never shying from mandatory hops of fun. The workshops are conducted by professionals who are invited from an extensive list of artists and creators from all over the country. To know more log on to - http://openbracket.in
Book any workshop ticket and get a 7-day cult.fit pass FREE. Offer valid till 31st September. (T&C apply) Click here for more information
Venue
The HIVE, Mumbai
The Hive, 50 - A, Huma Mansion, Opposite Ahmed Bakery, Chuim Village Rd, Khar West, Mumbai, Maharashtra, India 400050