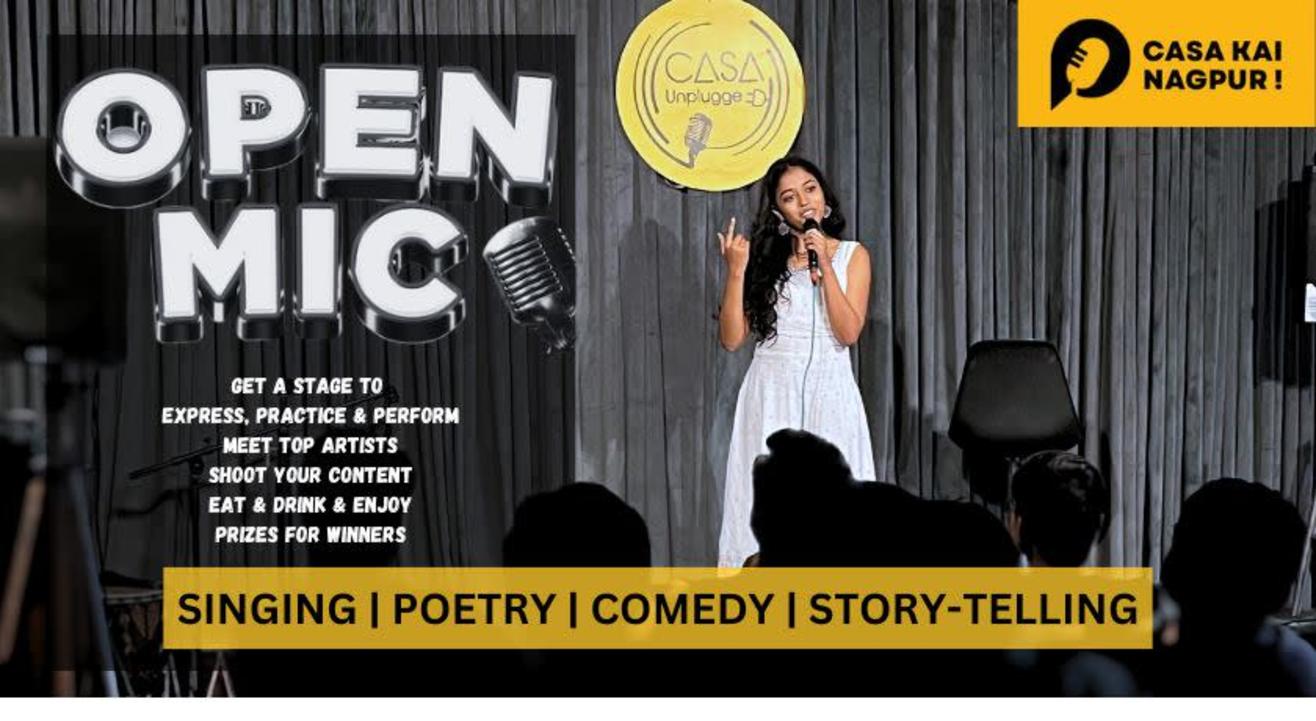 OPEN MIC - by Casa Kai Nagpur
September 24 | 3PM - October 1 | 5PM
Event Guide
Language
Hindi, English, Hinglish, Marathi
Live Performance
Enjoy a unique experience
Invite your friends
and enjoy a shared experience
OPEN MIC - by Casa Kai Nagpur
September 24 | 3PM - October 1 | 5PM
Event Guide
Language
Hindi, English, Hinglish, Marathi
Live Performance
Enjoy a unique experience
Invite your friends
and enjoy a shared experience
Event Guide
Language
Hindi, English, Hinglish, Marathi
Live Performance
Enjoy a unique experience
Covid 19 Safety Measures
This event adheres to the following

Health & safety measures
Limited Capacity
Proof of Vaccination Required
Invite your friends
and enjoy a shared experience
Covid 19 Safety Measures
This event adheres to the following

Health & safety measures
Limited Capacity
Proof of Vaccination Required
Join Nagpur's most Happening Open Mic by Casa Kai Nagpur happening at Cafe Casa Unplugged, Nagpur!
Casa Kai Nagpur is a community building initiative where we do events around hobbies & interests of people. We give you a platform where you can express yourself with your interests. Our open mics are suitable spaces for you to perform and lay out your thoughts for audiences.
What is an open mic?
An open mic is an event where performers, usually amateur or up-and-coming, are given an opportunity to showcase their talents in front of a live audience. It can be in the form of a musical performance, comedy show, poetry reading, or any other kind of performance art. Open mics are usually held in public venues such as coffee shops, bars, or community centers, and are open to anyone who wants to perform.
During an open mic, each performer is typically given a set amount of time to showcase their talent, usually around five to ten minutes. The performances are usually not judged, but rather serve as a platform for the performers to gain experience, build confidence, and develop their skills. Many open mic events also provide a supportive community where performers can network with other artists and receive feedback from the audience.
Open mics are a great way for aspiring artists to get exposure and build a following. They provide a low-pressure environment where performers can experiment with their craft and test out new material. Additionally, attending open mics can be a fun and entertaining way to discover new talent and support local artists in your community.
We remove barriers around language, gender and age to bring people together for a night of performances where everyone learns and grows.
And with our supportive audience, you have more reasons to show up each week and perform to your heart's content.
This open mic night will provide you with an opportunity to showcase your work and talents with unwavering support for your efforts.
Things to keep in mind:
The stage is open for all forms of performative arts: Singing, Comedy, Storytelling, Poetry, etc.
You will get 5 minutes to perform on stage.
You own all rights to your work and performance; Casa Kai Nagpur holds the right to photograph or shoot the performance for global sharing via social media sites, blog posts and video sharing platforms.
You are required to reach the event 20 minutes before the event starts and check-in with the organiser at the venue.
Your content/performance may not include racist, sexist, homophobic, religious or political remarks which can be sensitive, hurtful or wrongfully provoking.
We hope you adhere to these rules and join us at our open mics to perform. See you there!
For questions, updates and events in your city call us on 9309262601/7019498501, follow us on Instagram: @casaunplugged
Limited Seating and performance slots
Performance slot priority will be given to the online bookings
Please show the tickets at the entrance venue
Please maintain decorum of the premises
Seating arrangements as per first come first serve basis
Casa Unplugged
11, Hingna Rd, near T Point, Parsodi, Nagpur, Maharashtra 440022, India
GET DIRECTIONS
OPEN MIC - by Casa Kai Nagpur
September 24 | 3PM - October 1 | 5PM
Event Guide
Language
Hindi, English, Hinglish, Marathi
Live Performance
Enjoy a unique experience
Invite your friends
and enjoy a shared experience