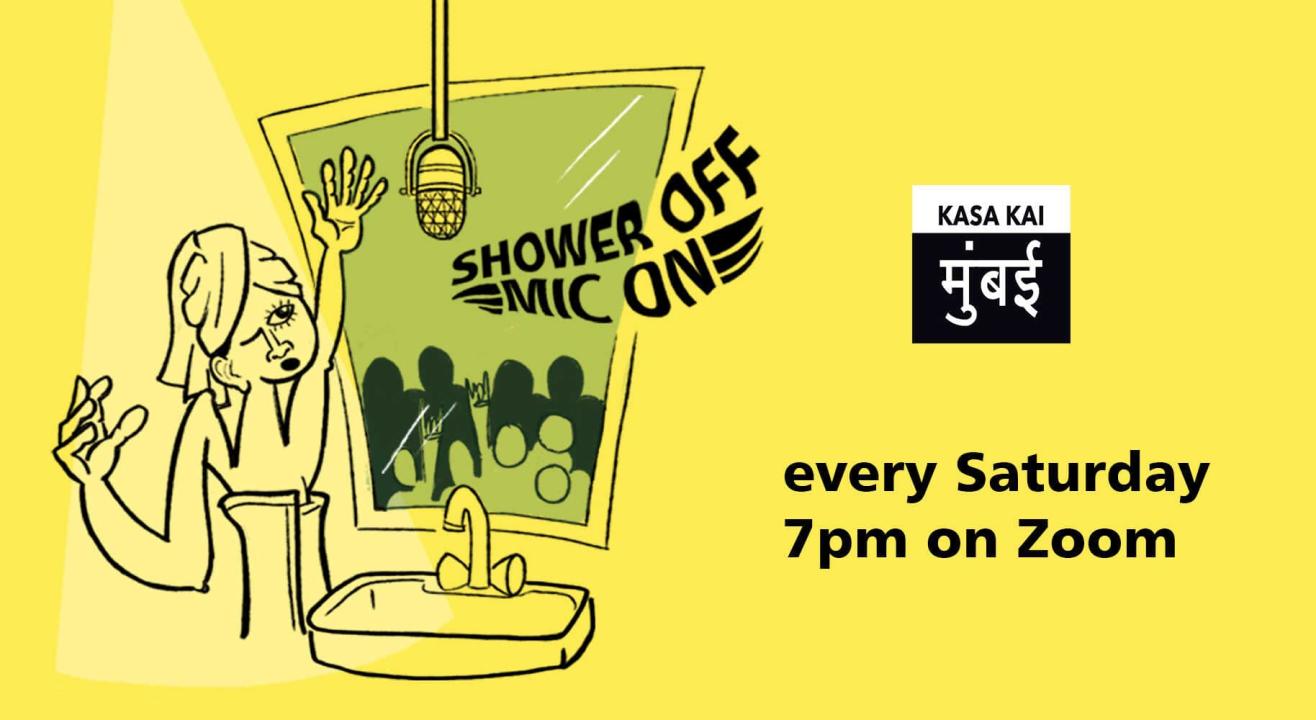 Open Mic With Kasa Kai Every Saturday on Zoom App
Enjoy this event from your home
Invite your friends
and enjoy a shared experience
Invite your friends
and enjoy a shared experience
About the Event
Fun-filled open mics organised by Kasa Kai Mumbai.

What is an open mic?

An open mic is a platform where you shed your stage inhibitions and express your love for an art form like music, poetry and comedy. The general misconceptions around an open mic are about the ambience being too formal or the audience being scornful.

That's not the case, least at Kasa Kai Open Mics. Our open mics are cheerful, inclusive, pleasant and intimate gatherings which would leave you smiling and craving for more. There's a minimal fee of Rs 60 for performing and an audience ticket is for free (so you can come check out an open mic before performing in the next :D) .

We have round the clock support through phone/whatsapp on 9930931616 and you can get all your apprehensions dismissed through one message or call.

What is Kasa Kai Mumbai?

Kasa Kai Mumbai is a community of like-minded people who come together and immerse in shared experiences.

Started in 2017 with a vision to enable experiences over hobbies and interests, we have come a long way and have curated more than 4000 experiences for 25000+ patrons and have pioneered activities like match screenings, TV show screenings, open mics, turf football meets and Mahabharat recitals. There's always something new happening at Kasa Kai. Come and experience!
Q. Are people outside of Mumbai not allowed to participate?
Before the lockdown, we used to be doing our open mics at various places across Mumbai. However, with open mics happening online, there is no such location barrier and anyone from any part of the universe can join in provided stable internet connection.

Q. What are the languages that I can perform in?
Generally the audience is most comfortable with English and Hindi. You may perform in any other language too.

Q. Is there any restriction on content?
No. But we discourage abusive, sexist, homophobic, xenophobic or sexually explicit content.

Q. Is there any age limit?
No, people of all ages can join our open mics.

Q. What is the duration of the event and of each time slot?
Every performer will get a maximum of 6 minutes to perform. We look to have upto 15 performers per open mic. The duration of the event in going to be a maximum of 1.5 hours.

Q. Can I know my slot timing?
As it is just a 1.5 hour event, we expect everyone joining to be from start to end. Due to the online nature or the event, we won't be able to provide with slot information beforehand.

Q. Is my audio and video supposed to be on always?
A. It is preferable that ways but exceptions are okay if any internet issues.