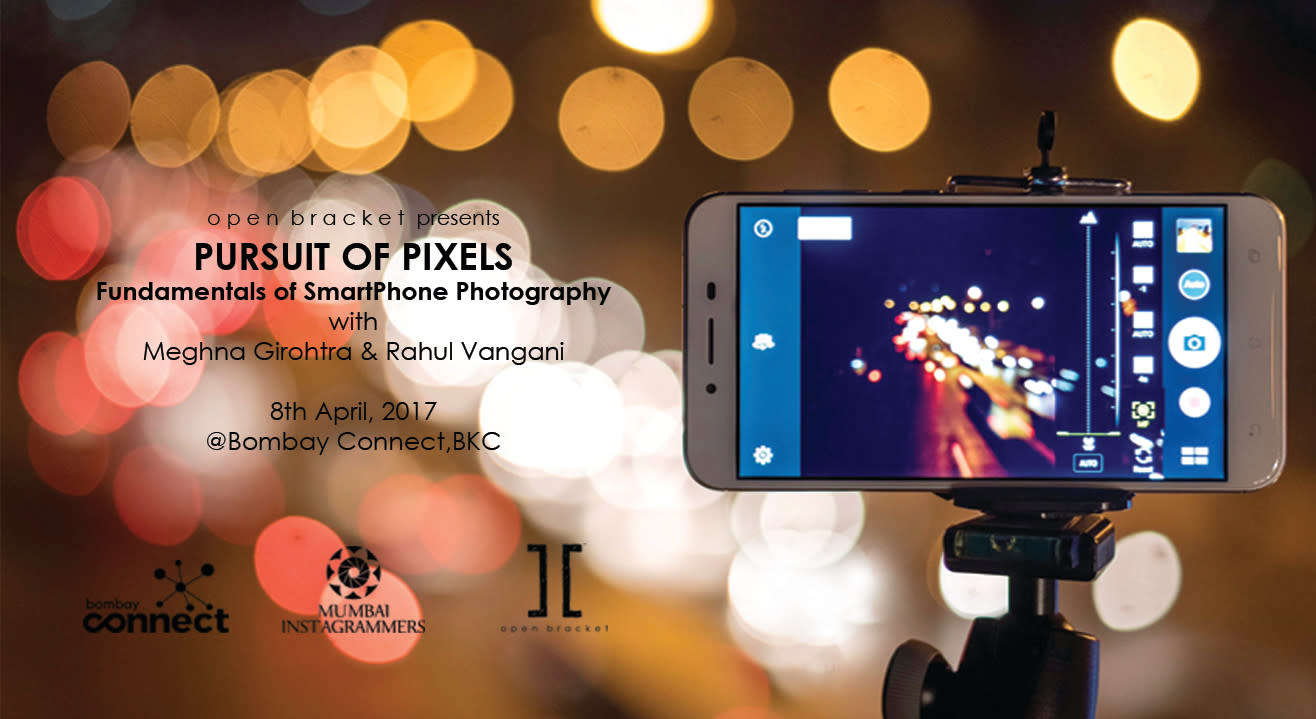 Photography
Pursuit of Pixels, Open Bracket + Mumbai Instagrammers - Fundamentals of Smartphone Photography
About
Smartphones have become constant companions today, and much more, especially where their capacity to archive is concerned. With expensive equipment eliminated, lenses that fit in your pocket, and social media platforms like Instagram and Tumblr that practically thrive on phone photography, this passing hobby has become a learned skill, requiring practice, and effort.
Our workshop on Phone photography looks at this emerging trend as an opportunity for one to see the beauty in things, and capture them on the go, with only a Smartphone at hand. We bring you professional tips on how to capture great images using the right technique, while achieving a myriad of effects and results on a phone camera! With the guarantee of quality that comes with a professional camera gone, the nature of your gaze truly makes or breaks a Smartphone picture, and we show you how you can get it right! This workshop presents tricks to do more with your phone camera than click the typical group selfie or slap on another filter, and actually take meaningful, beautiful images, that stand for how differently you see the world!
Workshop program:
• SmartPhone Cameras - Settings & Functions (iOS, Android)
• Fundamentals of Photography
• Composition, Angles, Perspective, Lighting
• Building Your Creative Eye
• Photo Editing : Snapseed Demonstration
• Accessories, Hacks
• Photography Exercises for participants
• Q & A
The workshop will be conducted by Meghna Girohtra and Rahul Vangani.
Meghna Girohtra
Avidly fond of heritage architecture, design and food photography, she first forayed in 2007 with her point-and-shoot camera. Since 2011, she has been extensively documenting her life in Mumbai and beyond, using her smartphone camera. She finds larger inspiration when she travels and regularly reads up on developing trends across imagery genres. A marketing professional and social media influencer, she founded Mumbai Instagrammers in 2013, which has rapidly become the city's most active photography community. She curates the Instagram handle, leads photowalks across the city each month and also partners with brands regularly for shareable content.
https://www.instagram.com/mumbai_igers
https://www.instagram.com/meghnagirohtra
Rahul Vangani
Rahul has been a prolific Instagrammer andphotographer for the past six years. He started his photography journey with a smartphone and learnt core basics of the craft. He's a firm believer that there's an entire gamut of imagery that can be created using most smartphones today. As a marketing professional by background, he now considers photography to be his passion and profession. Architecture, portraits, cityscapes and travel are some of his favourite genres. Regularly feted by several platforms for his inventive photos, he's always game to explore something new every day!
https://www.instagram.com/rahul_vangani
About Open Bracket:
Open bracket is an experimental platform for all things creative! We organize and curate custom made workshops that stand firmly in the no man's land between classroom lectures and professional training, though never shying from mandatory hops of fun. The workshops are conducted by professionals who are invited from an extensive list of artists and creators from all over the country.
To know more log on to - http://openbracket.in/
Venue
Bombay Connect, BKC
501 A Pinnacle Corporate Park, Bandra Kurla Complex, MMRDA Area, near Trade Centre, MMRDA Area, Bandra Kurla Complex, Santacruz East, Mumbai, Maharashtra 400051