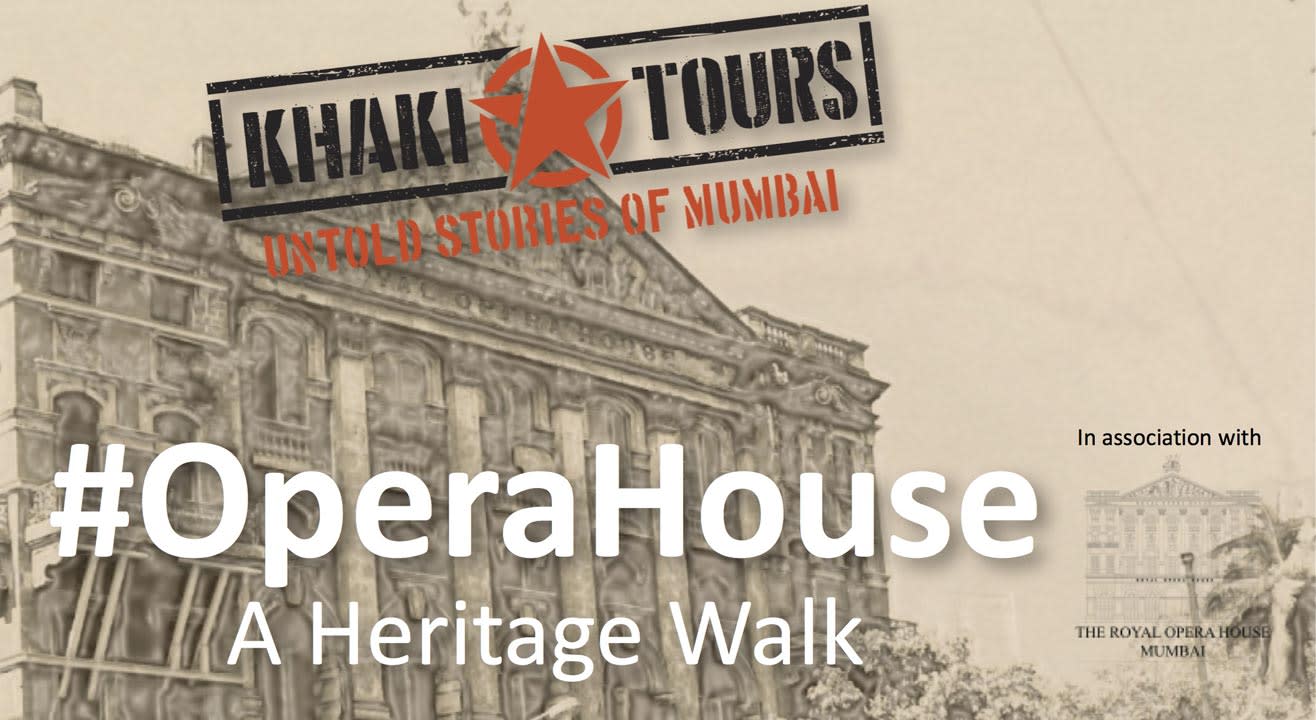 Walks
#OperaHouse by Khaki Tours
The Royal Opera House, Girgaon
About
Scores of years before the Kala Ghoda precinct was identified as the art district of the city; this extreme end of "Native Town" was the hub which witnessed over half a century of cultural evolution as it gave rise to the most prominent musicians, writers, actors, painters, filmmakers, sculptors and singers of their times.


Finally, in 1911, the Royal Opera House was inaugurated as if it was the jewel in the crown that this area had developed in the preceding five decades. Louis Rousselet, a French traveller, writer and photographer visiting Mumbai of the times felt that the art scene was so vibrant in this area that he likened it to Rue Breda of Paris's Montmartre.


Join Khaki Tours for a 2½ hour walk in the area which is today referred to as "Opera House" with stories of extraordinary artists. The crowning glory of the walk is your chance to appreciate the interiors of the recently restored Royal Opera House!
Manto's Bridge of Winds
Maker of the original Sai Baba idol
Indian voice in the outer space
Lady with a lamp
Origins of Calendar Art
First Hindustani musical 'classes'
Jinnah's Mumbai connections
Birth of Faster Fene
A "fascist organization" that made musicals
Benham's 'Hole'
Raja Ravi Verma's Muse
A male performer who was a trendsetter in women's fashion
Organization that fought "racism in art"
First Indian photo studio to have a branch in London
And of course, the Royal Opera House from within!

An additional Rs 250 will be charged by the Royal Opera House to enter their premise which is not included in the ticket.
Khaki Tours is a platform where heritage lovers share stories and folklore about the nooks & crannies that make Mumbai. The aim is to take "heritage conservation" from elite/intellectual circles to common man. Founded by BharGo, Khaki Tours expands the horizon of heritage from beyond 'Fort' & takes you to the meandering lanes of unexplored precincts like Lalbaug, Gamdevi, Kalyan, Alibaug, etc. which are not usually associated with 'heritage.' There are over 50 walks planned in the city and one new walk will be unveiled every month.
The Royal Opera House, Mumbai is widely touted as the city's Cultural Crown Jewel and India's only surviving Opera House. Inaugurated in 1911 by King George V, the design incorporated a blend of European and Indian detailing. The space became a cinema in later years before shutting in the 1990s. Fittingly, the space has been owned by the Royal Family of Gondal since 1952 and was eventually restored by the conservation architect, Abha Narain Lambah under the leadership of the current Maharaja of Gondal, Shri Jyotendrasinhji.
Venue
The Royal Opera House, Girgaon
Mathew Rd, Opera House, Girgaon, Mumbai, Maharashtra 400004, India