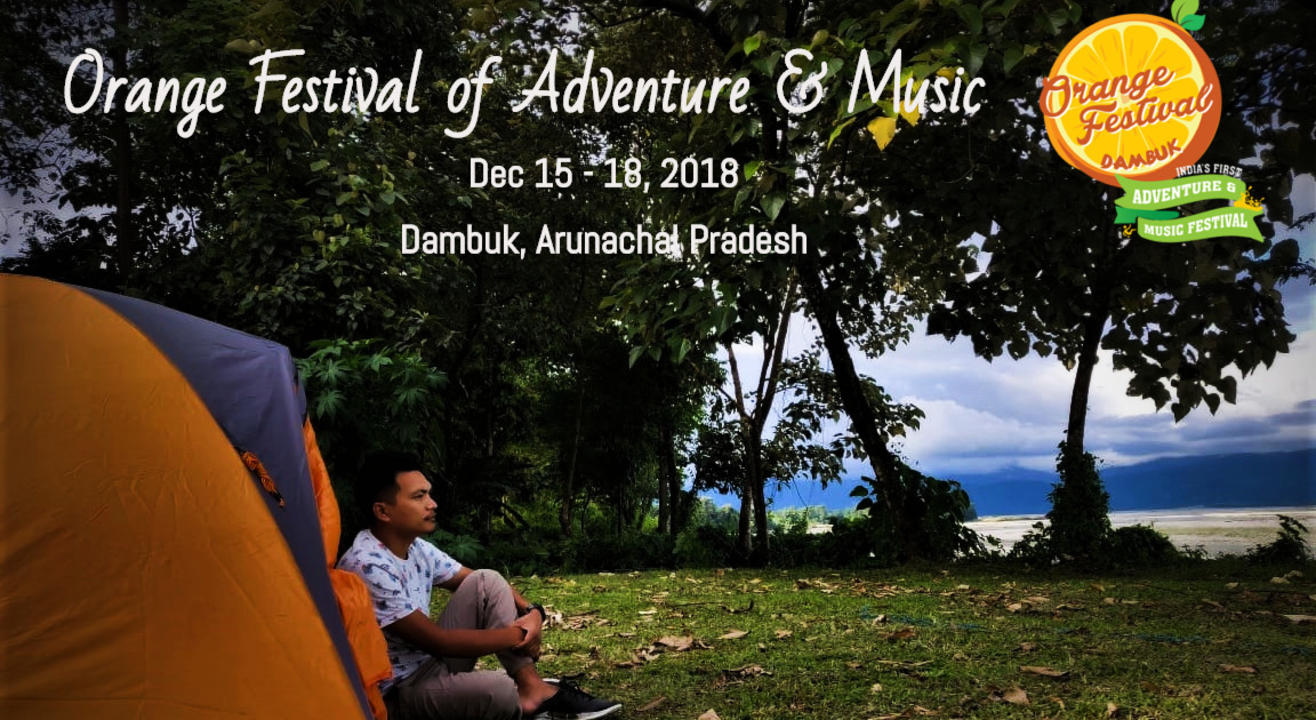 Adventure
Orange Festival of Adventure & Music, Dambuk | Muddie Trails
Dambuk, Arunachal Pradesh
About
India's first adventure and music festival returns with its 5th edition, having a massive lineup of bands and an array of sports to keep your adrenaline racing!
Dambuk, the valley of orange orchards, is nestled in the beautiful hills of Arunachal Pradesh and has some of the most mesmerising sceneries.
If you love music as much as you love to travel and immersing yourself in culture, then this music festival is for you!
Are you heading to Orange Festival this winter?
Driven by the passion for Adventure, Music & Travel, we aim at providing a hassle-free, fun and experience-sharing form of camping amidst the beautiful hills of Dambuk. So, camp under the Orange Orchards, make your own BBQ, and jam with friendly campers by the campfire.
Dambuk, Arunachal Pradesh ( Camp located 100 meters from Festival entrance)
Activities at Orange Festival (not covered by Camp)
Performance by artists around the globe
Cultural performance by locals
ATV riding
Scuba diving
Whitewater rafting
Paramotoring
Ziplining & more
Option 1: 3-Sharing tent (4 Night stay + Event ticket + Breakfast) @ INR 7,999/- per person
Option 2: 2-Sharing tent (4 Night stay + Event ticket + Breakfast) @ INR 8,999/- per person
Option 3: Solo tent (4 Night stay + Event ticket + Breakfast) @ INR 9,999/- per person
Event Ticket
Breakfast
Clean Drinking Water
Hygienic Bathrooms
4 Night Stay in Tent
Sleeping Bag and blanket per person
Charging points
BBQ
Campfire
First Aid kit
Wine Bar
Hookah Bar
Karaoke
Jam Sessions
Artist Interaction
Conversations and memories!
Travel to the campsite and back
Alcohol and aerated drinks purchased at the bar. (Outside alcohol not allowed)
Any purchase/extra cost you incur
Any extra meals
Personal toiletries and medicines
Warm Clothes (full sleeves to ward away the mosquitoes!)
Torch Light
Any munchies or snacks you might want to nibble on
A camper attitude!
How to get reach MAD Orange Camps?
From Dambuk (Police Station) head on to NH 52 towards Sirang. MAD Orange Camps is located 200 meters from Orange Festival Entrance on the main road.
(GPS Coordinates: 28°16'29.5"N 95°37'36.1"E)
By Air:
Option 1: Fly to Dibrugarh and take a cab to Dambuk(Dibrugarh To Dambuk 150Kms, 3-4 hrs Drive).
Option 2: Fly to Guwahati & drive or Fly to Pasighat via Lakhimpur and later drive to Dambuk. (Pasighat to Dambuk -60Kms, 1.5 hrs Drive)
By Train:
Option 1: Take a train from Guwahati for Mokokngselek and take the special shuttle service (Arunachal State Transport Bus) to Dambuk.
Option 2: Take a train from Guwahati to Dibrugarh and take a cab to Dambuk
By Road:
​If you are coming from Guwahati you continue on the highway towards North Lakhimpur to Pasighat and then Dambuk. There are shared cabs from Itanagar and Pasighat.
Transportation (on demand)
We can arrange a cab from/to Dibrugarh or Pasighat on demand. Please contact us for details and pricing.
20 days or more prior – 25% of the ticket price to be refunded
Less than 20 days prior - NIL
Please write a mail at madorangecamps@gmail.com or help@insider.in