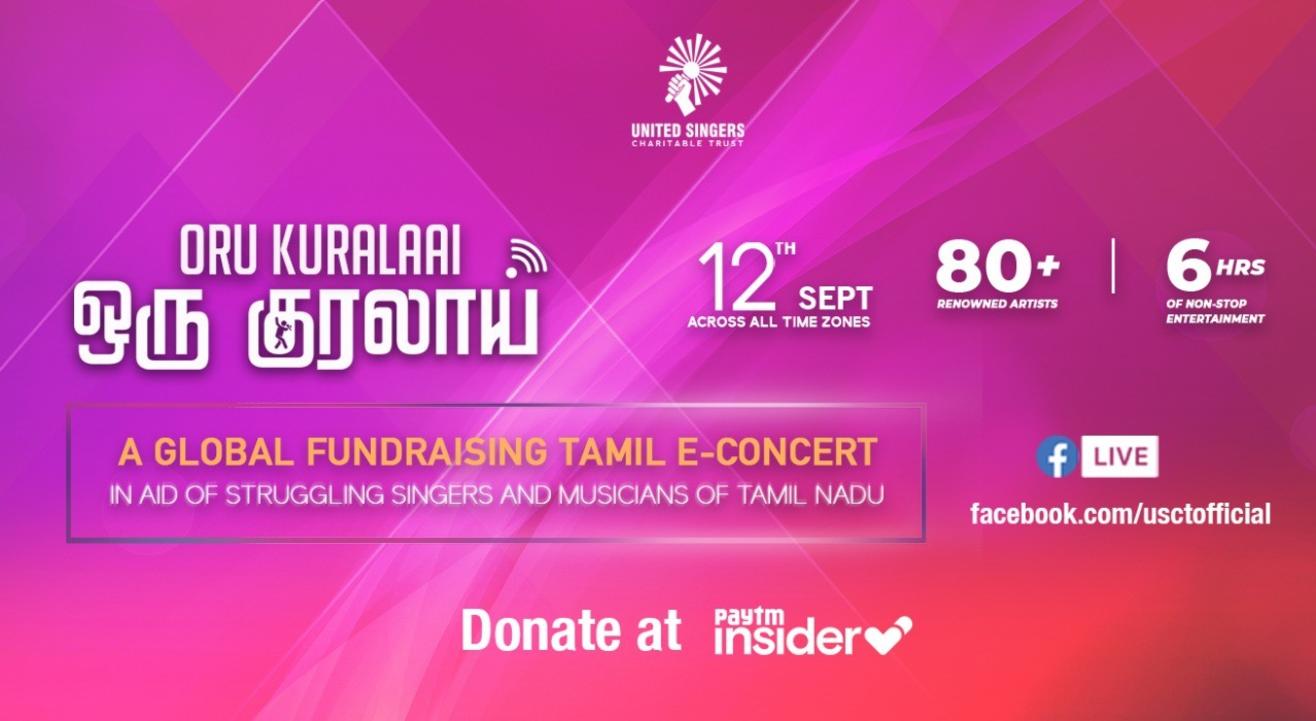 Oru Kuralaai (In One Voice) - A Fundraiser for Tamil Musicians and Singers by USCT
September 12 | 5AM - September 30 | 11PM
Invite your friends
and enjoy a shared experience
Invite your friends
and enjoy a shared experience
About the Event
About United Singers Charitable Trust:
The entertainment industry has gone into a major phase of crisis due to COVID 19. Livelihoods of Musicians and Singers are affected as all live performance are halted.
United Singers Charitable Trust is founded by revered playback singer Mr. Srinivas along with Mr. Unnikrishnan, Mrs. Sujatha Mohan, Mr. Rahul Nambiar, Mr. Ranjith Govind, Mr. Haricharan and Mrs. Saindhavi on board as trustees, for the sole purpose to support the Musicians and Singers who have been engulfed due to this pandemic.
The trust looks to support 10,000 families of struggling singers, musicians from the funds raised.
About Oru Kuralaai:
Oru Kuralaai (As One Voice), an United Singers Charitable Trust's initiative, is a 6-hour long Global Fundraising Tamil E - Concert happening on 12th Sep '2020 streamed exclusively on Facebook.
Bringing to you the best of performances, exclusive interactions and more from all your favourite composers, singers and celebrities to entertain you.
Concert Timings:
United States of America – PST 15:30 PM – 21:30 PM (11th Sep)
Canada – EDT 19:30 PM (11th Sep) – 01:30 AM (12th Sep)
Brazil – BRT 20:30 (11th Sep) – 02:30 AM (12th Sep)
New Zealand – NZST 18:00 PM (12th Sep) – 00:00 AM (13th Sep)
Australia – AEST 16:00 PM – 22:00 PM (12th Sep)
Japan – JST 15:00 PM – 21:00 PM (12th Sep)
Singapore – SGT 14:00 PM – 20:00 PM (12th Sep)
Malaysia – MYT 14:00 PM – 20:00 PM (12th Sep)
Indonesia – CIT 14:00 PM – 20:00 PM (12th Sep)
Philippines – PST 14:00 PM – 20:00 PM (12th Sep)
India – IST 18:00 PM (12th Sep) – 00:00 AM (13th Sep)
Sri Lanka – IST 18:00 PM (12th Sep) – 00:00 AM (13th Sep)
United Kingdom – BST 13:30 PM – 19:30 PM (12th Sep)
France – CEST 14:30 PM – 20:30 PM (12th Sep)
Germany – CEST 14:30 PM – 20:30 PM (12th Sep)
Norway – CEST 14:30 PM – 20:30 PM (12th Sep)
UAE – GST 16:30 PM – 22:30 PM (12th Sep)
*All Purchase are for Donation purpose only. The concert will be streamed on USCT's Official Facebook Page
https://www.facebook.com/usctofficial
Information for International Customers
Make sure you use International Card as your payment method while making the purchase
Oru Kuralaai Promo | A United Singers Charitable Trust initiative