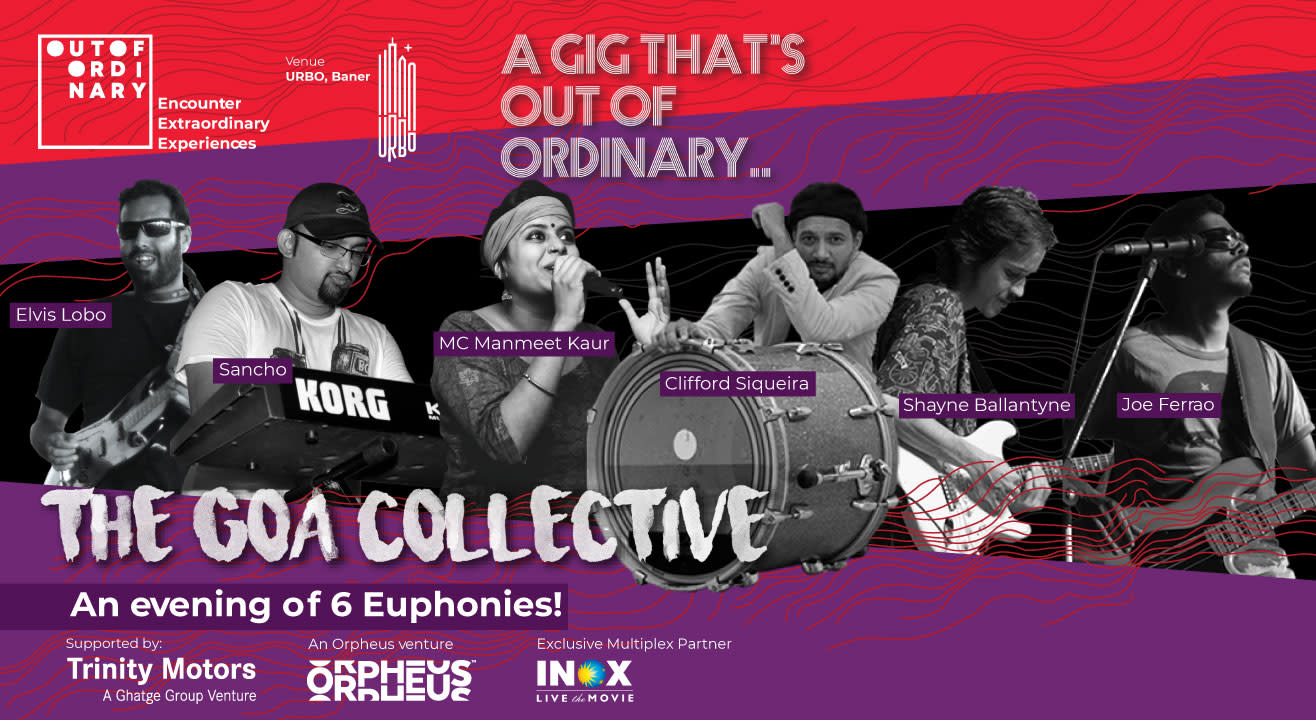 Music
Out Of Ordinary presents The Goa Collective
About
A revival act that brings to stage a Goa based sextet known for its riveting performances, join us in cherishing memories about soulful conversations and escapades into the majestic wilderness of music.
Curated by Out Of Ordinary, we promise to deliver a folksy-soul-pop vibe with dreamy vocals that will leave you very awestruck and a little dazed.
Unforgettable performances by Elvis Lobo, Shayne Ballantyne, Clifford Siqueira, Joe Ferrao, Sancho and MC Manmeet Kaur from The Goa Collective will bring together amulti-genre experience of jazz, funk, rock, ambient soul, pop and folk in its niche avatar.
ELVIS LOBO
Creating unique rhythms with sounds of fusion music, Elvis is known to create some soul shivers along the way. Known for his intense transitions and spontaneous creativity, this international artist of Big chill, Boom, Namaste, Trishula, Sonica, Windsong, Fusion fiesta, Sunburn and Azora fame joins hands with other key artists in The Goa Collective. A lead guitarist, Elvis has played since '95 making the audience groove with his collaborations with Sonu Nigam & Gothika.

JOE FERRAO
Joe has been playing with several bands over the last 10 years, enabling him to adapt and play sessions with any artist. Having played in Europe and Asia over the last 4 years with various bands, he has performed and opened for big names in the industry, including Hari & Sukhmani, Kundalini Airport, Chrystal Farrell, Joanne Fernandes and many more. He has also worked closely & toured for Bollywood artist Suraj Jagan in his song 'yeh lamha' and features prominently in 'the Goa Sound' by the Elvis Lobo Project.

CLIFFORD SIQUEIRA
Having played in Goa, with bands like Tidal Wave, Clifford has been a part of them as the opening act for "Deep Purple" and "Enrique Iglesias". Performing in all major cities in India, he has extensively travelled and played in the UK, has been a part of the band 'FlypSide' in Dubai which played the Dubai Blues Festival in 2011. He is actively on tour with 'The Syndicate' and a mutual outfit with some of the best in their field, The Royal Scam.

SHAYNE BALLANTYNE
A guitarist/composer from Goa, Shayne has collaborated & performed with renowned and new artists like Arjun Sen, Lew Hilt, H.F.T. Elvis Lobo Project, Low Majaw, Greame Hamilton (UB40), Digital Samsara, Derek Julien & many more. His ongoing collaborations include The Goa Collective, Bengal Folk/Qawwali & Sounds of Goa, ELvis Lobo Project, Three Guitar Players, Transalanto, Kundalini Airport, Ethnic Mystic Fusion and Shanti - World Fusion Band.

MC MANMEET KAUR
India's first female emcee, Kaur has actively performed to expertise different musical realms of hip-hop. Being well-travelled, she was influenced by different cultures and music genres. Her style is marked both by melodic and hip-hop influences, but not bound by a singular approach – her music is idiosyncratic, emotional and versatile. Her lyrics range from social messages of simplistic thinking and improving co-existence to her travelogues. Currently based in Goa, Manmeet Kaur is dropping her second album this fall in Europe.