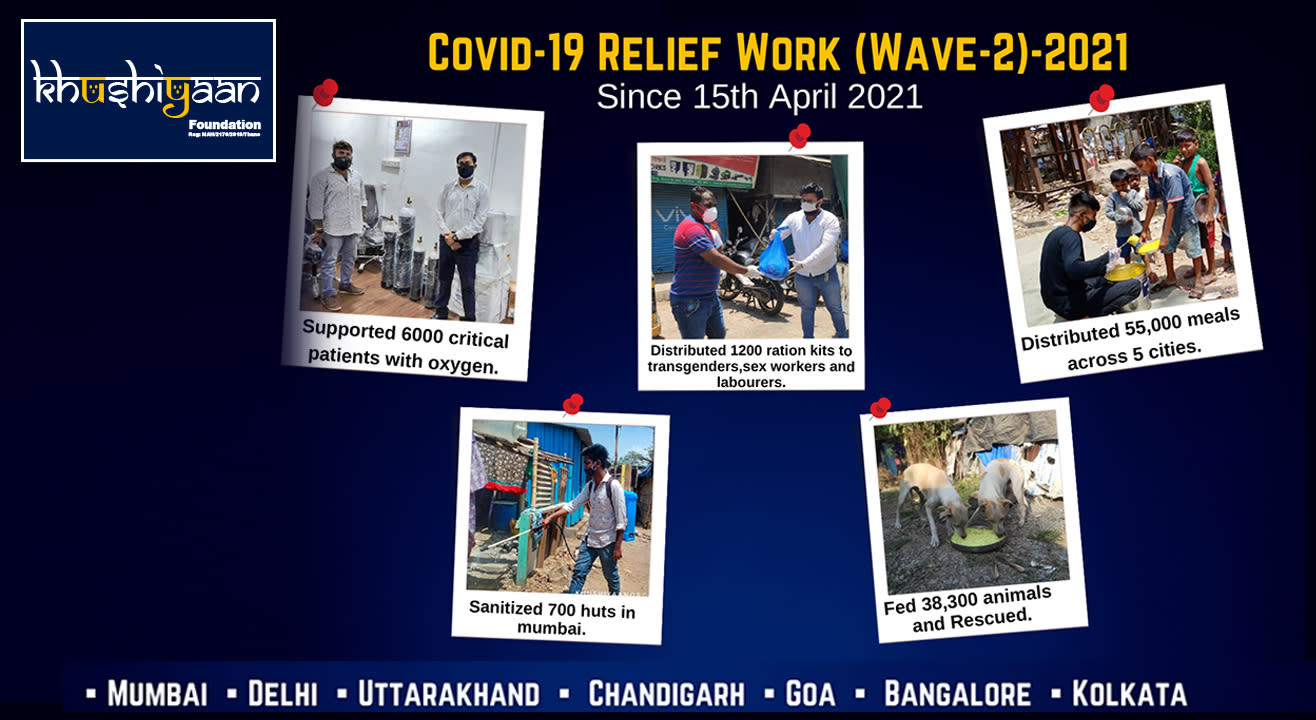 Oxygen, Ration, Feeding Stray Animals, Basic Sanitization Covid Relief | Khushiyaan Foundation
Invite your friends
and enjoy a shared experience
Invite your friends
and enjoy a shared experience
About the Event
When the coronavirus pandemic began early in 2020, experts wondered if there would be waves of cases, a pattern seen in other virus pandemics. The overall pattern so far has been one of increasing cases of COVID-19 in past couple of months. Some locations that saw a high number of coronavirus infections early on, followed by a decline, are having a "second wave" of increased cases specially in Maharashtra, Uttar Pradesh, Delhi, Chhattisgarh, Karnataka. We at Khushiyaan foundation are doing our best to provide the relief services to the maximum people in need.
How we are working during the Covid-19 wave 2?
1.Team of volunteers at Khushiyaan foundation have received a movement pass by MCGM for providing essential services which helps us in transportation and delivery of above-mentioned services to the people in need
2.We have our own fleet of three vans and 5 vehicles which makes sure that the delivery of services is hassle free and is on time.
Model of working for Oxygen Seva
1) Helping Hospitals (Allover Country)
2) Helping recently turned negative patients with low oxygen saturation (Mumbai)
3) Helping most critical covid positive patients (Allover Country)
Distribution Channel of Oxygen
Requirements are received on 3 helpline numbers circulated allover India. These calls are handled at war room in Thane. Once the budget is finalized, the oxygen are procured and given to most needy on first come first basis to the people to use. We are providing oxygen cylinders to other states also whenever we get the bulk request.
About Khushiyaan Foundation
As one of the recognized Non-profit organizations in India with registration under the Mumbai Public Trust Act, 1950 & Societies Registration Act, 1986, Khushiyaan Foundation is successfully Implementing humanitarian projects across India with special focus in Mumbai, Delhi, Odisha and Bangalore. Operating since 2017, Khushiyaan Foundation started with a mission "India" is effectively working towards a developed, healthy, flourishing, clean and prosperous India. Started as one- man operation by a young humanitarian, Mr. Chinu Kwatra with a will in his heart to spread smiles, now has a team of young volunteers supporting the mission. Khushiyaan Foundation's successfully running pillar projects are:
Roti Ghar - providing nutritious meals daily to 1800 children across India (SDG- 02)
Beach Warriors- Cleaning 9 beaches of Mumbai every weekend along with awareness sessions on waste management with communities, residential societies, schools and colleges. (SDG 13 & 14)
Project MARD- Education and awareness about menstrual hygiene in communities along with monthly distribution of 5000 self- manufactured biodegradable sanitary pads to the beneficiary women and adolescent girls in slums (SDG-03)
Mobile School- Informal education and mentorship to 3000 children in BPL communities (SDG- 04)
Project Paathshala- Adopting schools in and around communities to provide financial aid to students towards their educational expenses like fees, books and stationery. (SDG-04)
Project BOONDH- Providing clean drinking water to 300 families in slums every week (SDG-06)
Roti Ghar Animals –Feeding 700 stray animals every day along with emergency rescue and medical facilities
Home for Paws- Shelter home for abandoned and ill dogs who are fostered till they get adopted. Currently we are taking care of 40 dogs.
Ananta Khushiyaan Welfare Centre- Newly started 3200sq feet centre in Bhatsa Village for uplifting the lives of tribal children and women by conducting after school and skill development classes. The project focuses on overall development of children through digital education, extracurricular activities and mentorship. Women are involved in stitching courses and production of bags adding income generation avenues.
Covid Relief Work in 2020
The world is fighting with the Pandemic caused by the virus Covid-19 which affected the life of 60.6M people all over the world. On 24th March 2020, The Prime Minister of India Shri. Narendra Modi announced compulsory Nationwide lockdown affecting the entire the life of 1.3 billion population of India. In such pandemic when it was not possible for
the system to reach to every individual of the country, NGOs played a very vital role in uplifting the life of the people. Khushiyaan Foundation with the support of Mrs. Priyanka Chaturvedi was first ever NGO in India who extended project "Rotighar" to help the migrant labourers and others in need by providing freshly cooked meal, ration kits, safety kits and other essential items from Day 01.
In 75 days of Lockdown, Team have touched 1 Million lives by standing strong on ground.
· Freshly Cooked Meals distributed – 6,30,380
· Ration Kits distributed – 2,89,590
· Sanitary Packets distributed – 26,100
Supporters of Khushiyaan Foundation for Covid-19 relief work:
1) Allcargo Logistics
2) Jupiter Dychem Ltd
3) Ananta Infinite
4) Dil Se Foundation
5) Geltec
6) Tata Trust
7) Neervana Ltd
8) Vashi Electricals
9) Maestk
10) Rudra Foundation (Raveena Tandon)
11) Ragha Juval
Award & recognitions for the work done during Covid-19
1) Covid Hero by NDTV
2) Hero of Mumbai by Canara HSBC OBC
3) Corona Warrior by ITA Awards
4) Covid Warrior by Wockhard Hospital