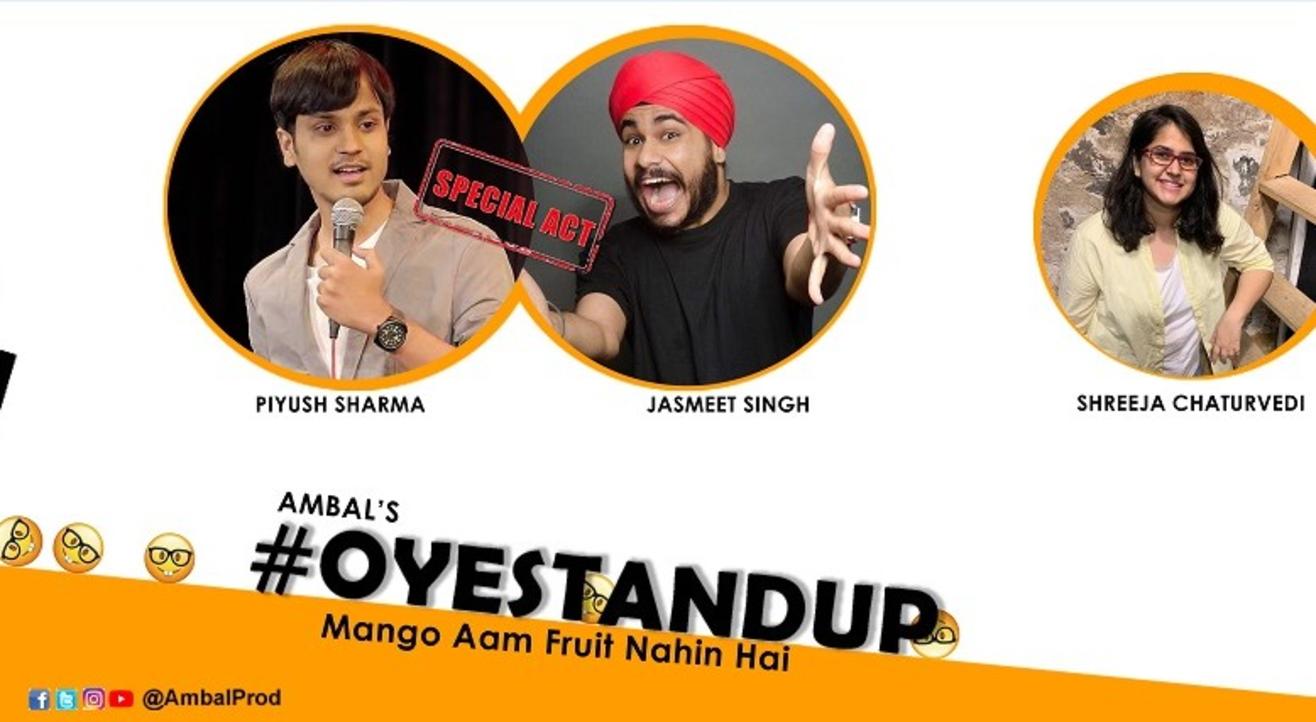 Comedy
Oye Stand Up featuring Piyush, Jasmeet
About
If you like books over kindle, live over playlist, friends over Mitro, then brainwash your gang as #OyeStandUp promises to be funny, wicked, mean and yet not offensive; provided you forget your mobile and find sense of humour in these lines! Artiste line up might change last minute due to unforeseen circumstances, but the fun won't…
*Mutual Fund investments are...
Piyush Sharma & Jasmeet Singh are amongst the brightest talent at TVF. Checkout their videos on YouTube, as they are joined by one of the most promising artistes Shreeja Chaturvedi!
Ambal's #OyeStandUp* curated by Mohit Sharma & Ankita Shrivastav is 100+ Shows old in 03 years and has been to 06 cities with ek lauta show in Dubai. Maata ka Jaagran would be our next milestone! Hamaare yahan byaah-shaadiyon aur corporate events ke order bhi liye jaate hain! If this sounds like a pitch, then it is!
About the Artists
Piyush Sharma
A Civil Engineer from IIT Bombay, but soon after graduation he discovered construction of a joke fascinated him more than a bridge. On stage there is nothing civil or engineering about him as he spares no one. A small town kid at heart, he does jokes on simple things like - job life, small town mannerisms or the hilarious dynamics of parents & teachers vs. kids.
With 5.5+ Million views and 100k+ subscribers online, Piyush Sharma has been doing shows across India that include Corporate, College as well as Auditorium shows and is known for his clean and observational humour.
Jasmeet Singh
Popularly known as the TVF Sardaar, he's known for his goofy characters but that's of course not what he's in real life. An actor par excellence with great comic timing and before going on stage he prefers not to talk and listen to music, or God knows what since it's ear phones. He's part of many popular Hindi films, including The Secret Superstar! He refused to write his bio, as he's busy working! This Sardaar is a man of action, which mostly is funny on stage!
Shreeja Chaturvedi
Shreeja is moderately funny on most days and jokes about her roots with a poker face. She's self-deprecating most of the time, and once that's done the audience laughs at anything that she says which hits them hard!
Venue
The Cuckoo Cafe, Mumbai
First floor, above The Cuckoo Club Black Box Theatre | 5AA, Pali Hill Road, Next to Candies, Bandra West, Mumbai, India 400050
GET DIRECTIONS