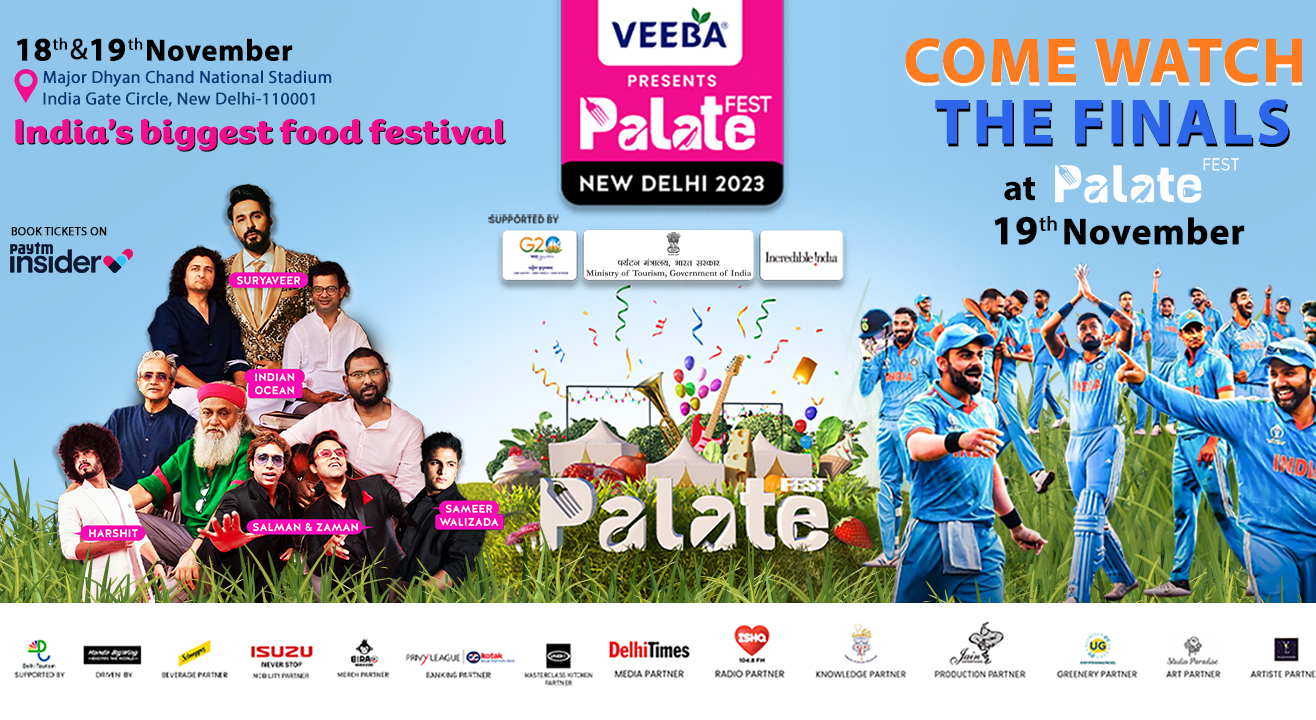 November 18 & 19 | 11 AM to 10 PM
Major Dhyan Chand National Stadium, Delhi
Event Guide
For Age(s)
Family Friendly
Invite your friends
and enjoy a shared experience
November 18 & 19 | 11 AM to 10 PM
Major Dhyan Chand National Stadium, Delhi
Event Guide
For Age(s)
Family Friendly
Invite your friends
and enjoy a shared experience
Event Guide
For Age(s)
Family Friendly
Invite your friends
and enjoy a shared experience
The International award-winning Palate Fest, India's premier culinary extravaganza, is back and bigger than ever. From November 18th to 19th, 2023, the National Major Dhyan Chand Stadium in central Delhi will transform into a food lover's paradise.
Palate Fest has been an international-level food festival, and this year's edition will be more expansive than ever. Two days of indulgence with well-established and emerging culinary brands, thrilling music bands, celebrity performances, chef-led masterclasses, and thrilling experiences for all. There's even a dedicated Kids Zone, Segway and an Ice-Skating rink, and a range of entertainment activities - a true family day out.
Engagement Activities at the Palate Fest'23
1. Ice Skating
2. Segway
3. Gameshack- Gaming Truck
4. Kids Zone
Artist LineUp
18 Nov'23
Curly Harshit
Salman Zaman
Indian Ocean
19 Nov'23
Akash Chauhan
LIVE SCREENING OF THE CRICKET FINALS ON BIG LED SCREEN
Book your tickets to make sure you don't miss out on this long-awaited return to the capital of the culinary MultiGen experience.
FAQs about the event
Q: Are the tickets transferable online or offline?
A: We want everyone to enjoy and attend Palate and sometimes life throws you some curveballs and doesn't allow you to follow through with plans so yes you can transfer your tickets to your friends or family.
Q: Can I upgrade my ticket after booking?
A: Yes, you can upgrade your General ticket to a VIP Pass both online and offline at the event ground.
Q: What time do the gates open?
A: We open at 11:00 am bright and early for you to join us for a leisurely brunch and start your journey into the whole of Palate - come early stay late.
Q: Is re-entry into the venue allowed?
A: In order to ensure everyone has the best experience at Palate we do not allow re-entry.
Q: Is there a minimum age requirement for the event or is it family friendly?
A: Palate is one of the few multigenerational events in India and we strongly encourage the young and young at heart to attend this Family Friendly event for people of all ages.
Q: If it is a family friendly event, please mention the age limit, above which a ticket needs to be purchased?
A: Anyone above the age of 2 years is required to purchase tickets whereas children below 2 years are permitted free entry.
Q: Is parking available at the venue?
A: Yes, but on a first come first serve basis.
Q: Is the venue wheelchair accessible?
A: Yes, we strive to make the festival accessible to all. The venue is equipped with facilities to accommodate people in wheelchairs too.
Q: What is the artist lineup?
A: 18 Nov'23
Curly Harshit
Salman Zaman
Indian Ocean
19 Nov'23
Akash Chauhan Live
LIVE SCREENING OF THE CRICKET FINALS ON BIG LED SCREEN
Q: At what time will the event end?
A: Sadly, all good things come to an end and the festival closes its gates at 10 pm each night however to make sure you get the best experience book for both days to make the most of the dining opportunities and entertainment.
Indian Ocean


Indian Ocean is a pioneering Indian folk fusion band that has been making waves in the music industry for over three decades. Known for their unique blend of Indian traditional music with rock, jazz, and other genres, they have created a unique voice. Since their formation in 1990, the band has been at the forefront of the Indian music scene, constantly pushing boundaries and breaking new ground. Their discography is impressive, with several critically acclaimed albums that have cemented their place in Indian music history. Some of their most popular albums include "Kandisa," "Jhini," and "Desert Rain". Their music has also been featured in numerous movies including the award-winning films "Masaan" and Anurag Kashyap's "Black Friday" Over the years, Indian Ocean has received numerous awards and accolades for their groundbreaking music, including the MTV Immies Award for Best Rock Album and the GIMA Award for Best Fusion Album. Their highly anticipated upcoming album, "Tu Hai," just got released and they showcased their continued evolution and impact on the Indian music scene. The album also features collaborations with two talented musicians and offers a diverse range of sounds and styles.



Sameer Walizada


Meet Sameer, a musical maverick who has carved his path over six enriching years. His journey, an orchestration of talent and dedication, began as a YouTube sensation, where he transformed remake tracks into resounding hits, setting the stage for his own musical marvels. Blending classical and western finesse, his training journey spans prestigious institutions like Saraswati College and T-Series Stage Work Academy, cultivating his versatile artistry. His instrumental finesse extends to the guitar, piano, and drums, showcasing an intricate relationship with melody. The admiration of luminaries such as Himesh Reshammiya, Terence Lewis, Darshan Raval, Jaani, B Praak, and Jubin Nautyal underscores the transformative impact of his sonic creations.



Curly Harshit


Harshit is a self-taught singer who has performed all over the country, captivating audiences with his fusion of Bollywood and Pop. To take it a step further, he creates the perfect blend of Sufi and Rock, which is pure bliss for the ears. He's a budding artist who landed a spot among the top 30 contestants in the singing reality show SaReGaMaPa 2021. He aspires to take his passion across borders, inspiring many others on his journey.


Major Dhyan Chand National Stadium
नैशनल स्टेडियम, India Gate Cir, National Stadium, India Gate, New Delhi, Delhi 110001, India
GET DIRECTIONS
November 18 & 19 | 11 AM to 10 PM
Major Dhyan Chand National Stadium, Delhi
Event Guide
For Age(s)
Family Friendly
Invite your friends
and enjoy a shared experience