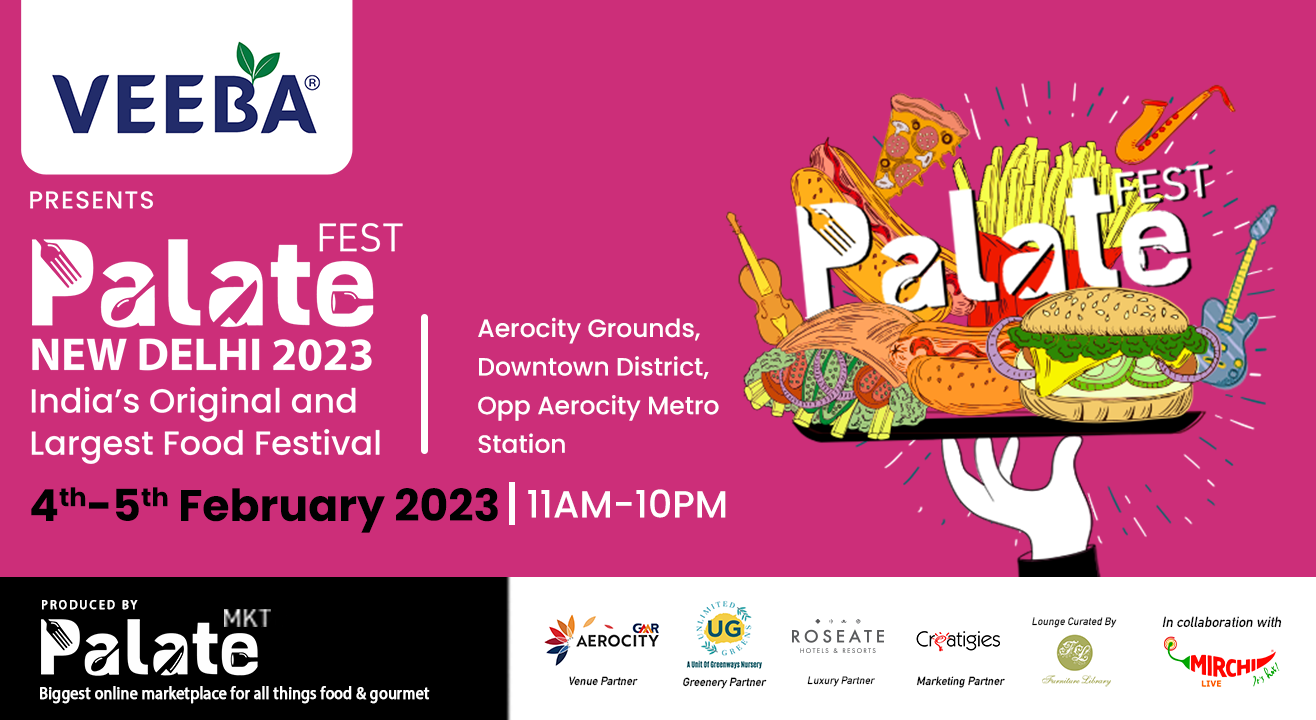 Palate Fest - New Delhi 2023
February 4th - 5th | 11 AM - 10PM
Step out and enjoy this event
Event Guide
For Age(s)
Family Friendly
Invite your friends
and enjoy a shared experience
Palate Fest - New Delhi 2023
February 4th - 5th | 11 AM - 10PM
Step out and enjoy this event
Event Guide
For Age(s)
Family Friendly
Invite your friends
and enjoy a shared experience
Event Guide
For Age(s)
Family Friendly
Invite your friends
and enjoy a shared experience
Palate Fest 2023 is back after 3 long years and promises to be the biggest food festival of the year!
An entertaining, gastronomical affair, Palate Fest 2023 will host cuisines from across the globe
and have India's biggest musicians performing to bring in the celebration.
That's not all, there is a special kids zone for the little ones to enjoy the fest as well along
with the famous Museum of Illusions, special masterclasses and curated artworks as well.
Welcome the spring season in Palate Fests new home at aerocity - east to access and ample parking for all.
Ticket required for age 2+
The new location is set in a lush, green space, overlooking Delhi's newest golf course. Join in the celebration with your friends and family for a great day and night out.
The brands to look out for include:
Ani's Coffee
Baozi momos
Basil and Lime
Big Dawgs
Bloom Cafe and Cakery
Blue Tokai Coffee Roasters
Bong Alley-a unit of Deby's
Brown Sugar
Burgerama
Canadian Embassy-Anusaya Fresh
Canadian Embassy-McCain
Canadian Embassy-Tim Hortons
Chicago Pizza
Dhamal Gully
Emoi Love
Farm2You
Fatlulu's
Giani Ice Cream
Glass House on Greens
Gonzo
Green Bamboo Cafe
Hyatt Regency Delhi
Jungly Delights
Kaffa Cerrado
Kaze Cafe
Kebab Miyan by Karims
Koyla kebab
Kylin Experience
Louis Burger
Lure Seasonings and Hing
Maggi
Maistella by Muskan
Masalejar
Meatzaa
MKT at the Chanakya
My Love Triangle
Nourish Organics
Qmin-Qurated Quality Quisine, Soulinaire - Beyond the Culinary
Redmoon Bakery and Cafe
Roseate hotels and resorts
Sleepy Owl coffee
Some thing's Brewing
The Art of Dumpling
The Cook House
The masala Story
The Original Shikanji Company
The Park New Delhi
Twisting Scoops
V&P Hospitality Solutions
Vadapav Junction & More
Veeba
Xing Ping
Aerocity Grounds
G4W9+XXG, Aerocity, Indira Gandhi International Airport, New Delhi, Delhi 110037, India
GET DIRECTIONS
Palate Fest - New Delhi 2023
February 4th - 5th | 11 AM - 10PM
Step out and enjoy this event
Event Guide
For Age(s)
Family Friendly
Invite your friends
and enjoy a shared experience