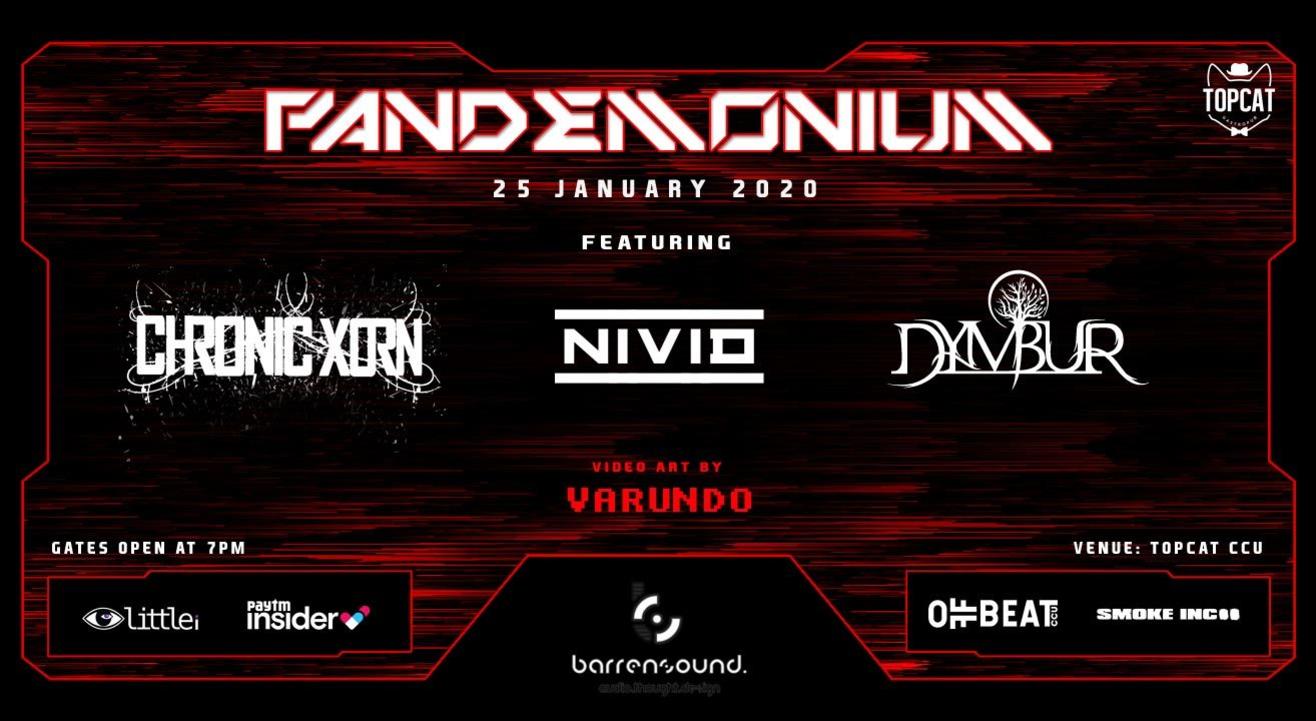 Music
Pandemonium
January 25 | 7PM - January 26 | 12AM
About
An Immersive Audio- Visual Industrial & Metal Experience
On Saturday, 25th January, Barren Sound in association with Littlei, Offbeat CCU and Smoke Inc will host the third Pandemonium- this time an Explosive Industrial/ Metal live show featuring Interactive Video art at Top Cat CCU bringing to it a unique concept with an eclectic mix of artists.
Promoting Nivid's album Mernā, Pandemonium promises to present yet another extraordinary experience, featuring Kolkata metal giants Chronic Xorn, Shillong's progressive metal begetters Dymbur along with the visual genius brainbox varundo presenting an experience which is bound to transcend reality.
Chronic Xorn
CHRONIC XORN began its journey in 2007 and has travelled a long way with numerous obstacles and is prepared to carry on its journey. The sound of the band has been gifted by the variable influences of each of the members. Chronic Xorn's sound is Heavy Metal with a blend of melodic elements and is unique in its own rights.
Signed by Six Inch Nails Records in 2010, making them the first band to receive a record label from Eastern India and has released its debut album entitled DEATH.DESTRUCTION.SERMON in May 14, 2010. The band has released their second full length album in October 2, 2012 entitled FROM MERCY. The album has been one of the highest selling heavy metal albums in India and has sold well in various parts of Europe and USA garnering rave reviews.
The band did a nationwide tour in October 2012 in support of their new album FROM MERCY.
Chronic Xorn has played festivals supporting International acts like Children of Bodom from Finland, Dawn of Demise from Denmark, Cypher 16 from United Kingdom and Gone In April from USA and Indian metal giants like Bhayanak Maut, Demonic Resurrection and artists like Raghu Dixit, Shaa'ir & Func and Indian Ocean to Bollywood acts like Sunidhi Chauhan and Javed Ali.
Travis Montgomery of the highly acclaimed metal band Threat Signal, Canada had played a guest guitar solo in the title track of the album FROM MERCY.
In 2015, Chronic Xorn has played alongside progressive rock giants Karnivool from Australia and at BIG69 Festival in Bombay where the band supported legendary acts like SiKth, Carcass and Hacktivist and Fleshgod Apocalypse.
Facebook: https://www.facebook.com/chronicxorn
Instagram: https://www.instagram.com/chronicxorn
BandCamp: https://chronicxorn.bandcamp.com
Dymbur
DYMBUR is an Indian experimental metal band, formed in Shillong, Meghalaya in February 2012. They have opened the show for two international bands that toured India, the Australian technical death metal band PSYCROPTIC in August 2017, Shillong, Meghalaya and the American djent-metal band VEIL OF MAYA in January 2018, Guwahati, India.
Dymbur is on tour promoting their album THE LEGEND OF THRAAT.
"DYMBUR" is a word of KHASI origin that translates into English as "Fig Tree". The KHASI people are an indigenous tribe, who live in the State of Meghalaya which is in the north eastern part of India. The word DYMBUR is taken from "The Parable of the Barren Fig Tree" found in the Bible. It is about a fig tree that does not produce fruit. 'DYMBUR' - The fig tree symbolizing rebirth, progression and evolution, of victory after struggle, Fresh leaves from old branches forming new shapes defining one of nature's basic laws, the ability to regenerate and grow anew after a dry spell.
Facebook: https://www.facebook.com/Dymbur
Instagram: https://www.instagram.com/dymbur
BandCamp: https://dymbur.bandcamp.com
Nivid
Nivid is the ferocious industrial rock soundtrack to an environment bristling with hellish energy. From the endlessly diverse backdrop of India, Nivid is a musical embodiment of an Indian population which deals with religion, politics, citizen's rights and status on a daily basis. Launching its debut album, Mernā, Nivid's previous single The World Around Me (Infinite Support) | Sanskaari received heavy radio play and coverage around the world with a universal message which transcended its Hindustani language to hit home to rock, alternative and metal fans everywhere.
With the launch of its new album Nivid has been featured in publications such as The Hindu, Rolling Stone, Eastern Eye, BBC, Mid- Day and more.
Facebook: https://www.facebook.com/nividofficial
Instagram: http://www.instagram.com/nividofficial
BandCamp: http://www.nivid.bandcamp.com
varundo
Varun Desai aka. varundo is a computer engineer working in the field of video art and interactive design. He's been a teacher and lecturer for both hardware and software platforms as well as a graphic designer, creative coder, musician and synthesizer designer. His video art projects use real-time code-based visualisations that make use of body reactive cameras and sensors.
varundo's ground-breaking 3D depth-map work has been going viral on Facebook and has gathered half a million followers since 2018.
He is also an officially supported gif artist on Giphy, Tenor GIF Keyboard and Facebook with 20 million gif views.
Facebook: https://www.facebook.com/varundo
Instagram: https://www.instagram.com/varundo
Giphy: https://giphy.com/varundo
Website: https://varundo.com
Pandemonium: 25th Jan, TopCat CCU, Kolkata
Venue
TopCat
36/F, Topsia Rd, Topsia, Kolkata, West Bengal 700039
GET DIRECTIONS