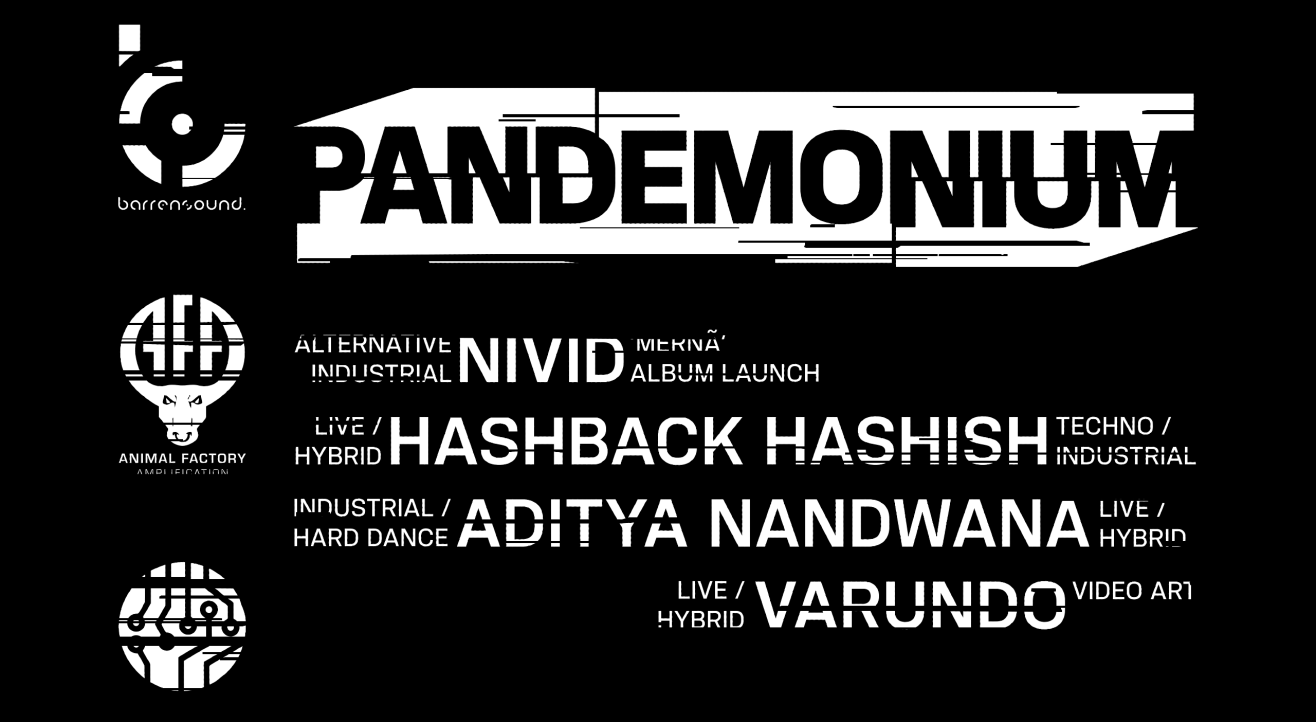 Above The Habitat, Mumbai
Invite your friends
and enjoy a shared experience
Above The Habitat, Mumbai
Invite your friends
and enjoy a shared experience
Invite your friends
and enjoy a shared experience
Industrial, Techno and Interactive Video Art
Above the Habitat, Khar, has been presenting performances by some of the most important artists of our time. On Friday, November 15, it will host a new immersive audio-visual and industrial techno show, Pandemonium.
Marking the launch of Nivid's debut album, Mernā, Pandemonium promises to be an exhilarating audio and visual experience, featuring Nivid along with Hashback Hashish; Aditya Nandwana and varundo. The audience will witness Nivid's industrial onslaught, the genius of Hashback Hashish, eclectic sound scaping by Aditya Nandwana and a visual havoc created by varundo. A night like no other, this shows Mumbai to be the centre of the Earth for transgressive art.
Nivid
Nivid is the ferocious industrial rock soundtrack to an environment bristling with hellish energy. From the endlessly diverse backdrop of India, Nivid is a musical embodiment of an Indian population which deals with religion, politics, citizen's rights and status on a daily basis. Launching its debut album, Mernā, Nivid's previous single The World Around Me (Infinite Support) | Sanskaari received heavy radio play and coverage around the world with a universal message which transcended its Hindustani language to hit home to rock, alternative and metal fans everywhere.
Facebook: https://www.facebook.com/nividofficial
Instagram: http://www.instagram.com/nividofficial
Website: http://www.nivid.bandcamp.com
Hashback Hashish
The music of Ashish Sachan confronts you with a simplicity that is both earnest, but also misleading - if you drill down there are details that only a pair of headphones (and perhaps a taste of his adopted name) can reward you with. Firmly rooted in the minimalist tradition, his narrative offers something for electronic music fans across the spectrum - committed geeks who respect musical history on one end, and on the other, those who could care less about the past and just want to lose it on a dancefloor. Hashback Hashish has released a plethora of critically acclaimed albums, EPs and remixes - which have been internationally championed by the likes of XLR8R, Rolling Stone, Clash, NME and Red Bull. His style has been described as "Trent Reznor on speed" by Flavorpill.
SoundCloud: www.soundcloud.com/hashbackhashish
Website: followthecircuit.bandcamp.com
Aditya Nandwana
Designer and the founder of Animal Factory Amplification, Aditya Nandwana, a child of the 80s and 90s, grew up in Bombay on an eclectic diet of synthpop, industrial, progressive metal, hard rock and a love for the blues. Aditya was consistently fascinated by sonic textures and experimental electronic music, often choosing sound-driven approaches over musicianship. Between 2016 up until October 2019, he reflected this in his layered, complex performances as Sawhorse, immersing the listener in his love for machine sounds, harsh experimental soundscapes and the various shades of distortion crafted by himself. For the near future, Aditya looks forward to exploring the less forgiving space of the dance floor with modular synthesizers, drum machines and an arsenal of hard techno and industrial sensibilities.
Mixcloud: https://www.mixcloud.com/aditya-nandwana/
Website: www.animalfactoryamps.com
varundo
Varun Desai is a Purdue University graduate in computer engineering. He's been a teacher and lecturer for both hardware and software platforms since 2006 as well as a graphic and website designer, creative coder, musician and synthesizer designer. His video art project varundo uses real-time code-based visualisations that also make use of crowd reactive cameras and sensors. varundo is an officially supported gif artist on Giphy and Facebook with 20 million gif views. In 2019 varundo's 3D manipulations went viral on Facebook with the single highest posts gathering more than 80 million views with over a million shares cumulatively.
Facebook: https://www.facebook.com/varundo/
Instagram: https://www.instagram.com/varundo20
Giphy: https://giphy.com/varundo
Website: https://varundo.com
Above The Habitat
4th Floor, OYO Townhouse (Hotel Unicontinental), Road Number 3, Khar West, Mumbai, Maharashtra 400052
GET DIRECTIONS
Above The Habitat, Mumbai
Invite your friends
and enjoy a shared experience