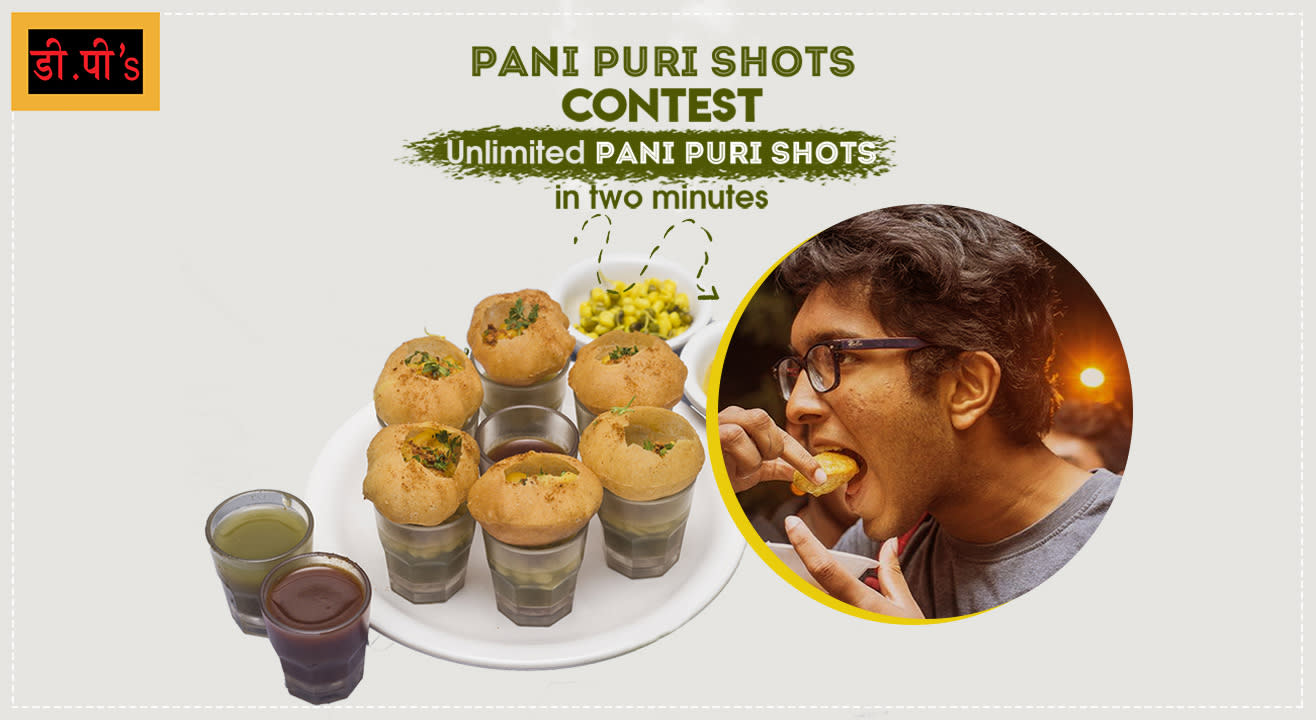 Food
Pani Puri Shots Contest on DP's Fast Food Center
DP's Fast Food Center Matunga
About
The Pani Puri Shots is the best and coolest dish in DP's Fast Food Center. And it's a time to run the contest of eating Unlimited Pani Puri Shots. Each Participant Will have two minutes and in those two minutes, The participant has to eat the maximum Pani Puri Shots. Two winners will be announced at the end of the Pani Puri Shots Contest through our Social Media. The Two Participants with the most number of Pani Puri Shots will get Gift Vouchers of DP's Fast Food Center and Wok Hei of Rs. 5000/-
How to Participate?
The interested participants need to register with us by filling the Online Registration Form Only.
Participants have to pay a Registration Fee of Rs. 59/- (per registration)
Duration
The Pani Puri Shots Contest will be held on 20th May to 24th May between 11:00 am to 9:00 pm.
Eligibility
The Competition is open to all aged 13 or over on the Competition start date. Eligibility requirements include a valid identity proof.
The sole criteria for participation shall be submitting entries through the Registration Form only.
Participants should not have any medical history. If any losses or mishappenings happens during the competition, the participant is solely responsible for it.
Points of Understanding
No Further Entries will be accepted after 23 May 2019, 10: 00 pm.
Two winners will be announced at the end of the Pani Puri Shots Contest through our Social Media.
Two Winners will get Gift Vouchers of DP's Fast Food Center and Wok Hei of Rs. 5000/-
FAQs:
When is the event?
From 20th May to 24th May. From 11 AM to 10 PM.
What is the Contest is all about?
Eating Unlimited Pani Puri Shots in 2 Minutes.
Where is the contest located?
Dp's Fast Food Center Matunga.
How Much Pani Puri Shots can I Eat?
As much as you can eat in 2 Minutes.
What is the Time for completing Pani Puri Shots?
2 Minutes.
What is the age group allowed?
From 13 and above
Can i get my friends or family along with me?
Yes, you can get them all. But if they want to register you have to get their ticket to the competition as well and while you are participating tell them to take your pictures and videos.
Can I eat when i come for the Contest?
Yes, you can order and eat anything from the outlets but you have to pay for the respective item. Rs 59 is only for your Pani Puri Shots Contest Registration.
What will the winner get?
There will be two winners, each person will get the vouchers for eating free of coast in the Dps Fast Food Center and Wok Hei worth Rs.5,000.
Venue
DP's Fast Food Center Matunga
Nandadeep Building, 153, Lakhamsi Napoo Rd, Opposite Ruia College, Matunga Central Railway Workshop, Dadar, Mumbai, Maharashtra 400019