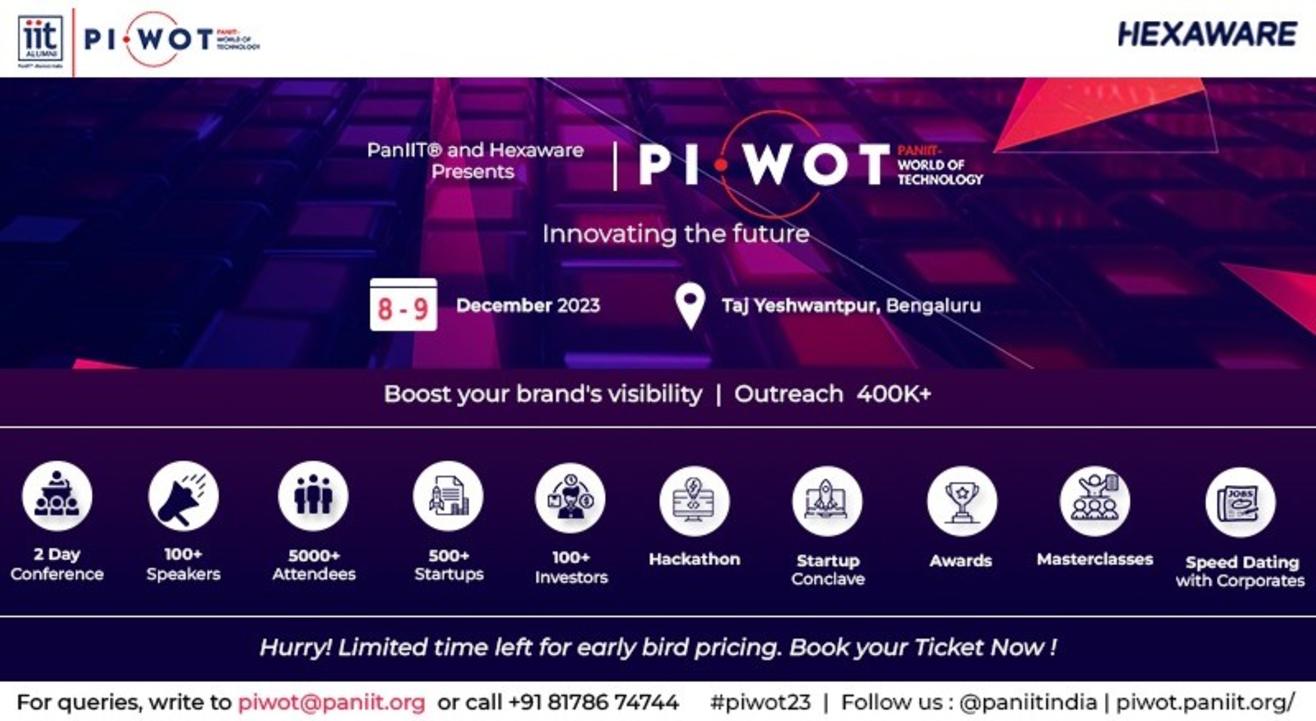 Pan IIT World of Technology (PIWOT) 2023
December 8 | 9AM - December 9 | 11PM
Taj Yeshwantpur, Bengaluru, Bengaluru
Event Guide
Live Performance
Enjoy a unique experience
Invite your friends
and enjoy a shared experience
Pan IIT World of Technology (PIWOT) 2023
December 8 | 9AM - December 9 | 11PM
Taj Yeshwantpur, Bengaluru, Bengaluru
Event Guide
Live Performance
Enjoy a unique experience
Invite your friends
and enjoy a shared experience
Event Guide
Live Performance
Enjoy a unique experience
Invite your friends
and enjoy a shared experience
🌟Unlock a World of Exclusivity with the "PIWOT"🌟
1. In-person Knowledge Sessions: Engage with top global speakers in exclusive knowledge-sharing sessions, gaining direct access to their insights and expertise.
2. Exhibition Pavilion Access: Explore a diverse range of startup exhibits, products, and innovations at the exhibition pavilion, enhancing your learning experience.
3. Multi-Cuisine Networking Lunch: Indulge in a delightful multi-cuisine Networking Lunch held at the luxurious Taj Yashawantpur Bengaluru, available on all event days for a unique dining experience.
4. Exclusive Networking Dinner: Join an intimate Networking Dinner where you can connect and interact with fellow IITians, Investors, top company CEOs, and industry leaders.
5. Cultural Event by Top Performers: Join us for an incredible evening of food, entertainment, and networking at an exclusive location.
6. Access to Startup Masterclasses: Learn from the best in the business and enhance your entrepreneurial skills.
7. Access to Global Leadership Awards Evening: Celebrate excellence at the Global Leadership Awards evening, an event of prestige and recognition.
8. Access to Live Startup Pitches Sessions: Witness innovation in action as startups present their ideas in real-time pitch sessions.
9. Access to Startup Demo Day: Experience the future as innovative startups showcase their groundbreaking solutions.
10. Speed Dating for Investors: Connect with potential investors through fast-paced networking sessions.
11. Speed Dating for Hiring: Find your perfect match among companies actively seeking talented individuals.
🌟 Elevate your event experience with the PanIIT Global "PIWOT" Pass and make the most of every moment! Passes are Limited!🌟
For more information contact piwot@paniit.org
Visit: https://piwot.paniit.org/
PanIIT World of Technology - 2023
Taj Yeshwantpur, Bengaluru
2275, Tumkur Rd, Yeshwanthpur Industrial Area, Phase 1, Yeswanthpur, Bengaluru, Karnataka 560022, India
GET DIRECTIONS
Pan IIT World of Technology (PIWOT) 2023
December 8 | 9AM - December 9 | 11PM
Taj Yeshwantpur, Bengaluru, Bengaluru
Event Guide
Live Performance
Enjoy a unique experience
Invite your friends
and enjoy a shared experience