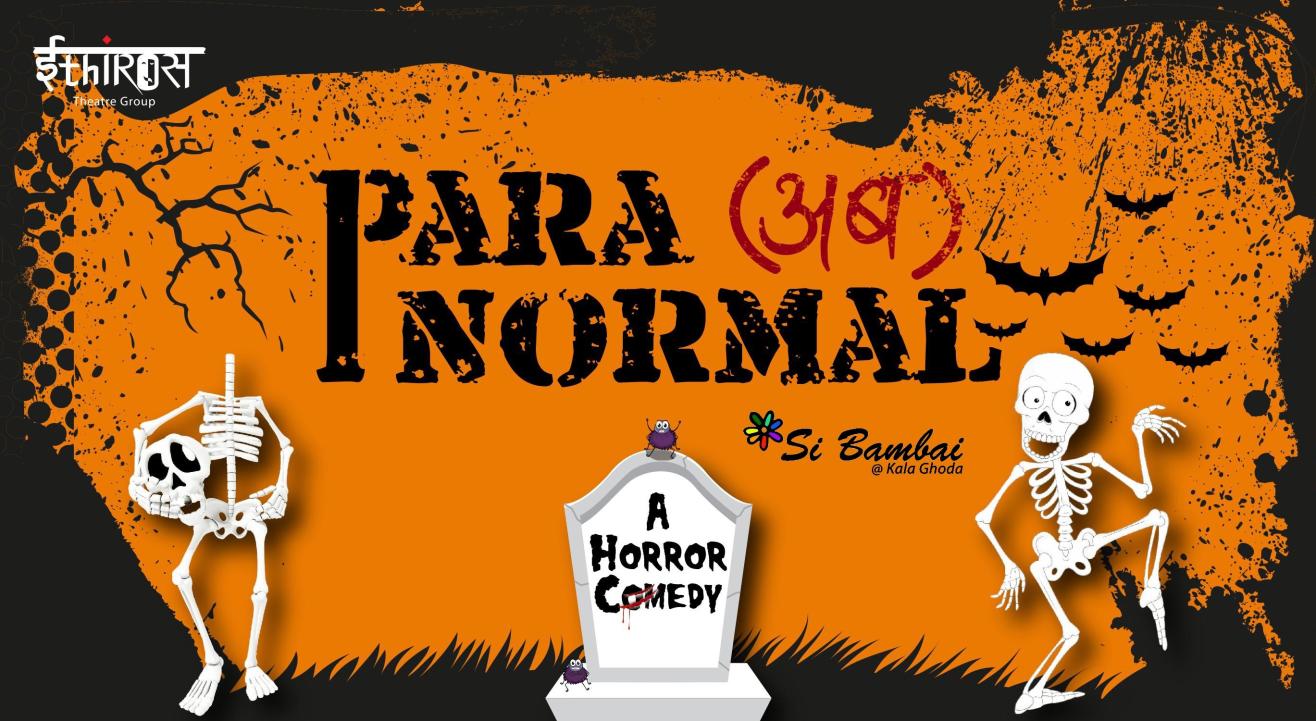 Comedy
About
Ethiros Theatre Group presents 'Para अबnormal'; an immersive theatre experience of fun, laughter, creepy, and ghosts for the audience. The story revolves around a central character who is a host of an infamous show. His life is full of creepy and scary stories which are funny. His life story unfolds on stage where even the audience gets to be a part of it.
Director: Nishil Kamalan
Writer: Reynold DSA and Shane Rosario
Name of the Artists:
Nishil Kamalan
Reynold DSA
Kartik Subramaniam
Diona Dsouza
Bhagyesh Patil
James Marcel
Shane Rosario
Mukti Bajaria
Vaasu
Shashank Vishwakarma
Shivam Dwivedi
Artist Bio:
NISHIL KAMALAN: He is a Drama teacher in school and a performer on stage. He is also the Director of Ethiros Theatre Group with a variety of plays for kids as well as adults. He hosts events, does dubbing and voice over and is also a corporate soft-skills trainer. He has been a part of lot of plays for Rangshila, Neo Ensemble, Roshan Ke Production, Rangaai Theatre Company and many more.
KARTIK SUBRAMANIAM: He is a theatre actor and a dancer. He has done plays for Ethiros Theatre Group, Roshan ke Production, Rangshila and Purvarang theatre groups.
DIONA DSOUZA: She is a school teacher, a dancer and a theatre artist. She has also learned various dance forms. She is currently associated with Ethiros Theatre Group and has performed in various plays for kids as well as adults.
BHAGYESH PATIL: An enthusiastic theatre artist, he has acted in many plays such as Bahot Bada Sawaal, Sur vs Asur and Blueticks of Rangshila Theatre Group and Future Tense(d), The Great Indian Circus and A Twisted Tale of Beauty and The Beast of Ethiros Theatre Group. Apart from this, he has also written a play called Rolampol for Purvarang theatre Group. He is also a part time Speech and Drama teacher in various schools across Mumbai. He has also been a part of Pro Kabaddi's Ad for Bengal Warriors and has played a lead role in a Short Film called Charsi for Yapman Media.
JAMES MARCEL: A Drama teacher in school and an aspiring actor. He has been associated with Ethiros and Neo Ensemble theatre groups. He has done plays for kids as well as adults.
SHANE ROSARIO: He is a Drama teacher, writer and an actor. He is associated with various theatre groups, some of the well known ones being Ethiros Theatre Group, Purvarang, Roshan Ke Production and Rangaai Theatre company.
MUKTI BAJARIA: She is a Theatre artist associated with Ethiros Theatre Group.
VAASU: He is a Post Graduate in Theatre from Mumbai University. He is an actor and has performed various plays for many theatre groups.
SHASHANK VISHWAKARMA: He is an aspiring actor. He has done a short movie and is currently associated with Neo Ensemble, Ethiros theatre groups amongst others.
DIVYA SANJAY: She is a full time actor who is passionate about acting and storytelling. She has worked in various short films and plays. She is also a voice-over artist who has dubbed for short films. She is currently associated with Ethiros Theatre Group.
SHIVAM DWIVEDI: He is an actor and a dancer with Rangaai Theatre Company. He also works in the theatre industry. He is best known for his performance in the play Dark room 2.0 - An immersive sensory experience.
Venue
Si Bambai
No 25, 105 opposite lakshmi vilas bank, Mumbai Samachar Marg, Kala Ghoda, Fort, Mumbai, Maharashtra 400001
GET DIRECTIONS