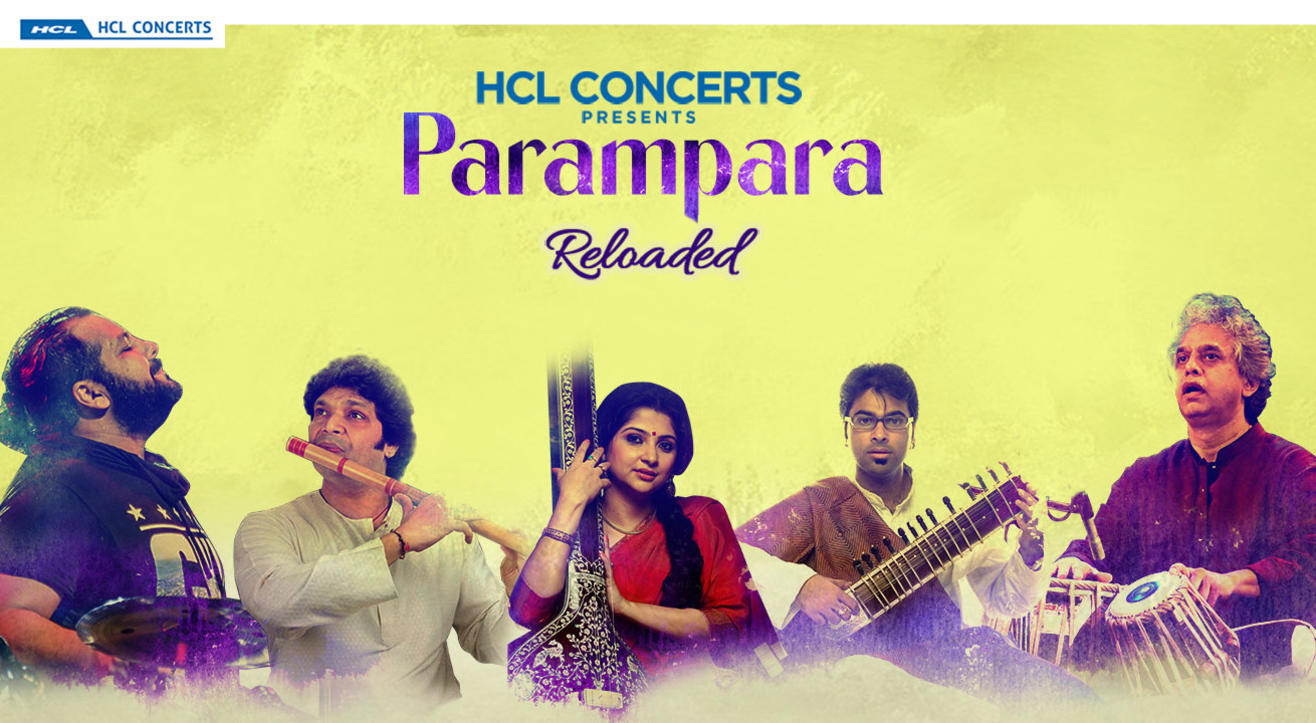 Parampara Reloaded by HCL Concerts
Madras Music Academy Auditorium, Chennai
Invite your friends
and enjoy a shared experience
Invite your friends
and enjoy a shared experience
About the Event
The conservation and promotion of India's art and cultural heritage is very close to HCL's heart. To this end, HCL has been organizing HCL Concerts for 21 years, dedicated to identifying, evolving and promoting talent rooted in the glorious heritage of Indian classical performing arts.
Concerts under the umbrella of HCL Concerts are organized in Delhi, Noida, Gurugram, Faridabad, Lucknow, Nagpur, Madurai and Chennai across various venues regularly throughout the year. These concerts are often enriched by the presence of luminaries in the field of Indian classical performing arts.
On 15 November, HCL Concerts would present 'Parampara Reloaded' feat. Kaushiki Chakraborty, a renowned veteran Hindustani vocalist accompanied along with, Rakesh Chaurasia on Flute, Purbayan Chatterjee on Sitar, Gino Banks on Drums (son of Louis Banks), Ustad Fazal Qureshi on Tabla. The artists would be presenting Hindustani classical and fusion content with a contemporary landscape and the soundscape of the show would be through Tabla, Sarod, Keyboard, Harmonium ,Guitar and Vocals by Kaushiki.
Artist Description
Kaushiki Chakraborty:
Kaushiki Chakraborty has received musical training under the tutelage of mother Chandana and father Ajoy. She performed at her first major concert at the age of 16 at the India Habitat Centre in Delhi. The audience comprised a few of the greatest names in Hindustani music, including Zakir Hussain, Alla Rakha Khan, Sultan Khan, Amjad Ali Khan et al. The verdict of that evening was unanimous: the next big phenomenon in Hindustani music has arrived. Kaushiki remained a scholar of ITC SRA till 2004 and graduated with A Top, the highest grade given by the academy. By then, she was the leading female vocalist of her generation, having had performed at all the leading music festivals in the country and with several foreign tours under her belt. She chose to adapt the tenets of the Patiala gayaki to suit her own voice and temperament. She tempered down the strong aakars and the weighty gamaks to adhere to a more feminine sensibility. Her understanding of femininity is a balance between lilt and power. Her gayaki adequately expresses this balance, as it strides effortlessly across khayal and semi-classical genres and beyond.
Rakesh Chaurasia:
Rakesh Chaurasia, the nephew and child prodigy of flute maestro Pandit Hariprasad Chaurasia, has carved a niche for himself, as an accomplished flautist. Incorporating the tradition of his renowned uncle and infusing his personal style, he has evolved a form of music which while maintaining the purity of the flute manages to capture the attention of the young listeners too. Buy an all days pass to avail amazing discounts and enjoy the best of classical music over an amazing weekend.
Purbayan Chatterjee
One of the finest sitar players in the country comes from the Senia Maihar Gharana. Senia Maihar Gharana is a school of classical Hindustani music established under the princely state of Maihar by Baba Allauddin Khan. The same Gharana that schooled some of the biggest stars like, Ustad Ali Akbar Khan, Pandit Ravi Shankar and Pandit Nikhil Banerjee. Purbayan Chatterjee was a proud recipient of President of India
Fazal Qureshi:
Born in a family of Tabla players, Fazal Qureshi is the son of late Ustad Allarakha and brother of Ustad Zakir Hussain. He has been regularly performing with musicians such as Pt. Shiv Kumar Sharma, Pt. Hariprasad Chaurasia, Ustad Amjad Ali Khan, Sitara Devi, Pt. Brij Bhushan Kabra. His acute sense of rhythm and understanding of Carnatic music, have given him a chance to perform with 'Vidhwans' such as U. Srinivas, T. N. Krishnan, M. S. Gopalakrishnan, Dr Bala Murli Krishna, Mridangist Shivaraman, Ghatam Vidhwan T. H. Vinayakramji etc. His swedish based group 'Mynta', has been performing widely all over the world at various Jazz and World Music Festivals. He has been performing for 35 years, and is in charge of the Ustad Allarakha Institute of Music, started by his father.
Gino Banks:
Born and brought up in Mumbai India, Gino has been fooling around with the drums since he was 8 years old and took it up seriously at the age of 15. He is the son of Louiz Banks, India 's legendary jazz pianist and composer. He toured Australia and China with his fathers' indo-jazz fusion band SANGAM playing percussion when he was just 9 years old.
He has also had the Honor and Privilege of playing a few tracks on the Miles From India Album produced by Bob Belden, nominated for a 2009 Grammy in the Contemporary Jazz Category with Times Square Records, NYC; a fusion of Great Indian Classical Musicians and Miles Davis Alumni Musicians.
Madras Music Academy Auditorium, Chennai
No. 168, TT Krishnamachari Road, Royapettah, Chennai, Tamil Nadu 600014
GET DIRECTIONS