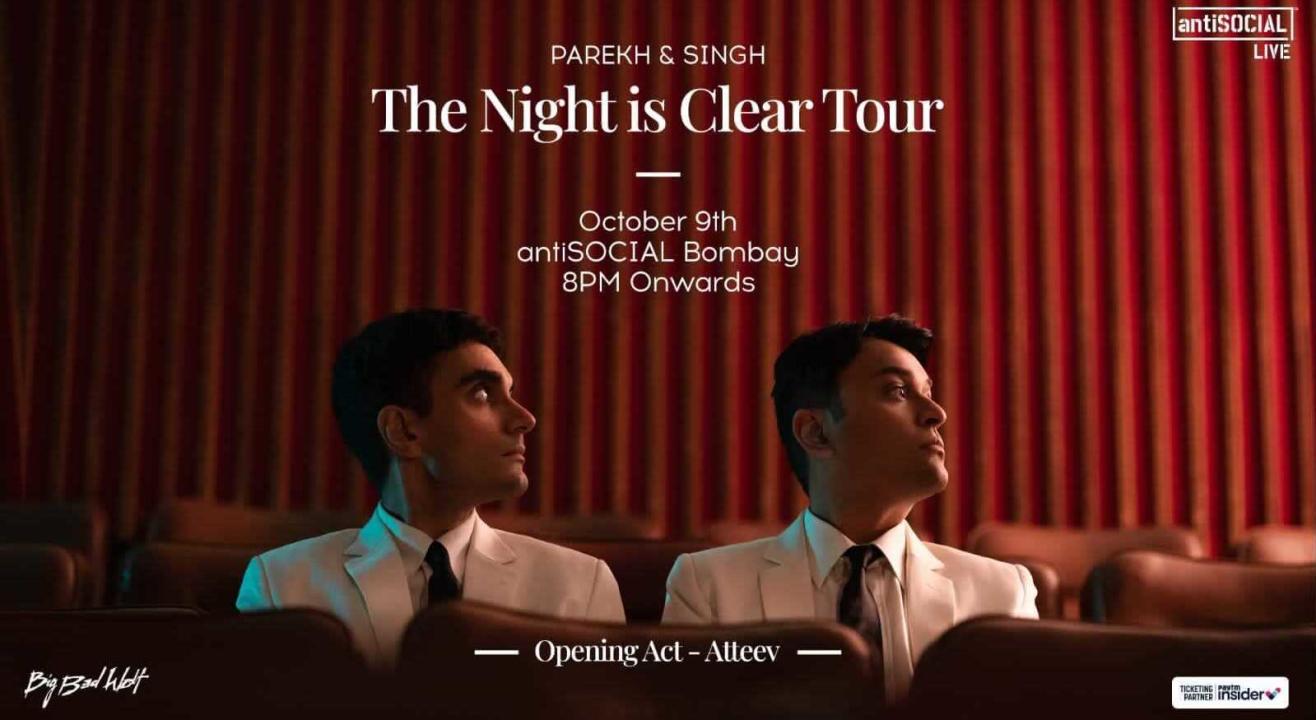 Parekh & Singh | The Night Is Clear Tour - Mumbai
antiSOCIAL, Lower Parel, Mumbai
Event Guide
Live Performance
Enjoy a unique experience
Invite your friends
and enjoy a shared experience
Parekh & Singh | The Night Is Clear Tour - Mumbai
antiSOCIAL, Lower Parel, Mumbai
Event Guide
Live Performance
Enjoy a unique experience
Invite your friends
and enjoy a shared experience
Event Guide
Live Performance
Enjoy a unique experience
Invite your friends
and enjoy a shared experience
Parekh & Singh have returned with their third full length album entitled 'The Night is Clear' The duo had this to say about their new work :"The album is a mirror to our souls.The songs are personal, sometimes painfully specific"
On their latest offering, the duo have constructed an expansive otherworldly realm, where kings, nightingales and bedouins tell their stories. Inspiration always arrives to save us from whatever is going on in our lives. Poetry, music, film, and prose all provide an undeniable balm on whatever worldly wounds we carry. This album solidifies why Parekh & Singh can't stop making music, no matter how hard life gets. Art always wins.The duo took a multi-dimensional and collaborative approach to the production. The album was recorded in the duo's respective home studios in Calcutta, India and Dubai,UAE. The songs were then mixed by Howie Beck (Feist, Bahamas, Mocky) in Canada and Caleb Parker (Pomplamoose, Vulfpeck) in the United States. Lush string andwoodwind arrangements are at the center of this record, performed by Ashley Jarmack (English horn, flute and oboe) and Luke Moller (mandolin, violin, viola, cello). Additional electric bass parts have been performed by longtime collaborator Pedro Zappa from Portugal.
P A R E K H & S I N G H
About Parekh & Singh
Parekh & Singh are a pop duo from Kolkata, India. Nischay Parekh sings, plays guitar, and keyboards; Jivraj Singh plays drums, percussion and electronics; and both enjoy computation of various kinds. While Nischay has one foot in this world and the other in the realm of dreams, Jivraj is a student of math and logic and drawn to life's darker recesses. Friends, enemies, neighbours and brothers – they wrestle, play chess and table tennis, eat, think, and roam the streets. But, above all, they make music of whimsical, magical beauty. 'Ocean' was their debut album – glowing tracks of cosmic pop that shimmered like a tropical sunset. While many influences – from Woody Allen to dusty Americana – could be detected across the album's nine tracks, Ocean was widely considered to have been a fresh new sound in Indian music. If their debut conjured a lush landscape populated by magical creatures, the follow up 'Science City' saw our sharp-suited star-gazers materializing another dimension – a retro-future world of doctors and scientists, quantum mechanics and aerodynamics. Parekh's divine vocals were once again backed by vintage synths and Singh's expertly effervescent percussion.
Parekh & Singh's easy way with each other, and the dreamy languor that pervades their music, belies the dedication of two talented musicians, both immersed in music from
an early age. The artists are signed to Peacefrog Records, and are managed by Big Bad Wolf Entertainment.
antiSOCIAL, Lower Parel
CS #242, Near Viva Centre, Mathuradas Mill Compund, Lower Parel West, Mumbai
GET DIRECTIONS
Parekh & Singh | The Night Is Clear Tour - Mumbai
antiSOCIAL, Lower Parel, Mumbai
Event Guide
Live Performance
Enjoy a unique experience
Invite your friends
and enjoy a shared experience