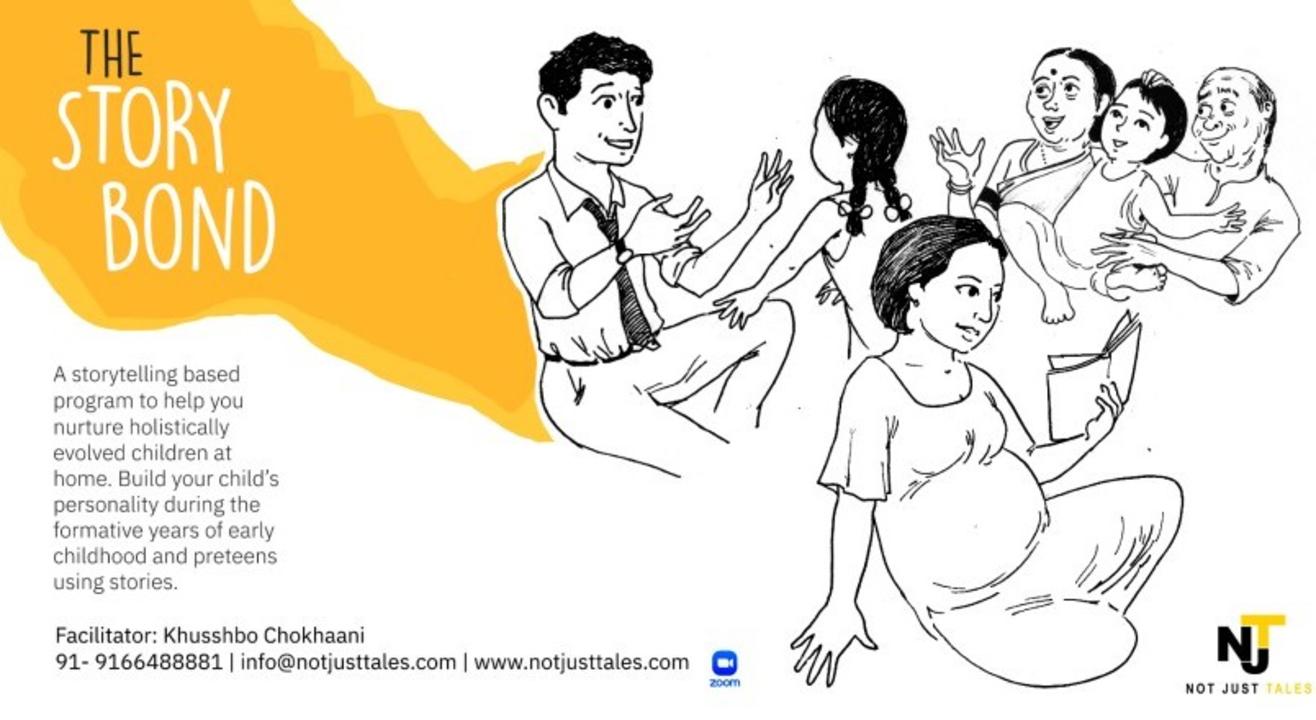 Enjoy this event from your home
Event Guide
Masterclass
Learn from an expert
Invite your friends
and enjoy a shared experience
Event Guide
Masterclass
Learn from an expert
Invite your friends
and enjoy a shared experience
About the Event
THE STORY BOND
Nurture holistically evolved children at home with THE STORY BOND. Build your child's personality during the formative years of early childhood and preteens using stories.
Areas Covered:
1. How to use stories during pregnancy?
2. How to use stories to shape your child's personality?
3. How to tell stories effectively to your child?
4. How to bring the reading culture at home to raise a reader using stories?
5. How to read aloud to your child?
6. How to select age appropriate stories?
7. How to create original stories at home?
8. How to use stories to heal challenging behavior at home?
9. How to share family heritage (culture & values) to your child?
10. How to safeguard your family stories?
11. How to create a personal narrative for your child?
12. How to raise an effective communicator at home using stories?
13. How to use different forms of storytelling to engage with your child?
14. How to address challenges while telling stories?
15. How to use story games?
Key Learning Outcomes:
This program makes you independent in nurturing your kids with key life skills of 21st Century as listed below:
1. Self Expression/Communication Skills
2. Personality Traits Exploration
3. Comprehension Skills
4. Problem Solving Skills
5. Logical Reasoning
6. Critical Thinking
7. Social Intelligence
8. Emotional Intelligence
9. Behavioral Intelligence
Who can join? : Expected Parents, Parents, Grandparents, Caretakers involved in nurturing children between 0 to 10 years.
Resources Provided/Key Takeaways:
1. Bag of stories for different genre and requirement
2. List of reading material from 0-10 years age wise
3. Individual Participant performance with personal attention
4. One and one session (60 minutes) to address any specific challenges
5. Post workshop support available
6. Life time bond with Storyteller Khusshbo Chokhaani
Language used in the Program: English and Hindi (depending on the participants)
Date: 14.08.2021, 21.08.2021, 28.08.2021
Time: 3.30 pm to 5.30.pm
Days: Saturdays
Duration: 6 hours group workshop.
Venue: Online. Join from anywhere.