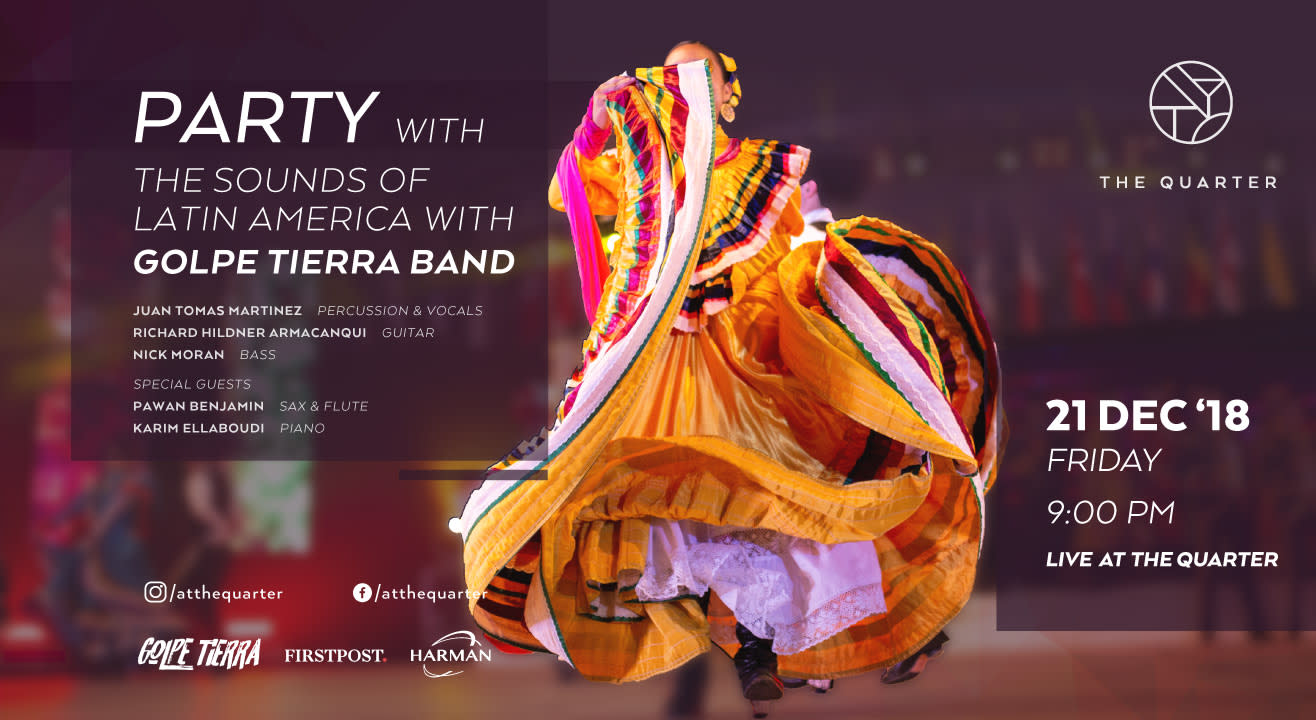 Music
Party with the Sounds of Latin America at The Quarter
Friday | December 21 | 9PM
749 - 1,599 (Prices subject to change)
About
Get ready to embark on a musical journey through Latin America with Pawan Benjamin and Golpe Tierra. Meaning "to beat the earth," Golpe Tierra's infectious rhythms will surely get you out of your seat and dancing to the sounds of Peru, Cuba and more! A Friday night you should not miss!


Band Bio:

The irresistible acoustic groove of Golpe Tierra bases its sound on the philosophy that, when we come together in music and dance to "beat the earth," we are truly celebrating the act of community. This guerrilla-style ensemble, employs the traditional Afro-Peruvian, Guitar - Bass - Cajon setup, with saxophone and piano added to the mix. The Group embarks on a musical journey throughout Latin-America, flirting with blues, jazz, and shades of soul. This uniquely-presented original and traditional music is sure to get you out of your seat to dance!
Pawan Benjamin

Multi-instrumentalist and composer Pawan Benjamin, started his musical training at a young age in Madison, Wisconsin, receiving guidance and mentorship from jazz luminaries such as bassist, Richard Davis, Roscoe Mitchell, and many others in the Madison area.
His training ranges many disciplines from Jazz, Hindustani and Nepali Folk traditions, to Hip Hop, Classical and Modern musical production and composition. Learning and honoring the legacies of contrasting cultures offers a unique perspective he shares in this music.

Pawan has collaborated with artists such as Roscoe Mitchell, Ranjit Barot, Taufiq Qureshi, Rez Abbasi, Marc Cary, Candido Camero, and Bill T. Jones among others.

Richard Hildner Armacanqui:

Richard has studied and played extensively with one of the leading world exponents of the Afro-Peruvian cajon, Juan 'Cotito' Medrano and also studied in Peru with the legendary Afro-Peruvian guitarist / basist /composer, the late Maestro Carlos Hayre. He currently plays with a wide range of musical groups such as the Acoplados Latin acoustic duet, the Brazilian Pagode band Grupo Balanca and is the guitarist for Naty Nation.

Nick Moran:

A prolific bassist on both electric and the double bass, Nick regularly performs a diverse roster of musical genres including Jazz, Afro Latin, Hip Hop, Reggae, Funk, and more. He has toured internationally and performed with a diverse collection of internationally renowned acts

Juan Tomas Martinez:

With a 20 year musical career, he has participated in more than seven CDs as a percussionist, vocalist and arranger. He has seasoned his musical talent on the madrilean nightlife with an afro-caribbean attitude, has been part of the world-touring spanish band Canteca de Macao for almost ten years.

Karim Ellaboudi:

Karim is a classically trained pianist whogrew up in the UK, with roots in Sudan and Egypt. His command over an array of styles, including Jazz, Funk, Latin, RnB, DnB and related genres has resulted in him being a much sought after artist by many well known names in the UK and India.
Juan Tomas Martinez - Percussion and Vocals
Pawan Benjamin - Sax and Flute
Karim Ellaboudi - Piano
Richard Hildner Armacanqui - Guitar
Nick Moran - Bass
Golpe Tierra Afro-Peruvian jazz ensemble
Venue
The Quarter
Royal Opera House, Mathew Rd, Opera House, Girgaon, Opera House, Girgaon, Mumbai, Maharashtra 400004, India