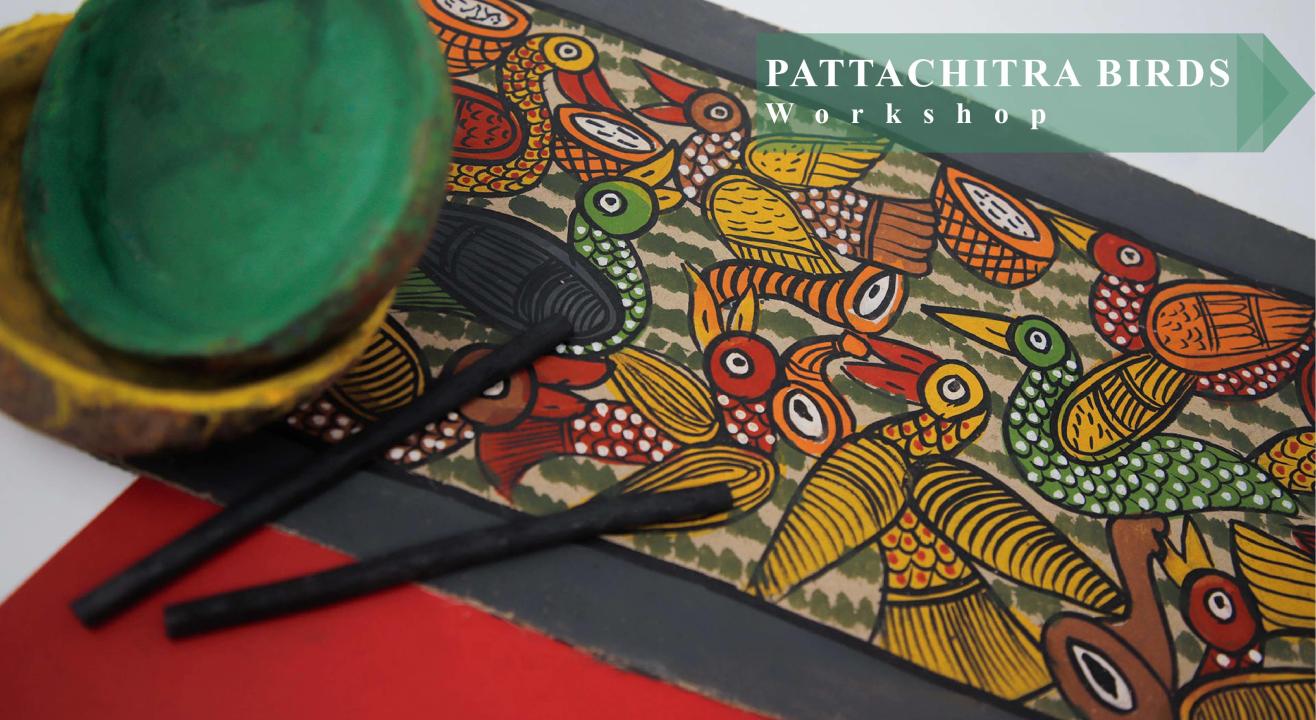 PATTACHITRA BIRDS (West Bengal)
January 19 | 4PM - January 20 | 5PM
Enjoy this event from your home
Invite your friends
and enjoy a shared experience
Invite your friends
and enjoy a shared experience
About the Event
The art of storytelling has been intrinsic to the culture of West Bengal since days of yore and this has manifested itself in diverse art forms, Pattachitra being one of them.
Depictions of mythology and fairy tales were painted in a sequence to be carried by Patuas who would travel from one village to another telling stories and singing of various sagas like Behula Lakhindar or the abduction of Sita.
Spellbound by the mesmerizing storytelling technique of these troubadours, the villagers would give them alms for their hard work.
Learn this historical art form full of mystique and unique intricacies in our Pattachitra Painting (West Bengal) Workshop.
This is a two-day online workshop on Zoom.( one and a half hour each day)
This is a live session and no recordings will be provided.
The workshop will be conducted in Hindi.
What Do You Learn
Day 1
Pen Study and Scribbles.
3 borders
3-4 Birds
2-3 leaves
Day 2
One full composition –
Painting – It might not complete during the workshop hours.
We will start and you can complete and send us pictures.
List of Material Needed
4 Sheets – Basic Drawing Paper or any Paper available
1 A4 size sheet for final Drawing
Pencil
Eraser
Scale
Round Brushes – 1/2/4/6
Colours – Poster colour/ Acrylic colour
Date: 19th & 20th January 2021
Time: 4:00pm to 5:30pm (It will be a one and a half hours class per day)
It might exceed by 15 mins since we will be teaching the details.
Fees: ₹1200
Tickets once sold will not be refunded.
The zoom link will be sent on registered number about 30 mins before the workshop schedule time on WhatsApp. If any participant doesn't receive the link, they can send a WhatsApp message on 7506122332 along with their order id and we will share the link immediately.
The picture shown in the post is just for your understanding, it need not be what is going to be taught in the class. We try and plan a subject which can give you the maximum insight into The Art form.
The artwork may or may not finish during the session. We shall start and finish as much as possible and send you a complete image of what is taught during the session.
We are more than happy to teach. Please note if time permits, we will answer all your queries during the class or try to email them to you.
Sometimes there are network issues in the Zoom App or at the conductor's residence. We request you to please be patient during such times. We shall try our best to give you the best experience and fix it asap.
Stay Safe!!