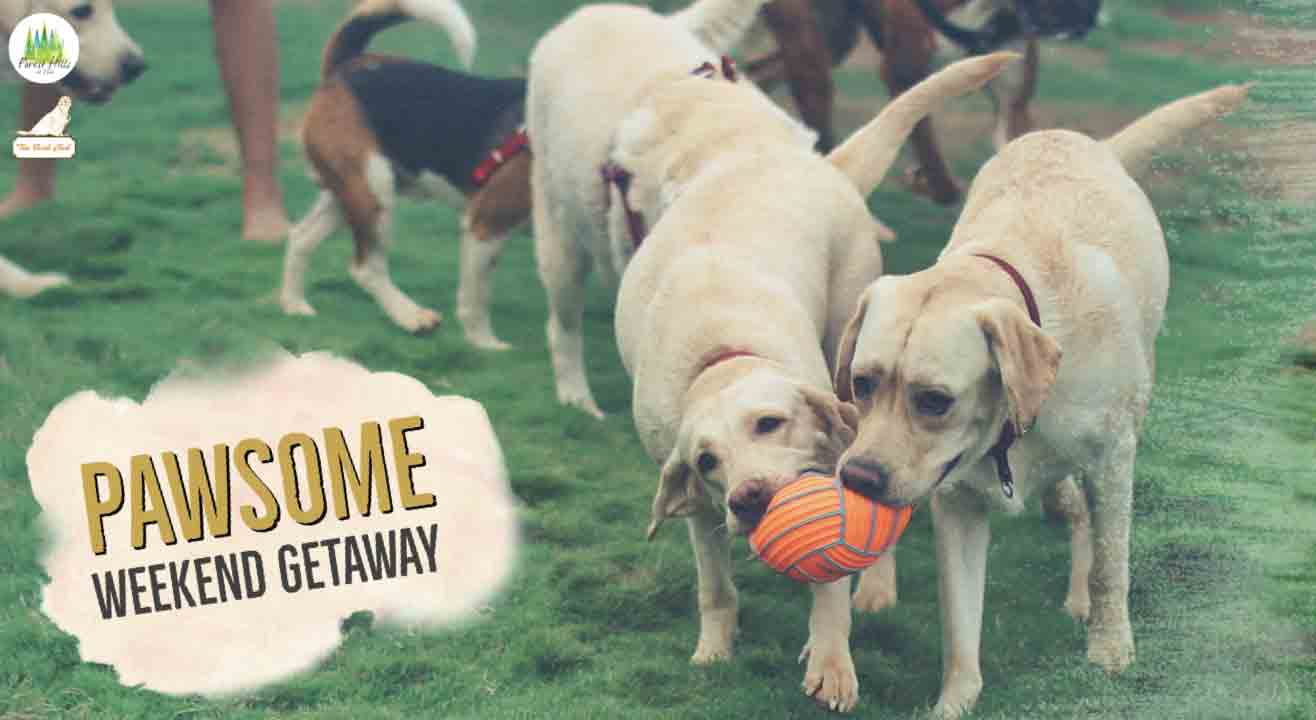 Pets
About
If you're pawing at the door to escape, why not bring your furry friend along and ruff it at our campground! Forests and dogs are made for each other. There are leaves to gambol in, creatures to sniff out and miles and miles of land to explore.
This July 21, whisk your dog away for a PAWsome Weekend Getaway, meet other pet parents and watch your dog play to its heart's content.
Since we can't make the weekends longer, we can definitely strive to make them better for you and keeping that in mind, we have curated a special itinerary for you and your pooch in association with The Bark Club all under one wooof!
There will be UnPUGGed Music, Pawlicking Meals, Treat Hunt, Movie Night with Pupcorn… and an exclusive pool session with your pooch!
It's hard to say who will have a better time!
I am not a dog owner? Canine come?
Of course, if you don't mind dog glitter on your clothes, some sniffs here and a few licks there with woofs and goofs, then this is your chance to experience what pet heaven is like.
Saturday, July 21
9:00 AM
Check In
Welcome Drink and Treat

11:00 AM
Dogs vs. Sprinklers

1:00 PM - 3:00 PM Bone Appetite

4:00 PM
PAWlympics
Treat Hunt
Obstacle Course

6:30 PM
Let's Paws and Reflect

7:30 PM
UnPUGGed Music & BarkBQ
Party Night with Tequila (The Rottie)

9:00 PM
Pawlicious Dinner

10:00 PM
Movie Night With Pupcorn

Sunday, July 22
6:30 AM
Tail Trail to Kuda Caves

9:00 AM
Sniffilicious Breakfast

11:00 AM
Swim With Your Pooch

1:00 PM
Pawrfect Lunch

4:00 PM
Groom to Perfection
High Tea
Check-out
Grooming for Dogs
UnPUGGed Music
Pawlicking Meals
Treat Hunt
Dogs vs. Sprinklers
Movie Night
Tent Accommodation on Twin Sharing basis
All Meals including BBQ
Hos-pet-ality (Gourmet meals, fun games)
Swim Session
Movie Night
Nature Trail to Kuda Caves
Grooming
Travel to the campground
Spa Charges (INR 1500 for 30 Mins)
Decathlon tents that come with charging points, mattresses, air pillows and sleeping bags
Permanent Common Bathrooms
Music system
Volleyball, Football, Cricket and Turn Ball
Spa Therapy
Pooch Necessities
Dog Passport (Vaccination Proof)
Cap, Umbrella / Raincoat
Comfortable Footwear
Any personal medicine
Photo ID card
How to reach to the Campground
Drive Your Own:
Drive down to the Campground in your own vehicle.

Pick Up and Drop:
To and fro Mumbai and Forest Hills transportation by car or a bus for a larger group can be arranged at an additional cost.
For a pleasant getaway with your pet, here are some common "petiquette" tips to keep in mind:
● Make sure your dog is up-to-date with vaccinations and has a current ID tag.
● Clean off your dog when he/she is wet or dirty, using provided towels, prior to letting them in your room/tent.
● Clean up after your dog and dispose of any waste.
● Notify the resort of any dog "accidents" immediately and request special cleaning efforts.
Tala is a small village situated in the Raigad district of Maharashtra and is just three hours away from Mumbai and Pune. An idyllic setting that is perfect to rejuvenate both body and soul. The perfect hide-away from crazy schedules and cramped spaces, from pollution and pandemonium and the regular stresses and strains of urban living. This one-of-a-kind experience features in its midst carefully detailed Cottages, stunning Container Homes, spectacular Barn Cabins, captivating Tree Houses and a unique Glass House. The campground is fitted at the highest point on our property, overlooking miles and miles of forest with ample natural resources.
Advance once paid shall not be refunded, if intimated 15 days in advance, reservation can be utilised within next 90 days subject to availability and prior reservation, re-booking is not allowed for weekends, Diwali, Easter, Christmas and New year's and other major holidays announced for Elections, etc. Any change in tariffs difference will be payable.
Venue
Forest Hills at Tala
Survey no. 157/9, Village-Taraste, Pitasai Kumbet Road, Post-Pitsai, Taluka-Tala, District-Raigad, Tala, Maharashtra 402111