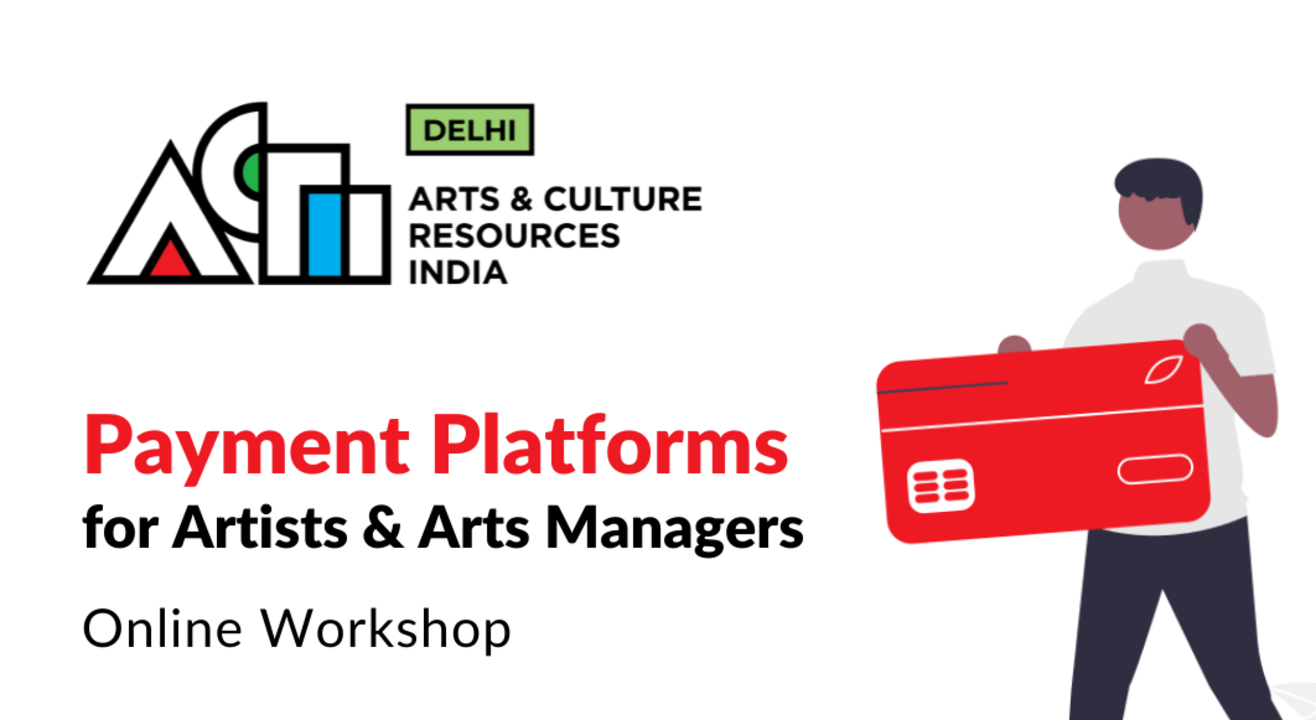 Payment Platforms for Artists & Arts Managers
Event Guide
Masterclass
Learn from an expert
Invite your friends
and enjoy a shared experience
Payment Platforms for Artists & Arts Managers
Event Guide
Masterclass
Learn from an expert
Invite your friends
and enjoy a shared experience
Event Guide
Masterclass
Learn from an expert
Invite your friends
and enjoy a shared experience
UPDATE: This event has been rescheduled from 6th October to 10th November 2021.
Payment Platforms for Artists & Arts Managers
A practical training session facilitated by Gaurav Singh as part of ACRI Delhi Chapter: Kaivalya Plays.
About The Session
In this 2-hour online workshop, you will be introduced to the basics of online payment, how to set up a payments platform for personal or business use, and ways to optimize your financial tracking and reporting.
Wednesday, 10 November. From 4:00 p.m. to 6:00 p.m. IST on Zoom.
Learn more and register at bit.ly/payments4art
The session will cover:
Receiving Payments (Personal) vs Receiving Payments (Business)
Different Types of Payment Platforms (Gateways vs Apps)
Setting Up a Payment Platform (Factors to Consider)
Setting Up Payments on Instamojo (Step-by-Step Demonstration)
Introduction to Event-Based Ticketing Platforms: Insider, Eventbrite
Best Practices for Receiving Payments.
This session will be a beginner-level introduction to different tools and software needed for ticketing and payments within the context of the arts. Suited for all stakeholders within the arts – performers, practitioners, producers, managers – these sessions are geared towards those who are looking to move their individual artistic practice (or that of a collective) to the digital space or wish to expand their existing scale of operations with technology. No prior experience or knowledge of payment software is needed for any of the sessions.
Up to 40 participants per session. Institutions can send multiple representatives at a special discounted price.
Each session will consist of presentation-led training with interactive, practical exercises with QnA at the end.
Every participant will receive a resource packet consisting of handouts, training material, and learning resources.
About The Facilitator
Gaurav Singh is a theatre-maker, marketing consultant and production manager based in New Delhi, India. He is the production manager at Kaivalya Plays, a Delhi-based independent theatre company known for their work in applied improvisation and adaption of foreign-language texts. Here, he co-instituted the Theatre Management Fellowship, a unique training initiative focused on the strategic management and creative administration in the performing arts, leading the technical training and development of the 5 selected Fellows. He brings the experience of working in a high-paced growth-oriented startup environment to the arts and cultural world. In his professional capacity as a marketer, he has worked with companies like Atlan, SocialCops, Josh Talks, LTG Delhi, ParallelHQ, FreshMenu, and others. Gaurav was awarded the Gender Bender grant in 2019 and has received the prestigious Chevening Scholarship in 2020 to pursue an MA Advanced Theatre Practice at The Royal Central School of Speech and Drama.
About The Organizations
Arts and Culture Resources India (ACRI), is a platform for knowledge exchange, information sharing, networking, and learning for cultural and creative industry professionals in India. As creative professionals ourselves, back in 2013, they realised that while sharing and learning of artistic practice had several avenues, a space for arts administration was missing in India. ACRI was founded as a completely volunteer-led initiative to fill this gaping lacuna within the arts scene in the country, albeit as a Facebook group, Arts and Culture Opportunities, Residencies, Workshops, Jobs in India.
Kaivalya Plays is a multi-disciplinary performing arts organization focused on creating safety practices in the performing arts, innovating theatre formats and mentoring new talent, especially encouraging the presence of women in the performing arts and training arts managers for the theatre. With its roots in the cultural capital of India, New Delhi, Kaivalya Plays curates a hybrid cultural calendar of in-person and online activities across a wide spectrum of artistic fields. Their community of team members, students, teachers, performers and audiences are spread out across the world. Their Safety Research Study is the first of its kind in India to understand the needs of performers, audiences and spaces to create individualized safety practices for arts organizations. Their Theatre Management Fellowship is a one-of-a-kind training program for arts managers for strategic management and creative administration of theatre.
Payment Platforms for Artists & Arts Managers
Event Guide
Masterclass
Learn from an expert
Invite your friends
and enjoy a shared experience