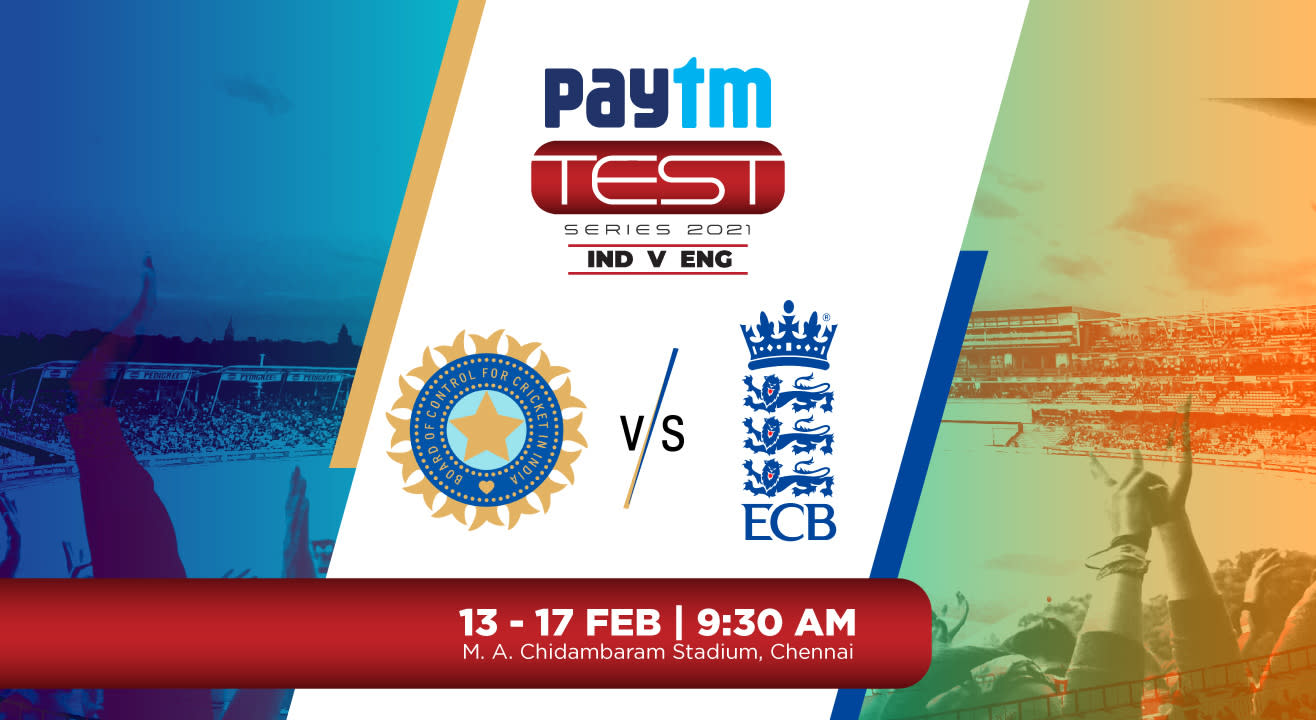 Paytm TEST Series 2021: 2nd Test India V England, Chennai
M.A. Chidambaram Stadium, Chennai, Chennai
Invite your friends
and enjoy a shared experience
Paytm TEST Series 2021: 2nd Test India V England, Chennai
M.A. Chidambaram Stadium, Chennai, Chennai
Invite your friends
and enjoy a shared experience
Invite your friends
and enjoy a shared experience
We are now sold out for this event, thank you for an overwhelming response.

It's time we brought back stadium cheers and live cricket. Gear up to watch India vs England for their 2nd Test match at M.A. Chidambaram Stadium in Chennai. You can watch the Men in Blue power-through the Test series as you cheer for them live at the stadium. An action-packed match is about to go down as the England squad bring their fierce game for the next match. On the other hand, Team India is preparing the perfect welcome for the England team as their India Tour 2021 kicks-off in Chennai. All we can tell you is there's some good ol' cricket action ahead, so get your tickets already!
Ticket Categories Available for Online Purchase:
Tickets for Paytm TEST Series 2021: 2nd Test India V England, Chennai will be available for purchase on Paytm Insider from 8th February, 10AM. You can purchase any of the below ticket categories-

Ticket Price INR 100 - C Lower, D Lower, E Lower
Ticket Price INR 150 - F Lower, H Lower, I Lower, J Lower, K Lower, D Upper, E Upper
Ticket Price INR 200 - I Upper, J Upper, K Upper

Please note, if the tickets for these stands are unavailable for purchase, they are either currently unavailable or sold out.

Live cricket is back to your nearest home grounds!
As much as we are happy to bring you the joy to cheer and roar for our Men in Blue, let's keep in mind the health of our fellow supporters including ourselves.

Please ensure you are wearing a mask at all times and are maintaining social distancing
As much as we'd like you to get the best seats in the house, please respect your fellow supporters and avoid crowd gathering/rush/pushing while entering the venue.

Physical ticket is mandatory to enter the stadium. No spectator will be allowed to enter the grounds without a valid physical ticket for the said game.
Please note, physical tickets are mandatory for entry to the stadium. Hence, we would request you to pick up your match tickets from the box office at
Booth No. 6 & 8 located at Victoria Hostel Road for 'C, D, E & F' Stands
at Wallajah Road, near Gate No. 11 & 12 for 'I, J, K & H' Stands
The redemption counter will be open from 8AM-6PM on 16th February.
Note: In order to avoid delay and long queues on the match day, please pick up your tickets as soon as possible.
Please carry your e-ticket and a valid photo ID proof to collect your physical tickets.
M.A. Chidambaram Stadium, Chennai
Victoria Hostel Rd, Chepauk, Chennai, Tamil Nadu 600005
GET DIRECTIONS
Paytm TEST Series 2021: 2nd Test India V England, Chennai
M.A. Chidambaram Stadium, Chennai, Chennai
Invite your friends
and enjoy a shared experience