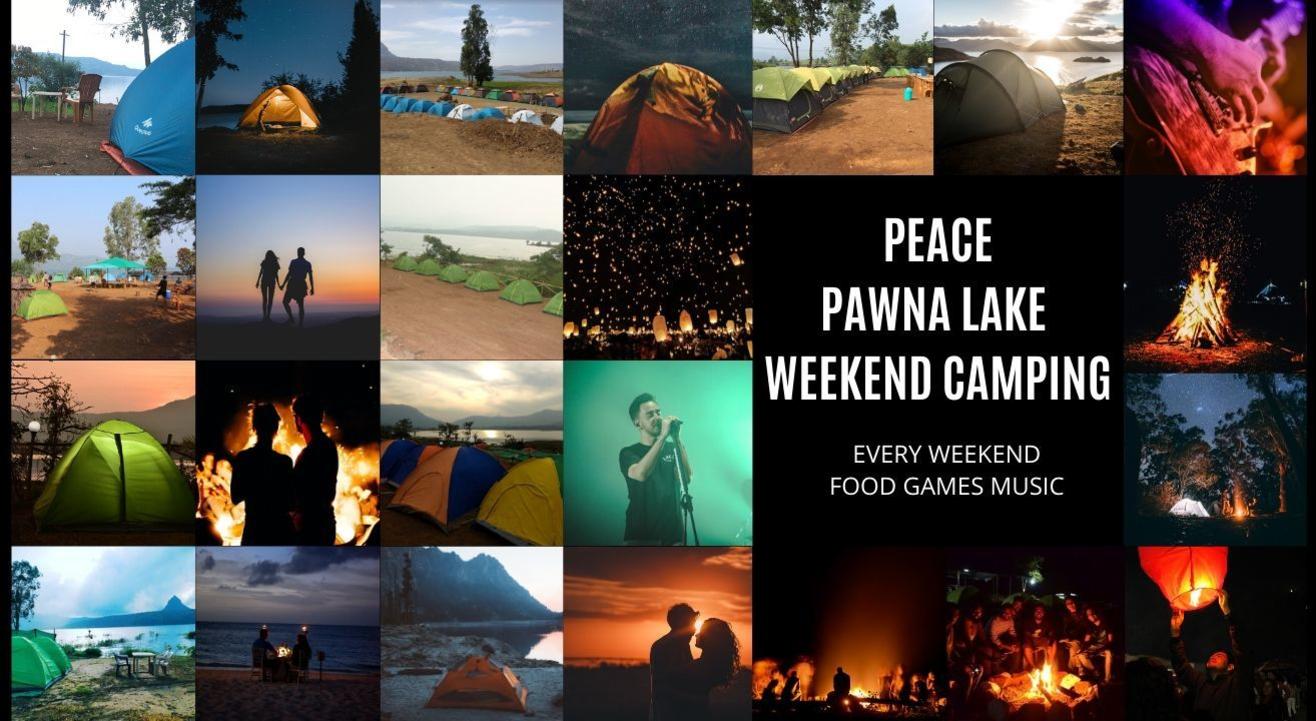 Camping
Peace Pawna Lake Weekend Camping
December 13 | 4PM - December 15 | 10AM
About
In the lap of Sahyadri ranges "Peace Pawna Lake Camping" is the place where you can enjoy a peaceful and pleasure weekend at Lake side camping near Mumbai.
"Peace Pawna Lake Camping" is situated near Pawna Dam surrounded by hills, greenery, wandering clouds and waving breeze. One can experience beauty of nature.
"Peace Pawna Lake Camping" surrounded by green hills and beautiful lake side camping near pune, that will give you an experience of a lively joy.
You and your loved ones are welcome to experience the senses in Tent Camping, that covers all kind of hues, forms, figures, textures, moods and emotions.
Get one step more closer to nature book a weekend @ Peace Pawna Lake Camping Now!!!!
Inclusions
Accomodation in well-appointed tents (with mattress and quilt)
2 meals Dinner with starters and munchies on day 1 / Breakfast on Day 2
BYOB safe party
Live music performance
Usage of washrooms
Free Wi Fi
Usage of board games and activities like archery, darts.
Free Car Parking
Exclusions
Transportation to and from the campsite
Mixers and beverages
Water bottles
First Day
04:00 PM : Reach Campsite
04:30 PM : Welcome Evening Tea & Snacks.
07:30 PM: Veg/Non-veg BBQ (Limited)
09:30 PM: Onwards : Dinner (Veg/Non-Veg)
12:00 PM : Stargazing
Second Day
07:00 AM : Awesome Sunrise Morning View.
08:30 AM : Tea & Coffee
09:00 AM : Breakfast(Pohe/Upma)
10:00 AM : Lake View,Mountain Walks & Photography.
11:00 AM :Bbye….Take Away Lots of "Memories " and "Pictures".
FAQ's about the event:
1. Where is pawna exactly located?
Pawna is located in Lonavala near Mumbai and near Pune.
2. How to reach Pawna Lake Camp?
You can book your seats by Bus or else you can bring your private cars to these camping sites.
3.How much distance from Mumbai to Lonavala?
There is a distance of 126 Km between Pawna Lake and Mumbai.
4.How much distance from Pune to Pawna Lake camping?
There is a distance of 56 Km from Pune to Pawna Lake Camping.
5.Why you choose Pawna Lake Camping?
We offer very trust worthy Packages and experts in designing the packages and make customers smile by experiencing best moments which you spend together with your family and remain as most collecting experience of your life.
6. Is Pawna Lake child Friendly?
Ofcourse Pawna Lake Camping is a child friendly destination with lot of activities.
7. Is there any traffic of animals over there?
Not at all, you will enjoy your Camping without any disturbance.
8. Is the food limited?
No, you can order more food it is unlimited so enjoy the dinner.
9.Can I roast my own Barbeque?
Yes, you can roast your own Barbeque.
10.Can you provide First Aid-Kit?
Yes, we provide first aid kit if any incident happens.
11.What are the facilities in the tent?
In the tent Bed sheets, Pillow, Proper Mattresses etc.
12.Are charging sockets available in the camp?
Yes, you can charge your mobile at the campsite. However, we will say to carry portable chargers for your inconvenience.
13. Can I swin in the Lake water?
No, going into the Lake water is strictly Prohibited.
14. What are arrangements of the toilets?
Toilets are well facilitated they will be not attached to the tents it will be in restrooms.
15.How much is the capacity of tents?
It is spacious in size and are of high quality in One tent you can accommodate 2 persons in a tent.
17. Can the tent protect bugs and insects?
The tents which are used are branded tents, these tents are 100 % sealed and water proof.It also has good ventilation system. You can be rest assure that no bugs can enter through your tent.
18. How many tents are setup at the campsite?Can I choose my tent`?
The no. of tents arranged according to a group size Which will be conveyed during the payment process. We can arrange separate tents for couple as well.
19. How many people of yours will be near campsite?
There would be ample of Men power which will give you good hospitality treatment,
20. Can I Get my own private car?
Yes, you can get your Private vehicles. We all have parking facilities near our campsites which is absolutely free.
21. What is Bathing Facility?
Yes, we have different bathrooms with bucket and Mug facility.
22.Will people mixed with each other near Campsites?
Yes, People will Be mixed During Activities, While, your tents will be at a good distance from each group maintaining and respecting your privacy.
23.How are Lighting Arrangements in the Night?
All our Campsites have portable lamps, even in tent we provide Portable lamp's .