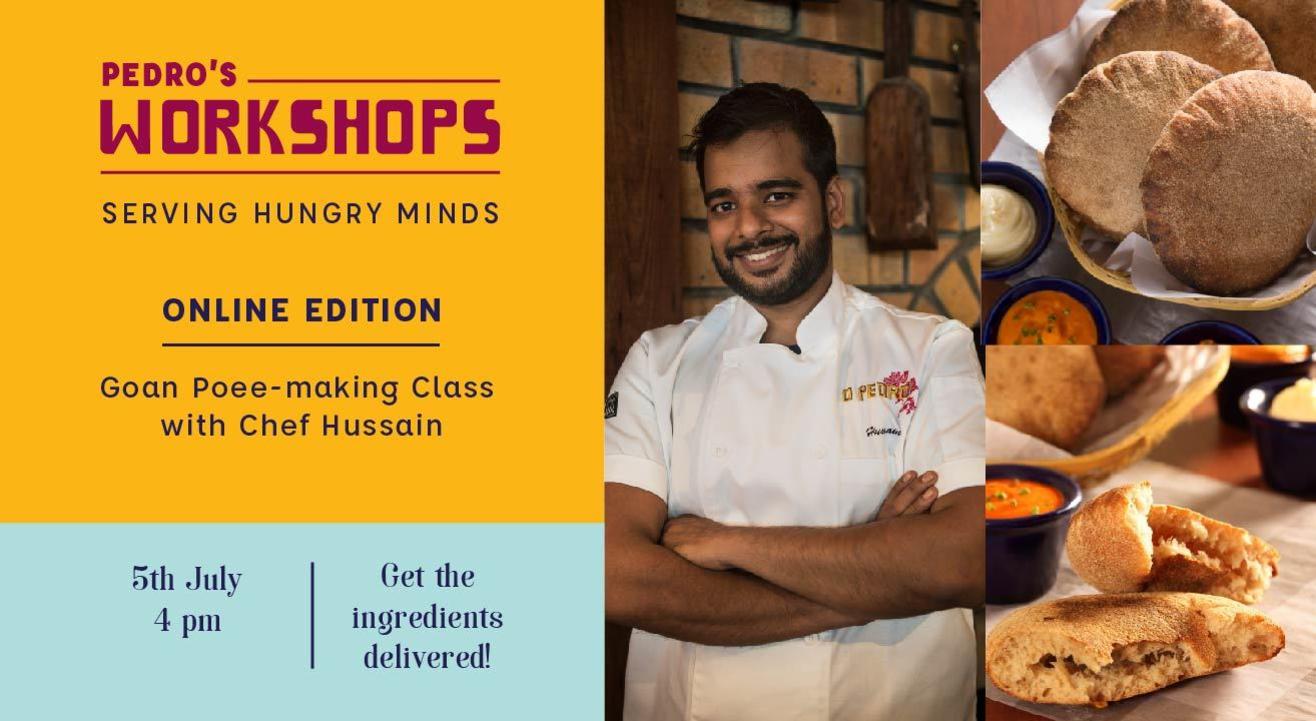 Pedro's Workshops - Goan Poee Making Class With Chef Hussain
Enjoy this event from your home
Invite your friends
and enjoy a shared experience
Pedro's Workshops - Goan Poee Making Class With Chef Hussain
Enjoy this event from your home
Invite your friends
and enjoy a shared experience
Invite your friends
and enjoy a shared experience
Your happy place is back! Join Chef Hussain as he teaches you everything there is to know about Goa's favourite bread - 'Poee'.
This class will include:
- A brief history of poee
- Its role in Goan cuisine
- Demo on how to bake them perfectly
- Clever ways to use leftovers
At O Pedro, we take pride in learning traditional Goan techniques straight from the locals. And this class gives us the opportunity to share it with you! If you live in Bombay, pay an additional Rs 500 and get all the ingredients required to make Poee, delivered to you. We'll also throw in our famous Balchow Butter. Slather it over your fresh poee for ultimate joy!
Ingredients Required: All-Purpose Flour, Fresh Yeast, Wheat Husk, Salt, Sugar, Chilled Water.
Please note that you'll need an oven or OTG at home to try this recipe. Hurry up!
*Terms & Conditions
The ingredients will be delivered to people in Mumbai only
After you purchase a ticket, a private Zoom webinar link will be shared on your email address 1 hour prior to the event.
Show details are subject to change as per the organizer's discretion.
No refunds on purchased tickets are possible, even in case of any rescheduling.
You may face interruptions during the course of the live stream due to internet connectivity issues.
You may not be able to attend the live session if you are late.
This class is an hour long and will teach you how to make Poee.
Participants who get ingredients will have to make it with the ingredients on their own later.
This offer is not valid in conjunction with other discounts, offers, or promotions.
Pedro's Workshops - Goan Poee Making Class With Chef Hussain
Enjoy this event from your home
Invite your friends
and enjoy a shared experience