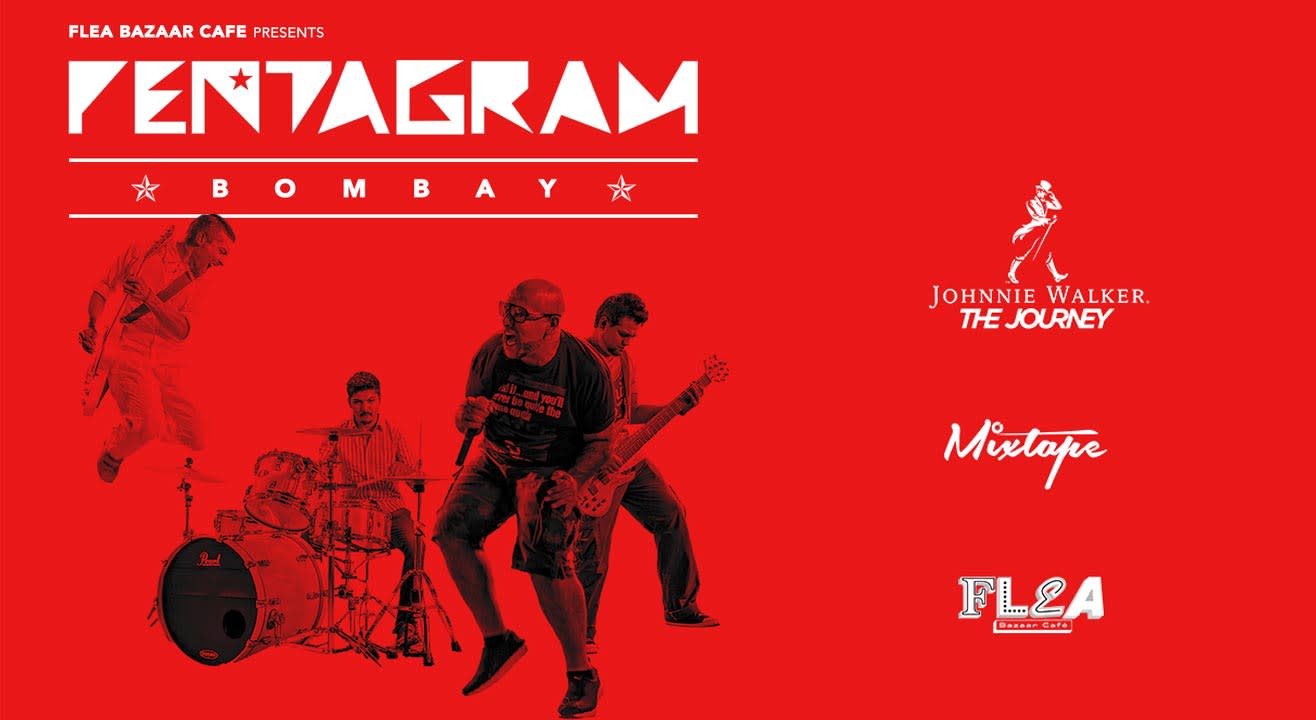 Music
Pentagram LIVE in Mumbai!
About
Flea Bazaar Café & Johnnie Walker presents Pentagram in Mumbai!
Randolph, Shiraz, Papal and Vishal came together in 1994, with a strong need to play individual, original, unique music. This was as much a reaction to the stagnating Indian Rock scene, populated by bands playing mostly cover music, as it was a primal instinct. They did the rounds of college festivals, almost immediately becoming well known and popular, by winning three major rock competitions at the Kanpur, Delhi and Bombay IITs. They signed a record deal and put out their first album ('We Are Not Listening') in 1996. It was listed by Rhythm House (India's premier record store) as the fastest selling rock album. They released two videos ("The Ignorant 1" and "Yoo") which were frequently played by all the music channels.
Pentagram were MTV India's 'Artist of the Month' in 1997. They also won the Channel [V] awards for Best Live Band and Best Indian Band in 1997 & 1998. They were featured on Channel [V]'s Big Gig show, a showcase of an hour-long live performance.
They became the first Indian band to top Asian mp3.comcharts with six songs going to No. 1 for over two weeks each. ("Drive", "Strange", "Think of Me", "Don't Care", "Is there a Light?", "The Price of Bullets" all featured on 'Up'). Their single, "Think of Me", went to no. 5 in the world on Billboard's talent hunt site. 'Up' was later released and published by their self owned music label, 'Pentagrammusic', produced and distributed by Sony Music (India). It went on to become one of India's highest selling rock albums with more then 15,000 copies sold. A string of awards followed including Best Live Act at the June Rock Out awards in 2003, winning the readers poll for 'Best Indian Band' by Rock Street Journal twice.
In 2013, the band got the opportunity to present their songs in a way that had never been experienced before – Unplugged. The show featured 7 songs and was extremely well received by the audiences.
The band are steadily working on their 5th album while they prepare for the busy season ahead.
The Pentagram steamroller powers on, and if you're not on board for what will most certainly be the ride of your life, get out of the way
Venue
FLEA Bazaar Café, Mumbai
Unit No 5, 1st Floor, Trade View Building, Oasis City Complex, Mumbai, Maharashtra 400013