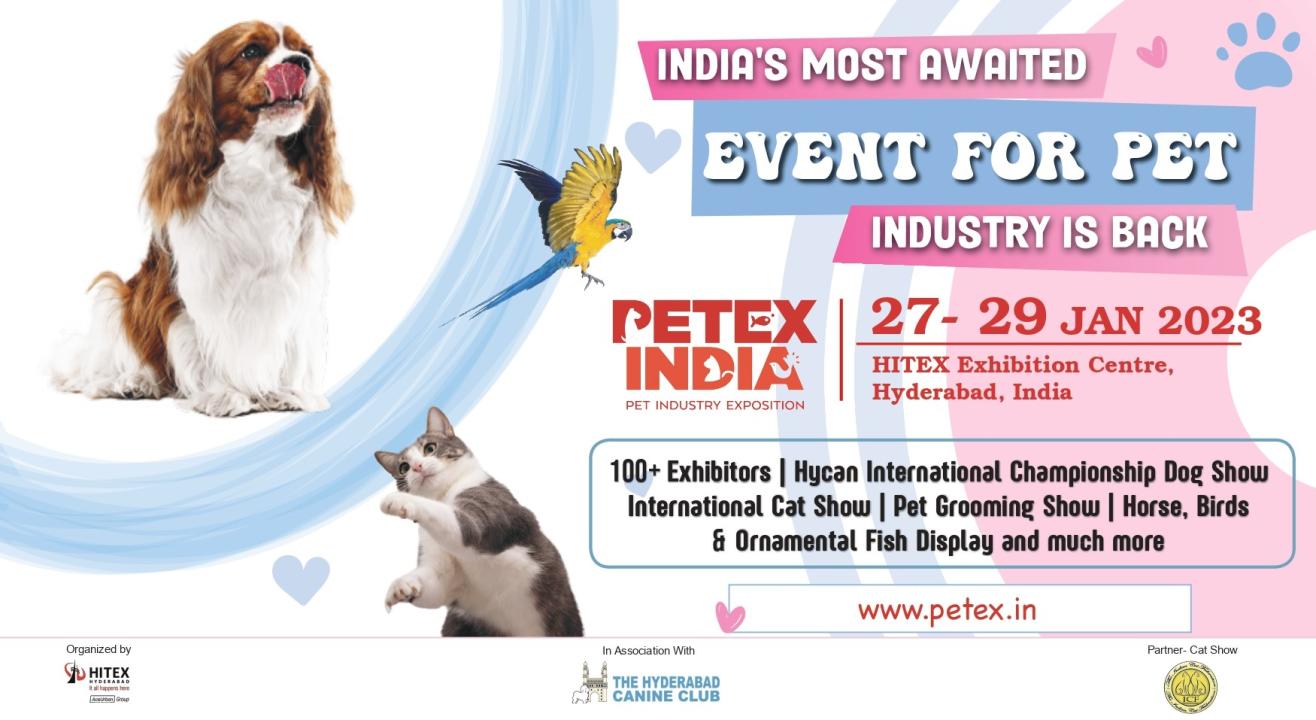 January 28 | 10AM - January 29 | 8PM
HITEX Exhibition Center, Hyderabad
Event Guide
For Age(s)
Family Friendly
Invite your friends
and enjoy a shared experience
January 28 | 10AM - January 29 | 8PM
HITEX Exhibition Center, Hyderabad
Event Guide
For Age(s)
Family Friendly
Invite your friends
and enjoy a shared experience
Event Guide
For Age(s)
Family Friendly
Invite your friends
and enjoy a shared experience
PETEX India is a premier exhibition that showcases the best from India's pet care industry. PETEX is a B2B2C expo that provides a perfect platform for the pet industry, manufacturers, wholesalers, and service providers to present products for pets and innovative pet supplies to Industry experts, business visitors, and consumers under one roof. With an estimated 35,000+ visitors to the event, PETEX is a sure-fire way for your pet care business to get the recognition it deserves!
Highlights of PETEX INDIA 2023:
India's largest B2B2C event for the pet care industry.
35000+ Pet Enthusiasts
International Championship Dog Show.
International Cat Show
Pet Grooming Show
Veterinary Conference
Product Category Zones
Product Launches
Birds, Ornamental Fishes on Display
Each ticket allows entry to one human. Tickets are applicable to all humans above the age of 4 years.
There are no tickets for pets. (Pets participating in the Dog Show & Cat Show need to register separately
Internet handling fee per ticket may be levied. Please check your total amount before payment.
Tickets once booked cannot be exchanged or refunded.
Transferability of Tickets: Tickets can be used by friends & family. They must carry the screenshot of the ticket or the confirmation SMS to gain entry to the event
Re-entry at the event is not allowed for ticket holders.
Please make sure that your pet is up-to-date with its vaccinations (including Kennel Cough & Canine Parvovirus) and is free of ticks or fleas to ensure their safety and the safety of other pets.
In case your pet is aggressive or not friendly with other humans or pets, please ensure that they are kept on a short leash (dog) or in a crate (cat) throughout the duration of the event.
The management will not be responsible for the loss of any personal belongings or any injuries caused due to the guest's negligence.
We solicit your cooperation to help us make the event a safe place for all to enjoy.
PETEX INDIA 2023 Run- Up Show
HITEX Exhibition Center
Trade Fair Office Building, Izzathnagar, Hyderabad, Telangana 500084, India
GET DIRECTIONS
January 28 | 10AM - January 29 | 8PM
HITEX Exhibition Center, Hyderabad
Event Guide
For Age(s)
Family Friendly
Invite your friends
and enjoy a shared experience