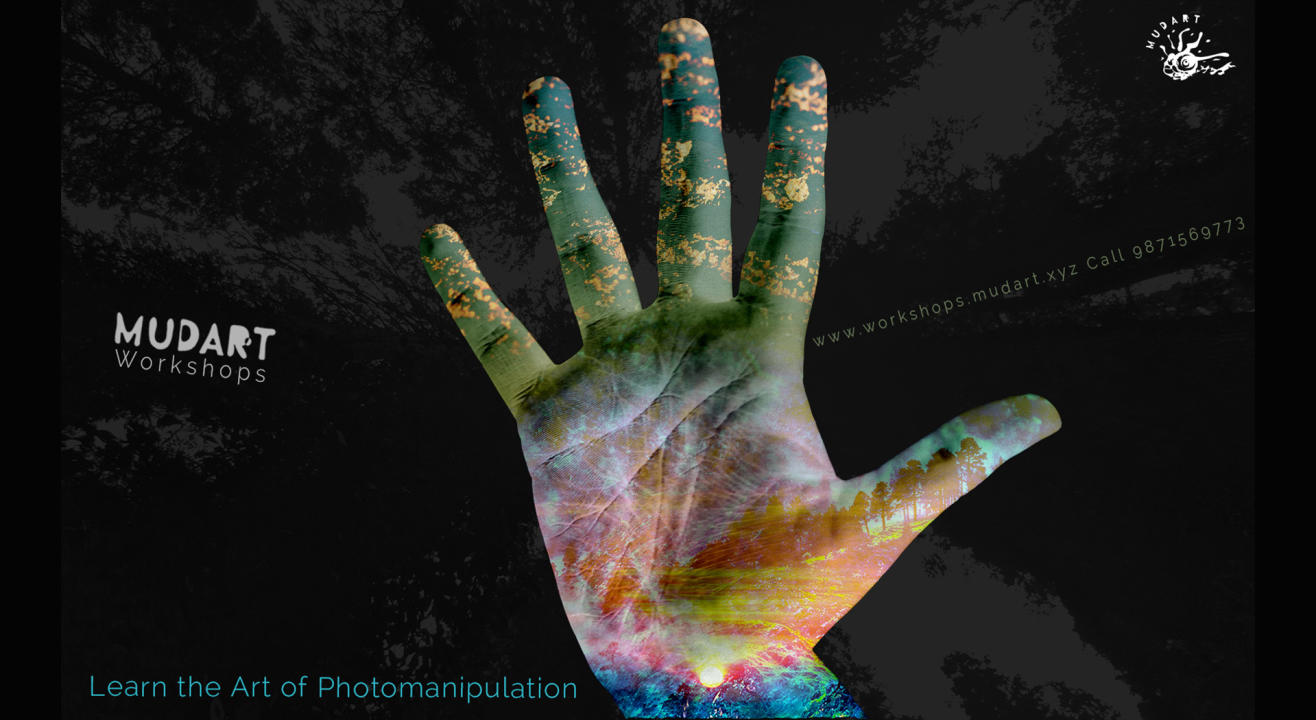 Photoshop &Lightroom - Learn Coloring & Photo Manipulation
January 3 | 12PM - December 27 | 1PM
Enjoy this event from your home
Invite your friends
and enjoy a shared experience
Invite your friends
and enjoy a shared experience
About the Event
This Advanced course covers multiple aspects of Colour Correction and grading, the art of enhancing and conceptualising shots.
12 Learning Sessions
Certificate of Completion
Membership to the community of Mudart Photographers for constant support with feedback, queries, jobs and promotions
Software – Adobe Lightroom & Photoshop
Course Duration – 6 weeks
SESSION I
Getting Organised
Importing Managing collections and exporting photographs.
Understanding of all the tools and their effects based on the histogram.
SESSION II
Jumping to the development phase, we pick up from where we left off with understanding the histogram and making basic level changes to raw files.
Moving further, we dive into deeply understanding the basic panel including
Temperature,
Exposure,
Contrast,
Whites & Blacks,
Clarity, Vibrance and Saturation.
We also use region based tools to understand our tonal curve. Namely Highlights, Darks, Shadows and Whites. With quite a few examples to understand how to use them for different pictures.
These changes effect and help enhance the entire photograph.
SESSION III
We put to use tools like graduated filter and adjustment brush, allowing you to enhance a specific area of your photo with great precision (Area based editing), to make your subjects pop out.
Moreover we take a look at the HSL (Hue, Saturation, and Luminance) options and how we can use them to improve and enhance colours.
SESSION IV
Based on your choice of Photography, be it fashion, nature, wildlife, architecture, we choose an example and run through what we have learnt. After touching upon the camera and lens tools, we move to understand how to grade our pictures-
Grading and batch processing
Lens correction
Post crop vignetting
Noise reduction or grain inclusion
Finally we learn to
Edit with Speed, learn to batch process
How to Make presets and use them wisely to quicken our work.
SESSION V
Getting used to Photoshop
Getting affiliated with size, aspect ratios and resolutions
Understanding Photoshop tools used in photo manipulation
SESSION VI
Image adjustment
Layering
Use of blending tools
Correcting aberrations, spots etc
SESSION VII
Composite modes and layering
Making HDR photographs
SESSION VIII
Dealing with Double exposure examples to create digital art
Blending tools
SESSION IX
Precision cutting pen tool and area selection tools
Blending tools for multiple pictures.
SESSION X, XI & XII
Attaining expertise.
Inclusion of typography
Live editing examples on simple colouring to multiple exposure and finally making digital art.
Based on batch or individual sessions to gain further experience
Discussions
Doubt clearing
Learn Colour Correction, Grading & Photomanipulation with Mudart