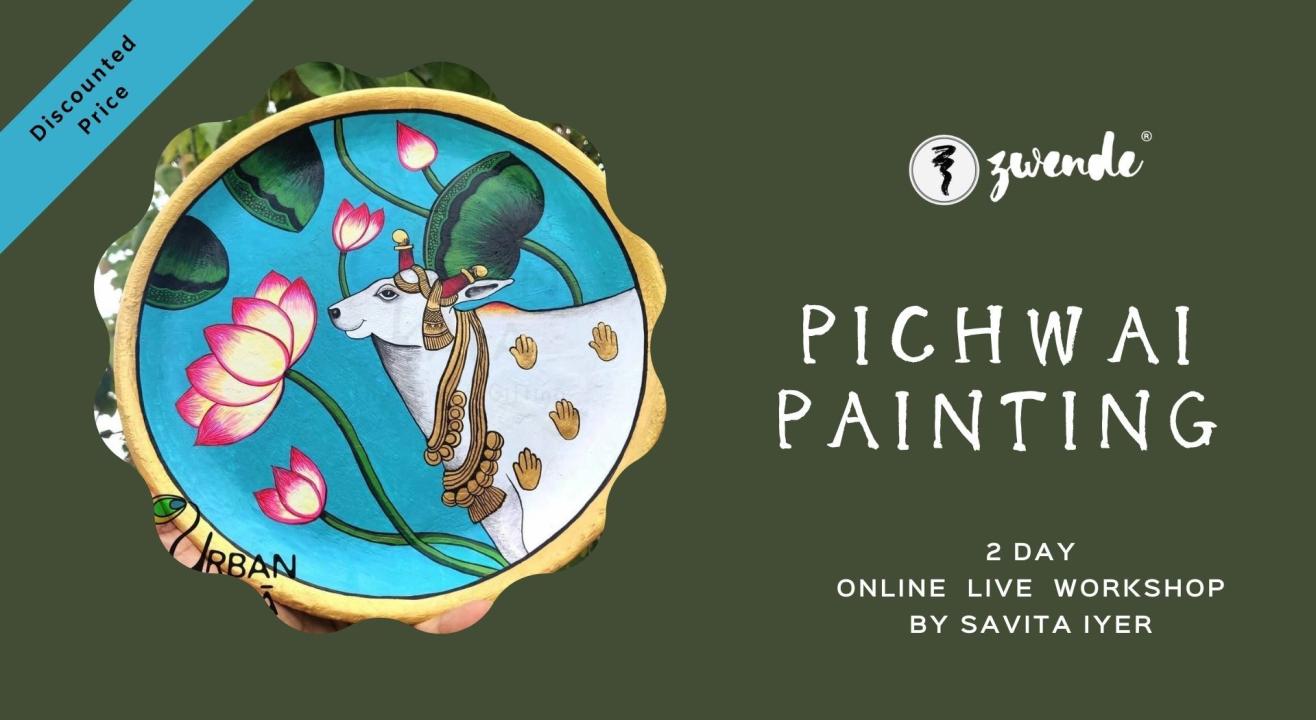 Pichwai Painting [Online Live Workshop]
July 13 | 5PM - July 14 | 7PM
Enjoy this event from your home
Invite your friends
and enjoy a shared experience
Invite your friends
and enjoy a shared experience
About the Event
About the Artform
Pichwai is a Sanskrit word in which 'pich' stands for back and 'wai' stands for hanging. Pichwai paintings are referred to as Mewar-style textile paintings that are found hanging on the walls of temples, houses, art galleries and museums, specifically Nathdwara temple from where they first originated.
Intricate and visually stunning pichwai paintings made on cloth, depict tales from Lord Krishna's life. It is a very ancient form of art, passed on from generation to generation The purpose of Pichwais, other than its artistic appeal, is to narrate tales of Krishna to the illiterate.
About the Workshop
The Canvas
Overall Details
In this two-day workshop, you will learn basic to advanced levels of Pichwai art. You will start with simple artwork and move on to making more advanced artworks that will involve a lot more details and techniques. You will also get to experience contemporary Pichwai. This workshop is ideal for art lovers who want to try a new artform.
This is a beginner-friendly workshop. (Age: 10+)
Elements you will learn
Day 1
Learn how Pichwai is different from other artforms and its significance
Learn how to draw motifs of pichwai
Get to know about coloring and the tricks of shading
Learn to try your hand at the beautiful strokes and get the perfect finesse
Day 2
Learn about Pichwai character construction
Learn to draw a cow in Pichwai style and implement the knowledge of shading and detailing in it
Learn to get the composition right
Learn to finish the artwork with borders
Material required
Acrylic paints (Specifically neon pink and metallic gold)
0 number brush or pen for detailing
3 & 5 number round brush to fill colors.
Paper - (cartridge sheet preferred)
Canvas (optional)
Poster colors (optional)
Waterproof pens
Basic stationery
The scope of creativity
Further prospects and application of what you will be learning
Learnings from this workshop can be used to recreate the intricate paintings on apparel and can also make beautiful home decor items.