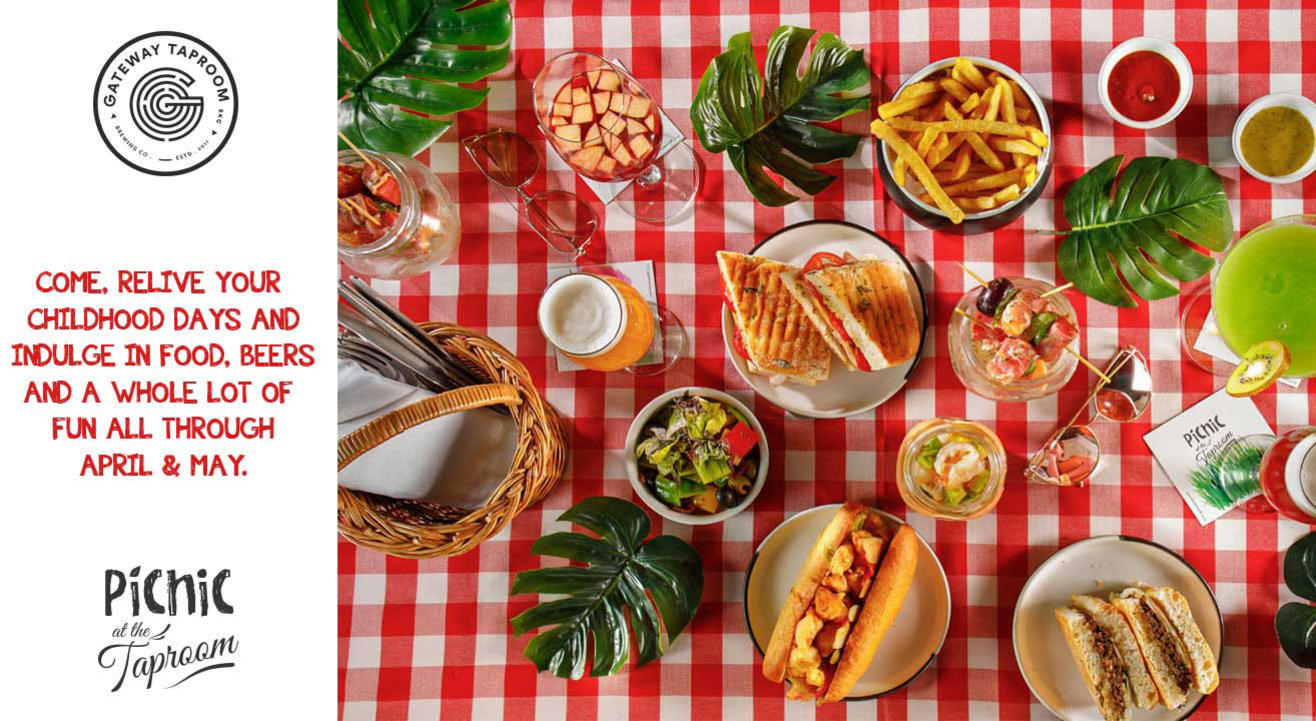 Experiences
Picnic at the Taproom
April 14 - May 31 | 12PM - 4:30PM
About
We're going to bring the beauty of the outdoors, inside by converting our space into the ideal picnic spot for you, your family and friends. All through April and May picnic at Gateway Taproom will boast loads of beer, delicious food, summer cocktails and mocktails. Views of open green spaces and brightly coloured flowers will only add to the outdoorsy summer-picnic feel of the event. Two unique craft beers will be on offer. "Time Please" This naturally soured ale made with locally grown wheat and barley malt, infused with cucumber and finished with the choicest aroma hops and Himalayan pink salt will have you ordering another round in minutes. Or opt for the copper-hued, aromatic and aptly named 'Picnic Ale' which provides the perfect end to a hot, sticky Mumbai summer day.
Dig into any of our 9 freshly made gourmet picnic sandwiches. From "Sour Zeus" - grilled aubergine & greek feta layered with basil pesto hummus, tomato, onions & arugula in a sourdough bread to 'Duck Banh Mi' – pulled duck confit with Asian slaw in a baguette. Dig into the 'Shroombatta' – slow cooked mushroom ragout & melted mozzarella in ciabatta or 'Gateway's Cubano' – Italian mortadella and gouda cheese grilled & pressed in ciabatta, any a lot more.
The refreshing mini salad jars form the perfect side to your sandwiches. Pick from the "The Greek Geek" – feta, olives & sundried tomatoes with peppers in a tangy herbed dressing; "Cocktail Party" – prawn & avocado cocktail in old school Thousand Island dressing or the 'Parma Rhapsody' – water & muskmelon wrapped in parma ham on skewers.
Pair it with our summer cocktails, "Green Sunshine" or "Eve's Potion". And if you're channeling your summer vibes alcohol free, the selection of mocktails will ensure you don't miss out on all the fun. Try the 'Captain Cool' with fresh cucumber and lime, or 'Kiwi Rush' with kiwi.
So this summer, instead of complaining about the scorching heat, embrace it and go back to the happier times of childhood picnics where summer meant having a ball! Throw on your flip-flops, don your favourite sundress or pair of shorts, put your sunglasses on and make your way to the Gateway Taproom for a picnic you won't ever forget!
Venue
Gateway Taproom, BKC
Godrej BKC Building, Ground Floor, Unit no. 3, G Block, Bandra Kurla Complex (E), G Block BKC, Bandra Kurla Complex, Bandra East, Mumbai, Maharashtra 400051
GET DIRECTIONS