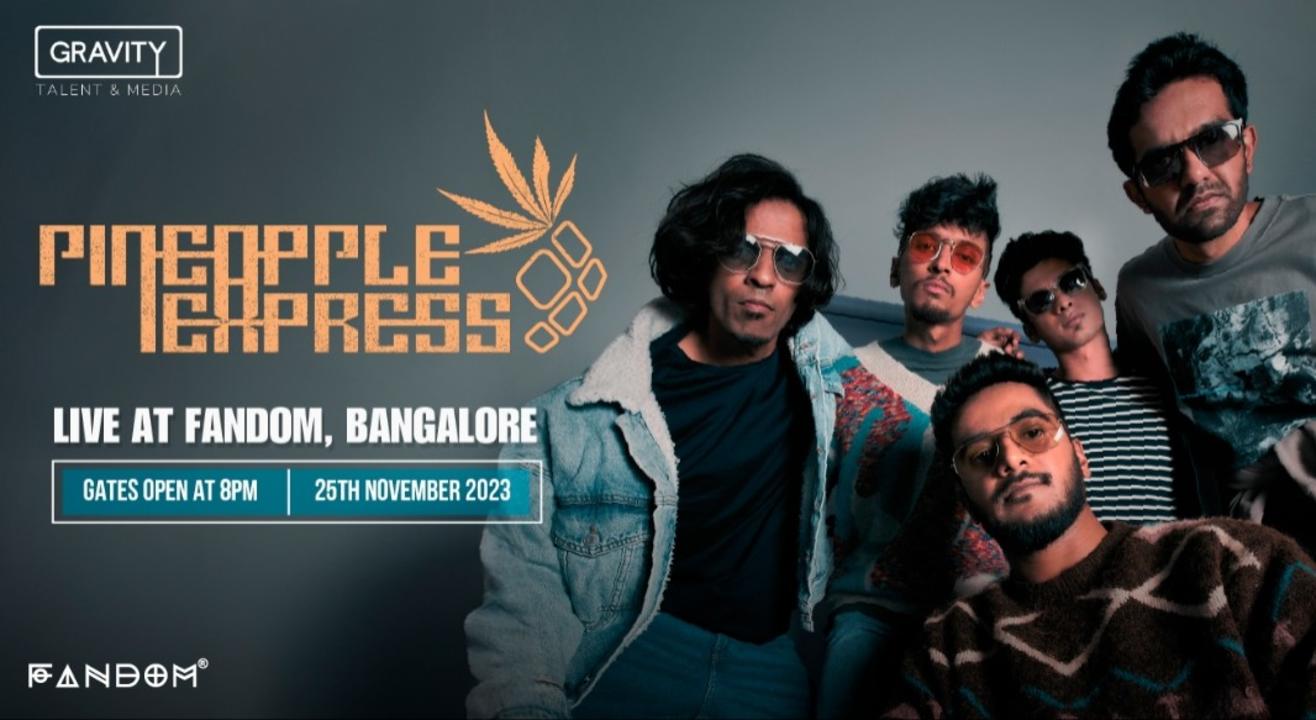 November 25 | Gates open at 8PM I Event starts at 9:30PM
Fandom at Gilly's Redefined, Bengaluru
Event Guide
Live Performance
Enjoy a unique experience
Invite your friends
and enjoy a shared experience
November 25 | Gates open at 8PM I Event starts at 9:30PM
Fandom at Gilly's Redefined, Bengaluru
Event Guide
Live Performance
Enjoy a unique experience
Invite your friends
and enjoy a shared experience
Event Guide
Live Performance
Enjoy a unique experience
Invite your friends
and enjoy a shared experience
India's most unique artist! The multi-lingual, multi-genre - Pineapple Express returns to home-turf in Bangalore for their first public show after a wait of more than 2 years. The 5-piece band known for their high energy live shows, will return with a brand new, massive, Audio-Visual production experience while debuting multiple new, never heard before songs for the first time ever!
About Pineapple Express:
With a heavily engaging tour schedule that takes them across 120+ different live shows in a calendar year, the band spends this time carving out a superior position for themselves in the industry with SOLD OUT shows across the country. Pineapple Express' live shows, which have been touted by many as 'the best', 'most entertaining' and 'high energy' set by any artist they have witnessed, consist of modern sounding catchy originals, as well as fused & interpreted covers of various crowd favourites at select shows.
The band is a favourite across any type of live requirement spanning Clubs, College Shows, Music Festivals to even Corporate Events, Private Shows and even Weddings owing to their plethora of original and cover material spanning languages across English, Hindi, Kannada, Malayalam, Tamil, Telugu, Punjabi & Gujarati. With each setlist specifically curated to the vibe and demographic of audience - Pineapple Express' shows are a spectacle to be witnessed,
Listen to Pineapple Express
Fandom at Gilly's Redefined
1st floor of Gillys redefined,# 413, 100 Feet Road,, 4th Block, Koramangala, KHB Block Koramangala, Koramangala 4-B Block, 5th Block, Koramangala, Bengaluru, Karnataka 560034, India
GET DIRECTIONS
November 25 | Gates open at 8PM I Event starts at 9:30PM
Fandom at Gilly's Redefined, Bengaluru
Event Guide
Live Performance
Enjoy a unique experience
Invite your friends
and enjoy a shared experience