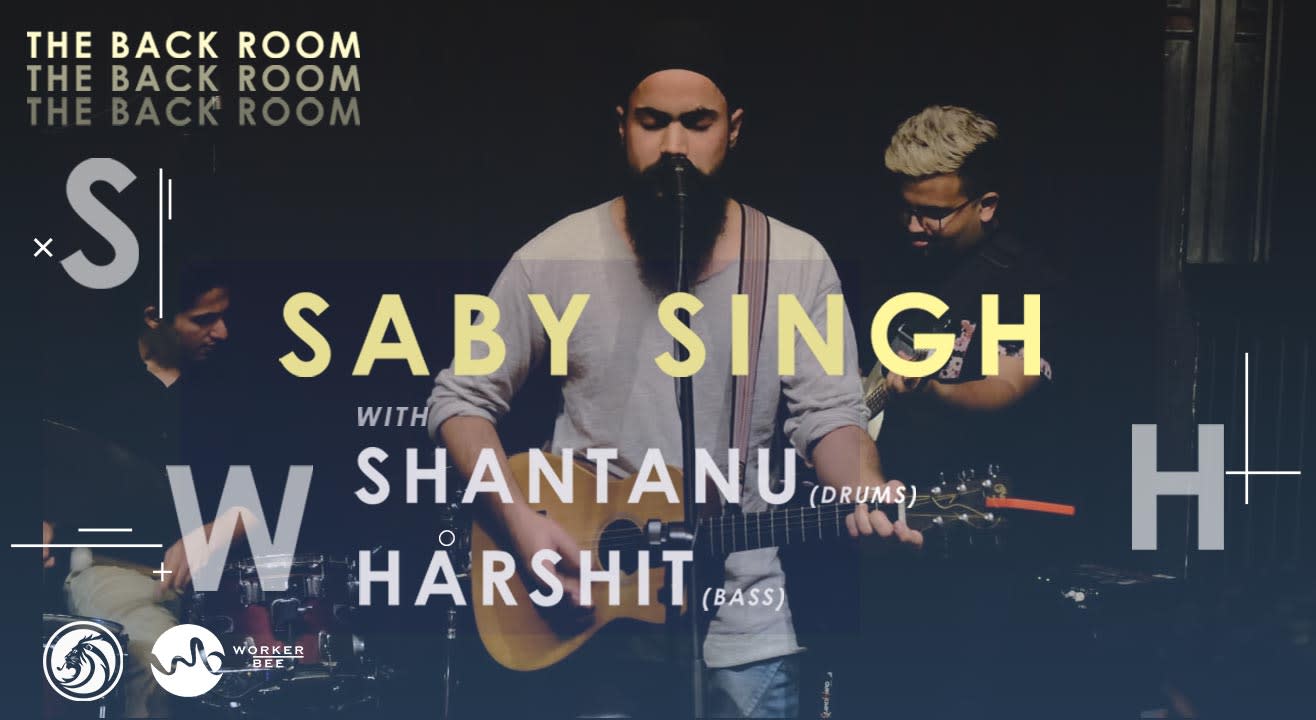 Music
Plan Bee featuring Saby Singh
The Back Room, Chandigarh
About
Saby Singh with Shantanu Sudarshan on drums and Harshit Misra on Bass.
Saby Singh is a singer- songwriter from Jammu and Kashmir. His art derives its influence from a mélange of different artists. While his songwriting is influenced by the likes of Steven Wilson and Radiohead, his lyrics derive inspiration from Joni Mitchell and Laura Marling. He has been trained in Hindustani Shastriya Sangeet from the age of 10 and used to accompany his Grandfather who is now a retired professional Raagi on tabla and the secondary harmony player. He has been performing as a Singer-Songwriter from a couple of years. He started his career by forming a band with his friend at the age of 18. Thereafter he continued his Solo work along with various collaborations.
He played his first trio set in Delhi on 30th May which received a phenomenal support and love from the audience. There is much more to unfold and much to unravel.
Shantanu Sudarshan is a musician who has been working as an active session drummer for both stage and studio scenarios since 2017. Proficient in many styles of music, he has had the opportunity to work with Grain, Bollyjazz, Nikhil Mawkin, Senor Elephante, Syncopation, The Copycats, Jose Neil Gomes, Bowjob, Nik And Nat, Flying Drummer, The Lyric Ensemble of Delhi, Kamakshi Khanna, IOISH, Gaurav Chintamani, Shadow and Light, Saby Singh, Rie Ona and the Shri Aurobindo Centre for Arts and Communication.
Shantanu has been playing professionally since 2008 and was a member of the Delhi-based bands, October, Jester and Grammy Winning Effort.
Harshit Misra is an around-the-world in-demand bass and a featured artist with some of the best companies in the business such as Fender , Gallien Krueger , Jim Dunlop. A graduate of the Musician's Institute of Los Angeles and winner of the 2014 outstanding bass Student award at MI alongside winning 2 prestigious scholarships, which saw him become a faculty member at the Musician Institute.
During his 10+ years as a solid player he's collaborated with some great Indian/international acts such as Candice Glover (American Idol Winner), Wayne Brady(Grammy nominated Singer) , Maybach Music ( rick ross Label ) , Shubha Mudgal Ji, Shilpa Rao, Suman Sridhar, Benny Dayal, Karsh Kale, Dub Sharma, Bollyjazz, Red Mawkin, DCF_Shapes, Sava Boyadzhiev, Akash Vincent, Angad Katari, Nat Y Amigos, Jordan Johnson, Bowjob, Ted Piltzecker, Mark Alban Lotz, Sanjeeta Bhattacharya, Saby Singh.