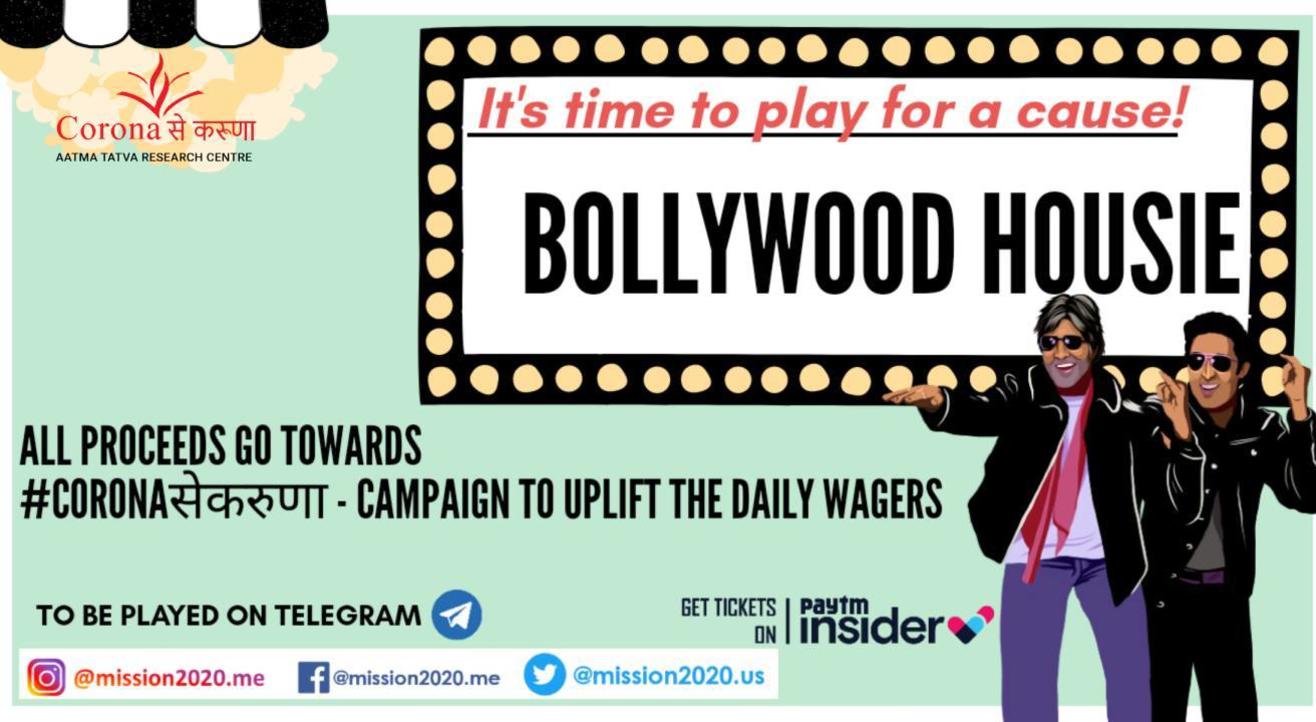 Play For A Cause- Bollywood Housie
Invite your friends
and enjoy a shared experience
Invite your friends
and enjoy a shared experience
About the Event
Cause Behind Play For A Cause:
'Play For A Cause' is an initiative by Aatma Tatva Research Centre, a NGO, hosting unique, never played before- Tambola games to entertain you and your family with all the proceeds going towards helping the daily wagers affected by the Covid-19 lockdown.
How does it work?
1. Download the Telegram App, available on Android and IOS. This is the platform where the game will be played.
2. We will add you to the group where the game will be played and share your ticket with you.
3. You can note down your ticket on a piece of paper for the ease of striking off or use the digital copy as is- whatever seems convenient
4. The group will be open 30 minutes before the game time for you to clear your doubts
5. Please be ready at least 10-15 minutes prior to the time mentioned so that you don't miss the beginning. We will start on time.
6. As the game starts, the host will post either a Text/ Song/ Video/ Dialogue/ Image clue and give you 10 seconds to guess the movie.
7. NOTE THAT GUESSING THE MOVIE IS JUST FOR FUN. You can answer with the movie name; whether or not you answer, the host will post the answer within 10 seconds and you can strike it off your ticket if you have it.
8. Organisers won't be responsible for any app crash or internet connections on the client's end.
How to Claim A Prize?
1. Call for a claim/ prize by typing 'DONE' and sharing your ticket picture on the group. The moderator will check the ticket and announce the result if it is correct or not.
2. The admin's call is final in case of discrepancies.
3. To get your prize, get in touch with the admins through the instructions provided at the end of the game
FAQs
1. Where does the money go?
All the money raised will be used to provide a month's groceries to families who have lost their livelihood due to the covid-19 disaster in the Sudhagadh district of Maharashtra.
2. What is the age limit?
There is no age limit. Anyone and everyone is welcome to play!
3. How long will the event be?
About 65-80 minutes long
4. Can I claim more than one prize?
No, One Ticket, One Prize. Nevertheless the game is about fun and you can enjoy the whole game guessing different Bollywood clues
5. Are there are prizes?
Yes- 5 claims in total: Jaldi 5, Jaldi 10 and Three Full Houses
6. What happens if two people claim at the same time?
Prizes on sharing basis- if 2 or more people claim on the same movie, the prize gets divided
7. What is the claim money?
5 minutes before the game the host will announce the prize money which depends on the number of participants
For any other queries, please contact Anjal Jain: 9892936357 or Achira Mehta: 7738602333