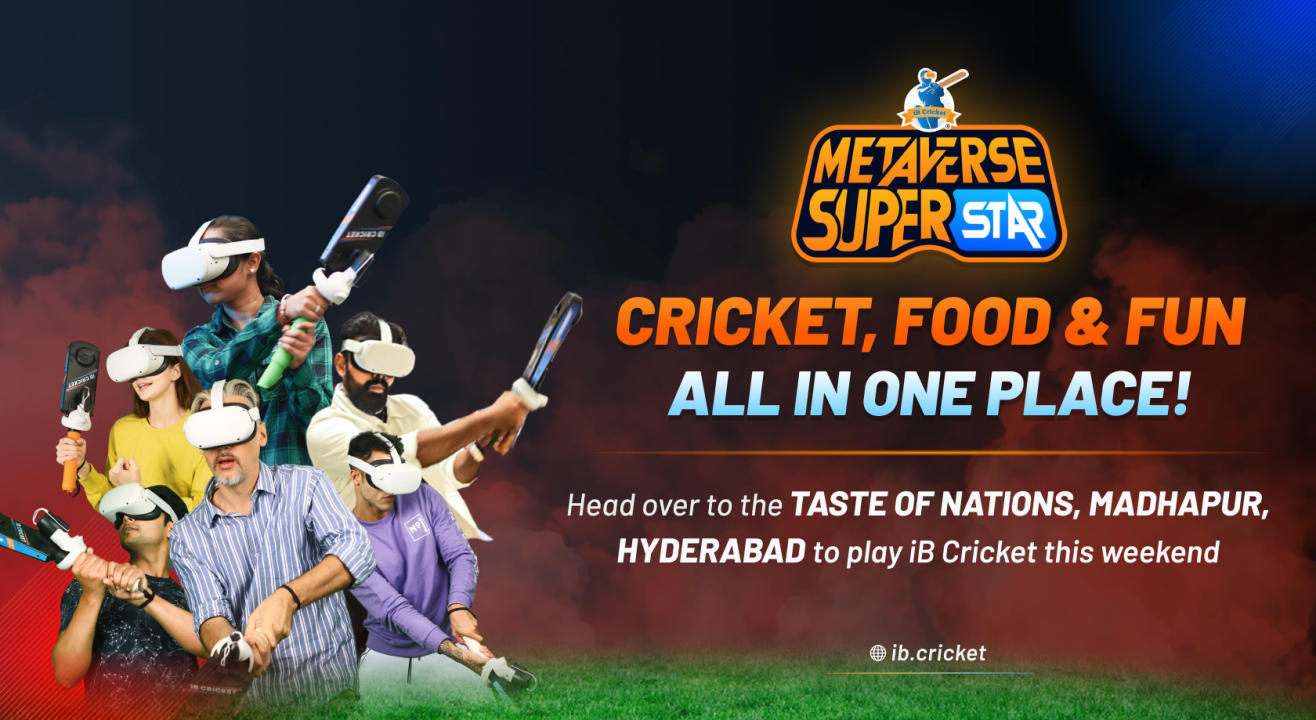 Play the World's Most Immersive VR Cricket - iB Cricket
September 6 | 11:30AM - September 18 | 1:00AM
Taste of Nations, Hyderabad
Event Guide
For Age(s)
Family Friendly
Game
Participate and have fun
Invite your friends
and enjoy a shared experience
Play the World's Most Immersive VR Cricket - iB Cricket
September 6 | 11:30AM - September 18 | 1:00AM
Taste of Nations, Hyderabad
Event Guide
For Age(s)
Family Friendly
Game
Participate and have fun
Invite your friends
and enjoy a shared experience
Event Guide
For Age(s)
Family Friendly
Game
Participate and have fun
Invite your friends
and enjoy a shared experience
What's the buzz about?
Enjoy the ultimate Virtual Reality Cricket experience with iB Cricket. You'll feel like you're really on the pitch, batting in world-class stadiums with thousands of fans cheering you on! Play cricket like never before!
iB Cricket is loved by people of 40+ Nationalities, and more than 400 Million balls have been played so far. iB Cricket has also been the Official VR Gaming Partner of 8 IPL Teams over 5 seasons.
Who Can Join:
Anyone. Everyone. Cricket Fans. Cricket Lovers. Gamers. VR Enthusiasts. Etc.
Venue: Flipside Adventure Park, ISB Rd, Financial District, Vattinagulapally, Nanakaramguda, Telangana 500075
Date: 2nd - 24th Sep 2023
Time: 11:00 AM - 01:00 AM
Experience per person takes 10-15 minutes.
iB Cricket Packages:
Metaverse Super Star (MSS)
The world's first VR Cricket League!
FUN MODE
MSS STAGE 1
The top 2 on the Daily Leaderboard qualify for Stage 2!
PRACTICE
MSS STAGE 2
Put in your practice now & gear up to dominate in stage 2!
iB Cricket Real Mode
For a Thrilling Cricketing Action!
BEGINNER'S DELIGHT
For Casual Cricketers: Get an experience you cherish.
SKILLED STRIKERS
For Competent Players: Get a semi-assisted bat shield and hit it out of the park.
LEGENDARY MAESTRO
For Expert Cricketers: Show off your skills without a bat shield.
About iB Cricket:
iB Cricket is the world's most Immersive Virtual Reality Cricket, delivering unparalleled experiences worldwide. 98% of the people who have played it say it's amazing!
What makes this game perfect? The answer is simple: The first-person perspective mirrors real cricket action flawlessly. Your hand moment, direction of swing, timing, speed of the ball, and point of contact all add up to make a perfect shot.
"It's fantastic! Every cricket fan will love iB Cricket. The world-class stadiums give the same feeling as Eden Gardens, Wankhede, or MCG."
- Virender Sehwag
(During iB Cricket Super Over League)
To know more about iB Cricket, visit https://ib.cricket/home-edition/
Stay tuned for more: https://ib.cricket/mss/
By registering for the event, you accept iB Cricket's Terms & Conditions & Privacy Policy.
https://ib.cricket/terms-and-conditions/
https://ib.cricket/privacy-policy/
World's Most Immersive VR Cricket | iB Cricket Trailer
Taste of Nations
Pillar No: C -1729, Earan, Nagesh Complex, Ayyappa Society, Megha Hills, Sri Sai Nagar, Madhapur, Hyderabad, Telangana 500081, India
GET DIRECTIONS
Play the World's Most Immersive VR Cricket - iB Cricket
September 6 | 11:30AM - September 18 | 1:00AM
Taste of Nations, Hyderabad
Event Guide
For Age(s)
Family Friendly
Game
Participate and have fun
Invite your friends
and enjoy a shared experience