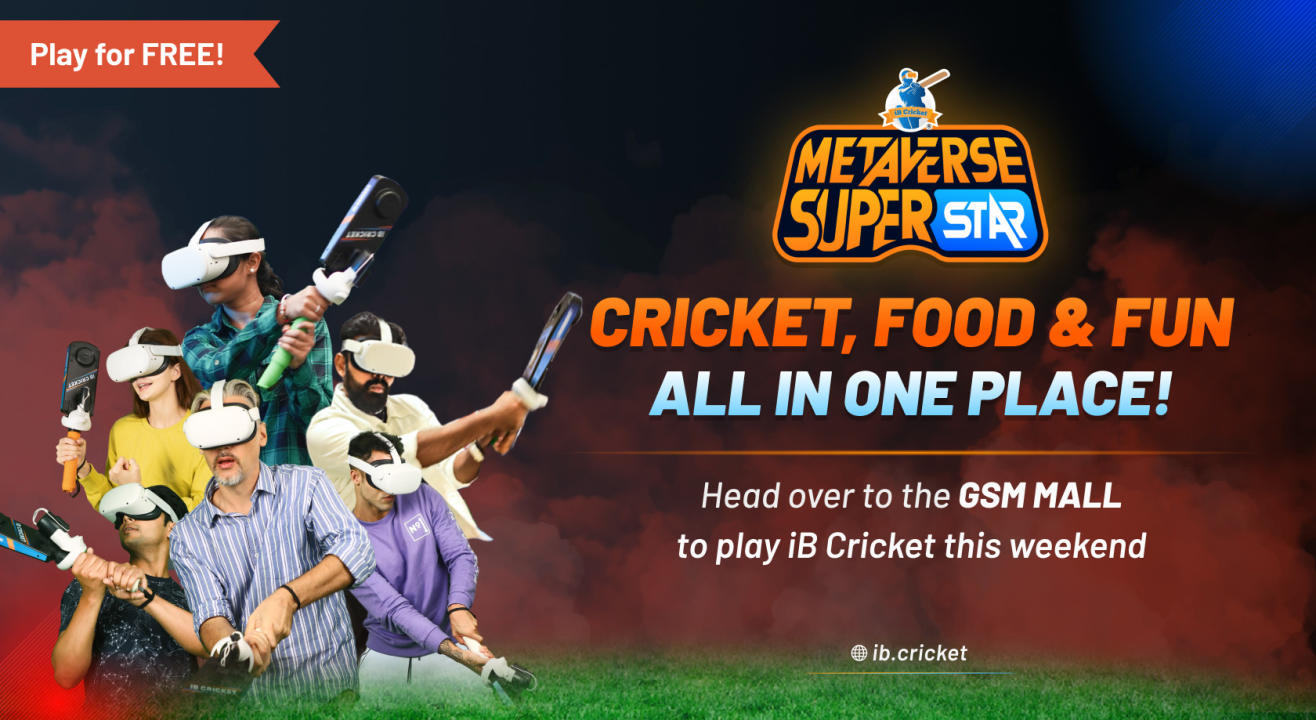 Play VR Cricket - iB Cricket
June 2 | 5PM - June 4 | 11PM
Miyapur Main Road, Hyderabad
Event Guide
For Age(s)
Family Friendly
Invite your friends
and enjoy a shared experience
Play VR Cricket - iB Cricket
June 2 | 5PM - June 4 | 11PM
Miyapur Main Road, Hyderabad
Event Guide
For Age(s)
Family Friendly
Invite your friends
and enjoy a shared experience
Event Guide
For Age(s)
Family Friendly
Invite your friends
and enjoy a shared experience
What's the buzz about?
Enjoy the ultimate Virtual Reality cricket experience with iB Cricket. You'll feel like you're really on the pitch, batting in world-class stadiums with thousands of fans cheering you on! Play cricket like never before!
This exclusive experience is being offered for FREE as a part of "Metaverse Super Star", the world's first VR cricket league.
Compete with your friends, family, and others in the MSS League, and top it off with some good food!
Who Can Join:
Anyone. Everyone. Cricket Fans. Cricket Lovers. Gamers. VR Enthusiasts. Etc.
Venue: GSM Mall, Miyapur Main Rd, ICRISAT Colony, Madeenaguda, Telangana 500050
Date: 2nd - 4th June 2023 (Friday - Sunday)
Time: 12:00 PM - 9:00 PM
Experience per person takes 10-15 minutes.
Limited Slots Available. Register Now: https://ib.cricket/mss-forms/event/gsmhyd
About iB Cricket:
iB Cricket is the world's most Immersive Virtual Reality Cricket delivering unparalleled experiences across the world. 98% of the people who have played it say it's amazing!
iB Cricket is loved by people of 40+ Nationalities and more than 350 Million+ balls have been played so far. iB Cricket has also been the Official VR Gaming Partner of 8 IPL Teams over 5 seasons.
"It's fantastic! Every cricket fan will love iB Cricket. The stadiums are world-class and give the same feeling as Eden Gardens, Wankhede, or MCG."
- Virender Sehwag
(During iB Cricket Super Over League)
To know more about iB Cricket, visit https://ib.cricket/home-edition/
About METAVERSE SUPERSTAR League:
This event is part of iB Cricket's Metaverse Super Star League, the world's first-ever VR Cricket League! Happening across 10+ countries with 500+ events, thousands of cricket fans and gamers across the world compete to become the first-ever Metaverse Super Star!
Upcoming events lined up across India.
Stay tuned for more: https://ib.cricket/mss/
*T&C Apply
World's Most Immersive VR Cricket | iB Cricket Trailer
Miyapur Main Road
Miyapur Main Rd, ICRISAT Colony, Miyapur, Telangana, India
GET DIRECTIONS
Play VR Cricket - iB Cricket
June 2 | 5PM - June 4 | 11PM
Miyapur Main Road, Hyderabad
Event Guide
For Age(s)
Family Friendly
Invite your friends
and enjoy a shared experience