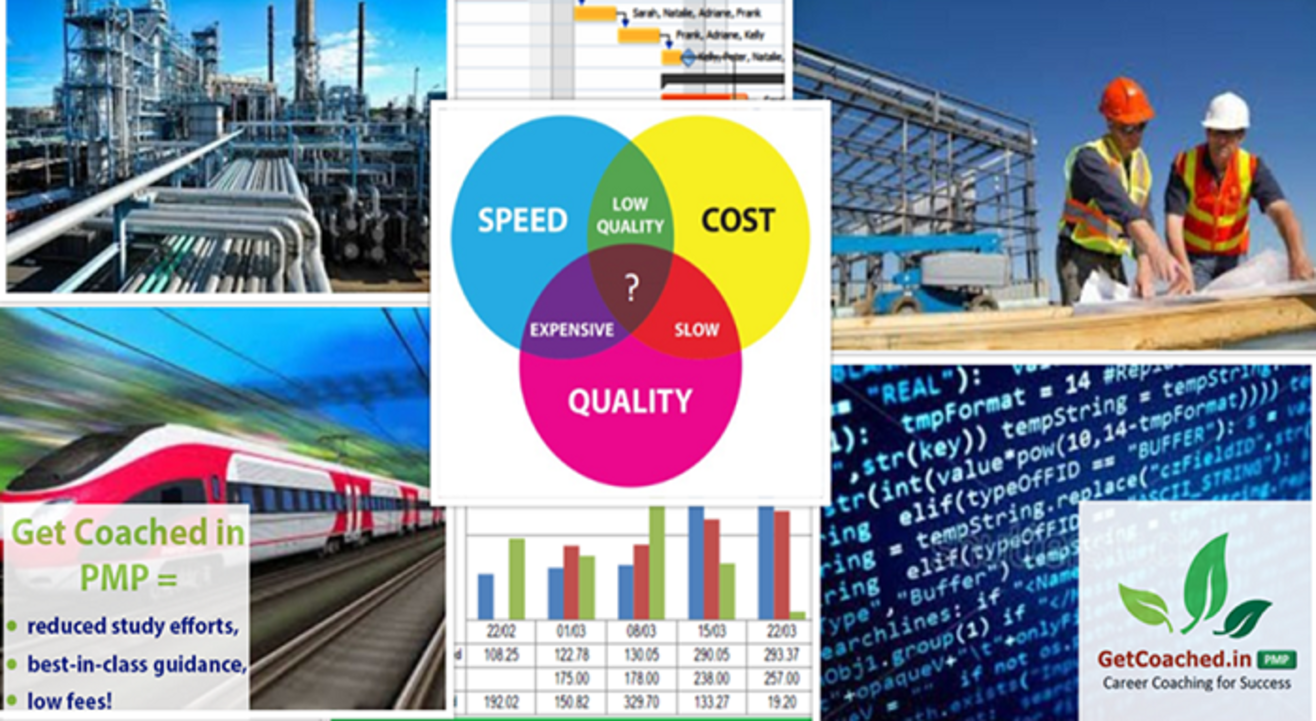 PMP Certification 4 Day Online Classroom Training
Invite your friends
and enjoy a shared experience
Invite your friends
and enjoy a shared experience
About the Event
PMP CERTIFICATION Training Online (Sat/Sun 9am-6pm)
PMP stands for Project Management Professional, the certification from PMI, USA for project managers across all industries. Those having 3+ years experience in leading or directing projects are eligible. The certification is valued across the world, especially in IT, engineering, infrastructure, constructon and process industry.
Training Package Includes:
1. 4 days of classroom based training delivered by PMP® Certified Trainer having ~27 years experience.
2. Project Management Professional (PMP) Training Certificate for 35 Contact Hours (popularly called as 35 PDUs)
3. Hard copy of the training deck based on the PMBOK Sixth Edition and latest changes.
4. Soft Copy of the training deck, which includes interactive links to examples and the audio recording of the training, for later reference while studying
5. 4 mock tests with answers (soft copy). One mock test solved and discussed in class
6. 37 additional free mock exams (via links provided)
7. 120 days access to a "one of its kind" interactive self-learning tool, making it easy to remember and understand the project management processes.
8. A 35 page booklet entitled "Cracking the PMP® Guide" that helps you prepare for the exam
9. Upto 10 post training support interactions over email, in person or on phone, within 6 months of the training
10. A comprehensive PMP process guide on how to fill the exam form, sequence of steps towards PMP, alongwith a sample filled-in form
11. Guidance documents by 6 successful participants that achieved the Project Management Professional Certification, to get direct advice on how to pass the PMP
12. "Library access" to the PMBOK® Guide Sixth Edition and Rita Mulcahy 9th edition PMP Study Guide (physical book on returnable basis)
13. Access to the LinkedIn group of serious PMP aspirants - interact with them and exchange tips, links, get answers to your doubts
14. Recorded Interview with a senior project manager who handled extremely large projects worth over a billion dollars
15. 25 Project Management Templates for managing your projects effectively
16. Demo of Project Management Software to help you connect the concepts with their practical application in the workplace
17. 150 Flashcards to help you remember the key terms better, and give you a way to revise while on the move
18. Formation of a support group of serious participants across batches, to enable you to prepare for the exam with help of peers
19. One on One guidance session (on request) on how to enhance your career in Project Management, concluding with an action plan
Note: Items 3 & 12 above will be available only for participants attending in person (if lockdown is lifted). For other participants, the hard copy (#3) can be couriered on request later.
GetCoached.in's program is probably the only one that covers the entire PMP scope TWICE in 4 days - once to provide you a solid foundation on project management and again to prepare you from the exam perspective.
Another unique aspect is the case study approach where the project management concepts will be learned from the case study given to the participants
Why GetCoached.in
8 Key Reasons why GetCoached.in is one of the best PMP training institutes:
1. Industry experienced trainer (26 yrs exp) discusses examples and situations in your domain of work
2. Provides recordings of the 4 day classroom training to help you revise better
3. Comprehensive coverage - more content than most other institutes. Increases confidence for PMP Exam prep
4. Unique Interactive learning tool to understand and remember all PMP processes
5. Pre & Post training support by the same trainer - not by a call center
6. Successful track record: All(100%) participants passed PMP after "go ahead" by trainer
7. Unique Visual Learning Approach that combines Verbal, Logical and Visual Learning for faster grasping & longer retention
8. All this at an affordable fee + EMI option
About the Trainer
Ashish Paranjpe, PMP has 27 years experience across industries and domains. His goal is to provide you with the best PMP training.
Here are 7 reasons why you are in safe hands:
1. Ashish has been involved executing and managing projects since 1991, and also managing and coaching project managers. Being hands-on helps him relate better to your projects. Accenture, Capgemini, IBM, Oracle, HSBC, Barclays, GE, Tata Motors, Godrej & Boyce, LnT Infotech, Petronas, AON Hewitt, CGI, Nissan, Vodafone, SBI Life are some of the organizations for which he has managed projects or conducted corporate training.
2. He is probably the only trainer who has such a unique combination in his profile - In addition to being a trainer for PMP, project management and scheduling tools, he also provides consulting for development of project management software. He can thus connect what PMP says as best practice, to what you would need to do, when implementing it at the workplace
3. Ashish is a freelancer through several training institutes for PMP. He has also reviewed and enhanced course content for them. This exposure has helped him ensure the best PMP Training coverage on the subject. He has conducted more than 45 training programs during the past 12 months.
4. As a career coach he can provide valuable guidance, for you to succeed as a manager and to grow in your career.
5. Given his diverse experience, Ashish takes realistic examples from your work settings to make you understand the concepts better. This includes IT, Infrastructure, Construction, Manufacturing, Engineering and more. These examples span multiple domains such as Construction, Banking, Insurance, Telecom, Automotive, Oil & Gas, Retail, Software etc.
6. Ashish has conducted online training for project management and tools since 2014, for participants across companies around the globe, based at New Zealand, Singapore, China, India, UAE, UK, Europe, Africa and USA.
7. Ashish has authored 5 patents in the field of project management in the past 6 months and is providing consultation to leverage these for managing their projects
PMP Training Overview from GetCoached.in