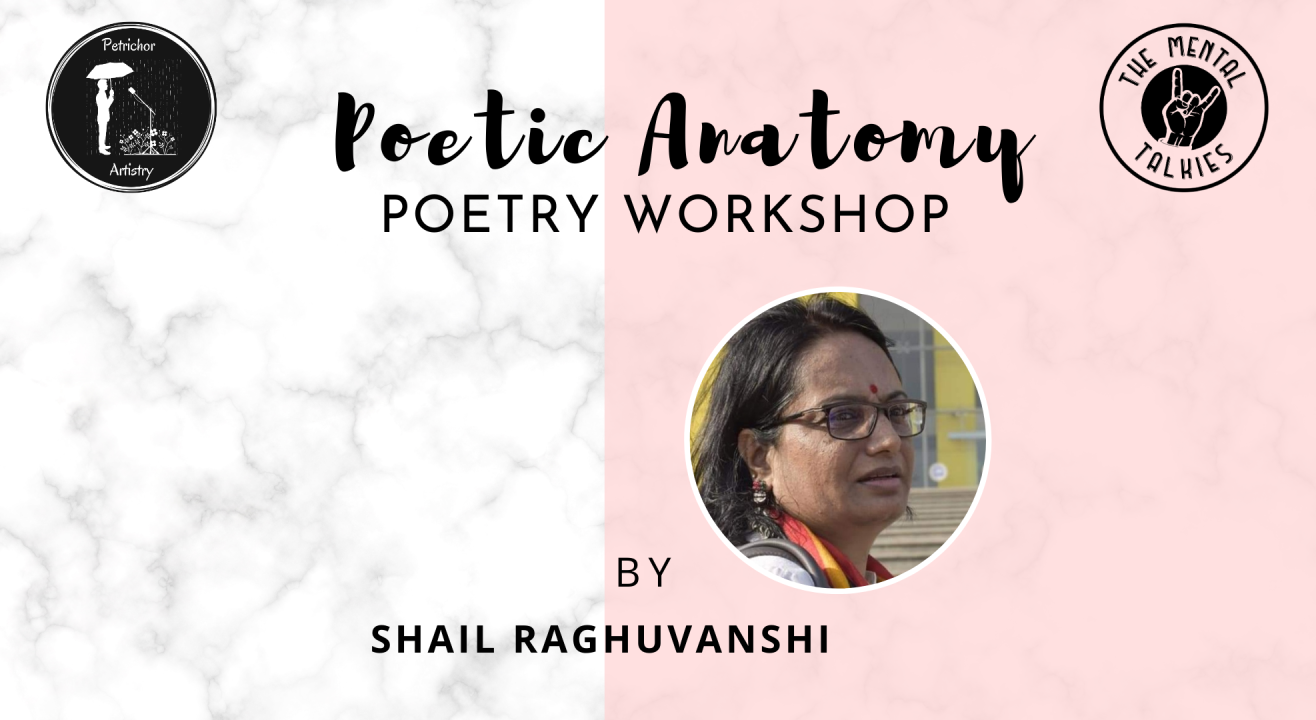 Poetic Anatomy-Poetry Workshop
Enjoy this event from your home
Invite your friends
and enjoy a shared experience
Invite your friends
and enjoy a shared experience
Have you ever wondered what is it like to trace the bones of Poetry?
The way it works; its ethics, complications and machinery?
The Mental Talkies and Petrichor Artistry LLP present to you The Poetic Anatomy by Shail
Raghuvanshi!
Ms. Raghuvanshi is an author, freelance writer, editor, blogger, content writer, book
reviewer, poet and translator. A post graduate in Journalism and Mass Communication, she
has 25 years of writing experience in newspaper, magazine, radio, television and the
internet.
Her poems, short stories and articles have been published in leading magazines,
journals and e-books apart from featuring in anthologies. She has done translation work for
private companies (both, corporate and educational). She has worked as Communicative
English teacher in Kendriya Vidyalaya. She has also done voluntary service for the Can and
Will Foundation, coaching underprivileged children.
In the interactive program, Ms. Raghuvanshi will be talking about the following things:
Introduction of Poetry with Background
Poetic Devices & Techniques
Stage Poetry & Page Poetry
How to be in the right mindset / Creative block
Current scenario: Prose read as Poetry?
Versatility of genres
Originality
Problems of the literary world:
1. Instant Gratification
2. No Support for fellow artists
Important Guidelines
1. This show is on Zoom. Please download the Zoom Web Meetings app and register.
2. Make sure you're in Good room with internet.
3. Use earphone/headphone for better experience.
4. Also get hold of strong internet connection to avoid any interruption or disturbance during the event.
5. Don't let the fact that you are performing virtually, from your home, affect your stage presence. Don't hold back on performing with the same level of enthusiasm and energy, as you would on stage. If you usually perform standing at a live event, you should perform the same way in the DiGi Events as well.
6. Sound check paramount before starting the session. Conduct a test event prior to the actual event.
7. Views expressed by the individual artists and performers, either in course of their performance, or on their social media channels, or any third party channels and platforms, online or offline or otherwise are solely their own and neither do they represent those of The Mental Talkies nor are they endorsed in any manner by The Mental Talkies, its associates and affiliates.
8. Artists are fully and solely liable and responsible for their content, actions, expressions and/or views. The Mental Talkies will not be responsible for their actions, expressions and/or views, and any claims, damages, outrage arising due to the comments, pictures or videos posted by the Artists on the Channels.
9. The Mental Talkies shall not be held liable or responsible for any violation of intellectual property rights that may arise out of any Artist performance.
10. Tickets once booked cannot be exchanged or refunded.
11. Recording or uploading of this stream is not permitted.
12. The time and date of the show may vary due to internet connectivity issues. In this case, the artist will share the revised date and/or timing at the earliest.
13. There may be interruptions in the stream due to internet connectivity issues