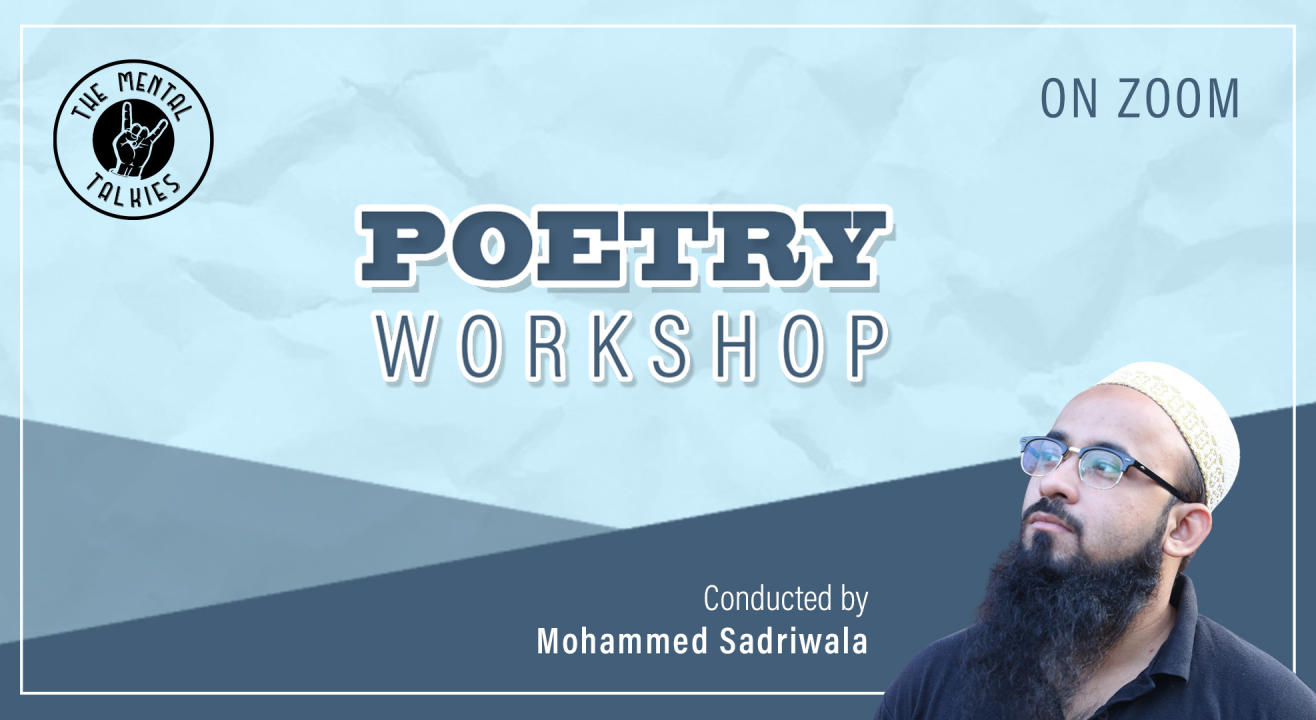 Poetry Workshop by Mohammed Sadriwala
Enjoy this event from your home
Event Guide
Masterclass
Learn from an expert
Invite your friends
and enjoy a shared experience
Poetry Workshop by Mohammed Sadriwala
Enjoy this event from your home
Event Guide
Masterclass
Learn from an expert
Invite your friends
and enjoy a shared experience
Event Guide
Masterclass
Learn from an expert
Invite your friends
and enjoy a shared experience
The Mental Talkies Presents Poetry Workshop.
A good poem pays close and generous attention to the things of the world, to the feelings in our hearts, to the struggles of existence, and to the life of the mind.
Poems pay the same kind of fierce but loving attention to language itself and use it with care to do justice to the facts and mysteries of our places and our lives.
The better the poem you write or read, the better you belong in your life and your world and days.
Outcomes
By the end of this course, you should be able to:
· Discover what goes on inside a poem, how to make your sing and how to see and write your life more fully
· Unpack some fine poems that may show you how to write your own with more grace
· write poems in new ways
· Utilize the insightful feedback received on your work
· Practice the techniques that poets, through the ages, employ to wake your language and your lives more fully to the facts and mysteries of existence
· Employ some forms, tricks and devices to attend more closely to your language and turn out poems more likely to satisfy yourself and find your way to publication.
Poetry Workshop covers in this introduction to the nature and uses and practice of poetry, we will explore:
1. The nature of a line and the uses of enjambment.
2. Speech music, rhythm and rhyme.
3. Point of view, sensibility and voice.
4. Fashion, style, convention and performance.
5. The necessary opacity of a poem—how to keep your secrets, but tell your reader hers; how to tell all the truth, but tell it slant.
6. Devices for getting out of your own way and letting the poem find you and speak itself in your voice.
Poetic modes and sensibilities: lyric, confessional, declamatory, ironical, casual, formal, conversational, operatic, oracular, academical, comical.
7. Will have Q&A Session
About Mohammed Sadriwala:
Spoken Word Artist, Storyteller for the last 5 years, Mohammed is a well-known Artist in Mumbai Poetry Circle. For being invited by BBC India to perform for INDO-PAK collaboration event, National Goegraphic for World Environment Day, MX Player to becoming a household Name with his Viral Story PROUD TO BE INDIAN to headline as featured performer for Spoken Fest 2017 and 2018. He is known for his versatile storytelling with emotions ranging from social issues to light-hearted content.