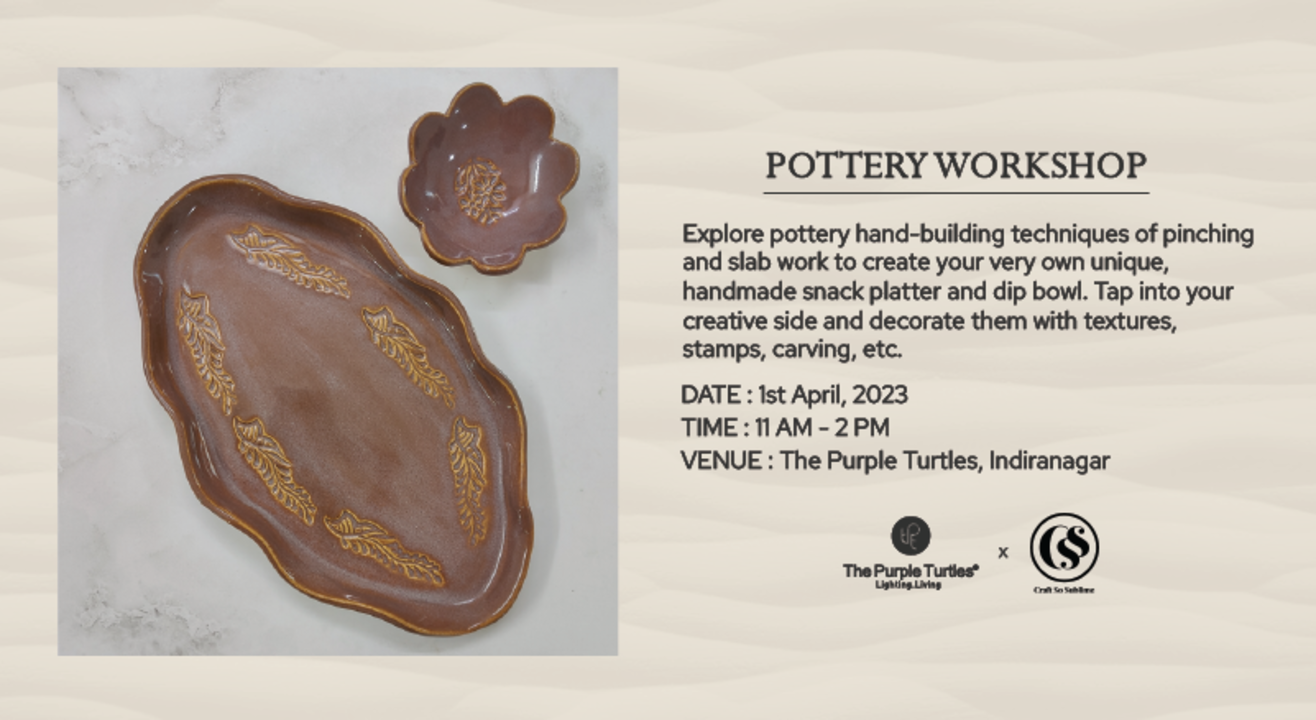 The Purple Turtles - Home Decor & Furniture Shop in Bangalore, Bengaluru
Step out and enjoy this event
Event Guide
For Age(s)
Family Friendly
Invite your friends
and enjoy a shared experience
The Purple Turtles - Home Decor & Furniture Shop in Bangalore, Bengaluru
Step out and enjoy this event
Event Guide
For Age(s)
Family Friendly
Invite your friends
and enjoy a shared experience
Event Guide
For Age(s)
Family Friendly
Invite your friends
and enjoy a shared experience
We would like to invite you to join us for a pottery workshop. Whether you are an experienced potter or have never worked with clay before, this is a great opportunity to learn new techniques and create your own unique pieces.
What will you learn?
In this workshop you will explore various pottery hand-building techniques such as pinching and slab work to create your very own, personalised, handmade snack platter and dip bowl. Tap into your creative side and decorate them with textures, stamps, carving, etc.
Takeaway:
During the workshop, you will have the opportunity to create and take home a personalised snack platter and dip bowl.
All materials will be provided
Points to Note:
- You will get to choose a glaze colour from the options available with the artist
- Your products must be left with the artist for glazing and firing, and can be picked up from The Purple Turtles store (Indiranagar) after 2 weeks.
Date: - Saturday, 1st April 2023
Timing: 11 a.m. to 2 p.m.
Venue: The Purple Turtles, 128, 1st Main Rd, Paramahansa Yogananda Rd, Stage 2, Bengaluru, Karnataka 560008
Age Group: Open to all adults and children (above 10 years)
Artist Profile:
Shubha is a former software engineer who has transitioned into a studio potter. Her journey with clay began in 2015 when she enrolled in a pottery course in Bangalore. Instantly drawn to the medium Shubha continued to explore the possibilities of clay.
Most of Shubha's pottery work is functional featuring simple yet aesthetically pleasing forms designed for daily use. She enjoys experimenting with textures patterns cut-work and various glaze decoration techniques to create unique pieces. Additionally Shubha finds joy in teaching hand-building and wheel techniques to students of all ages.
We invite you to join us for an unforgettable experience, where you can let go of your worries, unwind, and tap into your inner creativity!
The Purple Turtles - Home Decor & Furniture Shop in Bangalore
128, 1st Main Rd, Paramahansa Yogananda Rd, Stage 2, Domlur, Bengaluru, Karnataka 560008, India
GET DIRECTIONS
The Purple Turtles - Home Decor & Furniture Shop in Bangalore, Bengaluru
Step out and enjoy this event
Event Guide
For Age(s)
Family Friendly
Invite your friends
and enjoy a shared experience