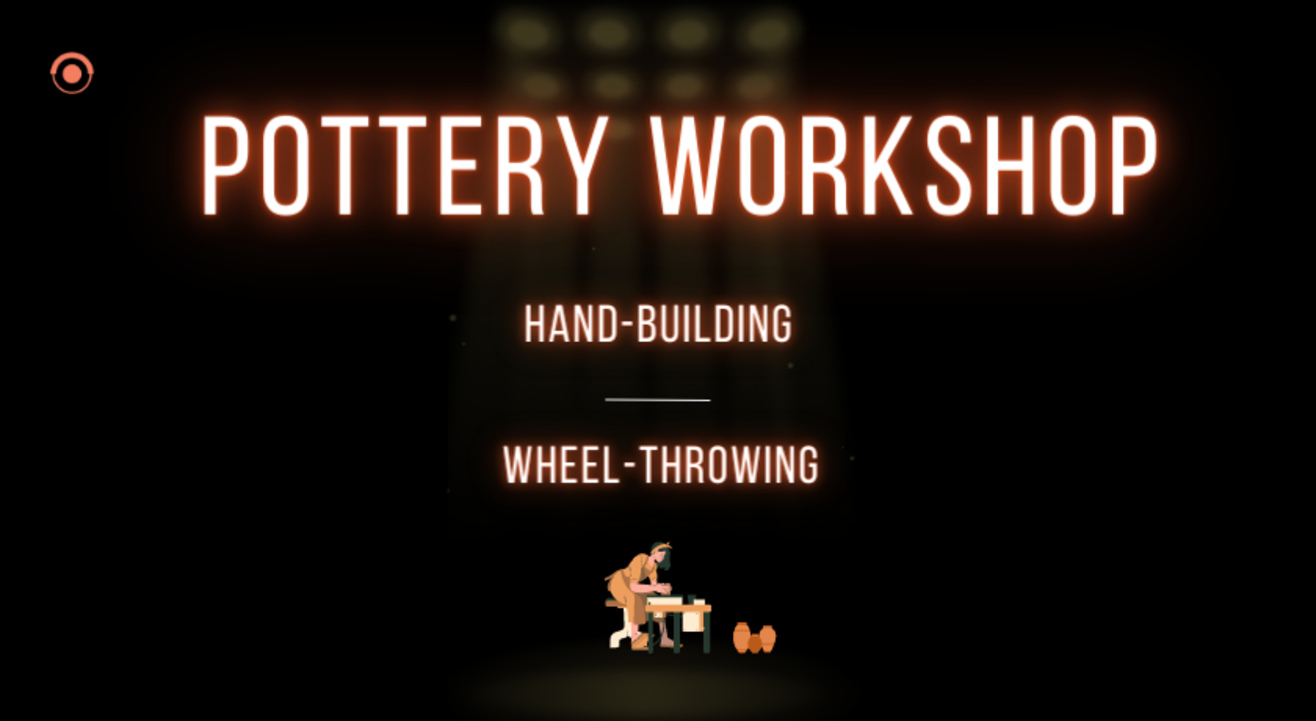 Pottery Workshop - Hand Building & Wheel Throwing
June 15 | 10AM - June 30 | 5PM
Wheel and Potter Pottery Studio, Bengaluru
Event Guide
Language
English, Hindi, Hinglish
Masterclass
Learn from an expert
Invite your friends
and enjoy a shared experience
Pottery Workshop - Hand Building & Wheel Throwing
June 15 | 10AM - June 30 | 5PM
Wheel and Potter Pottery Studio, Bengaluru
Event Guide
Language
English, Hindi, Hinglish
Masterclass
Learn from an expert
Invite your friends
and enjoy a shared experience
Event Guide
Language
English, Hindi, Hinglish
Masterclass
Learn from an expert
Covid 19 Safety Measures
This event adheres to the following

Health & safety measures
Social Distancing
Temperature Checks
Face Masks Required
Hand Hygiene Stations
Limited Capacity
Contactless Service
Sanitisation before the show
Organisers wear masks
Proof of Vaccination Required
Invite your friends
and enjoy a shared experience
Covid 19 Safety Measures
This event adheres to the following

Health & safety measures
Social Distancing
Temperature Checks
Face Masks Required
Hand Hygiene Stations
Limited Capacity
Contactless Service
Sanitisation before the show
Organisers wear masks
Proof of Vaccination Required
This pottery workshop offers participants the opportunity to explore and develop their skills in both hand-building and wheel throwing techniques. Through a combination of guided instruction and hands-on practice, attendees can engage in a comprehensive learning experience in the art of pottery.
In the hand-building portion of the workshop, participants learn how to create pottery forms using their hands and basic tools. They are introduced to various hand-building techniques such as pinch pots, coil construction, and slab building. They learn how to manipulate clay to create functional or sculptural pieces of their choice, exploring their creativity and developing a sense of form and structure.
In the wheel throwing segment, participants are taught the fundamental techniques of working on a pottery wheel. They learn how to center clay on the wheel, shape it into various vessel forms like bowls, cups, and vases
The instructor provides guidance on mastering the wheel, focusing on proper hand positioning, pressure control, and throwing consistent shapes.
Throughout the workshop, participants are welcome to ask questions, discuss and learn about different types of clay, clay stages, glazes, as well as kiln firing processes with the instructor to get a better understanding of the craft.
The workshop creates a supportive and interactive environment, allowing participants to learn from each other`s experiences and share insights.
The instructor offers individualized attention, providing tips and suggestions to help participants improve their skills and achieve their desired outcomes.
By the end of the workshop, attendees gain a solid foundation in both hand-building and wheel throwing techniques, a deeper understanding of the art of ceramics, and the confidence to continue their pottery journey independently.
Whether beginners or intermediate-level potters, participants can develop their skills and find inspiration in this enriching pottery workshop.
All your creations during the workshop will be glazed and fired by the studio for FREE and can be collected at a later date (approximately 15 days subject to survival).
Convert this workshop to any course (flexible schedules) at the studio and the fee will be adjusted.
Expert guidance, individualized attention & hands-on learning experience in a pleasant ambience.
No prior experience required.
Bring a hand towel/apron, if possible.
Wheel and Potter Pottery Studio
3, 2nd Floor, 1st Cross Elite Garden, next to Delhi Public School, Srinivasa Nagar, Bengaluru, Karnataka 562149, India
GET DIRECTIONS
Pottery Workshop - Hand Building & Wheel Throwing
June 15 | 10AM - June 30 | 5PM
Wheel and Potter Pottery Studio, Bengaluru
Event Guide
Language
English, Hindi, Hinglish
Masterclass
Learn from an expert
Invite your friends
and enjoy a shared experience