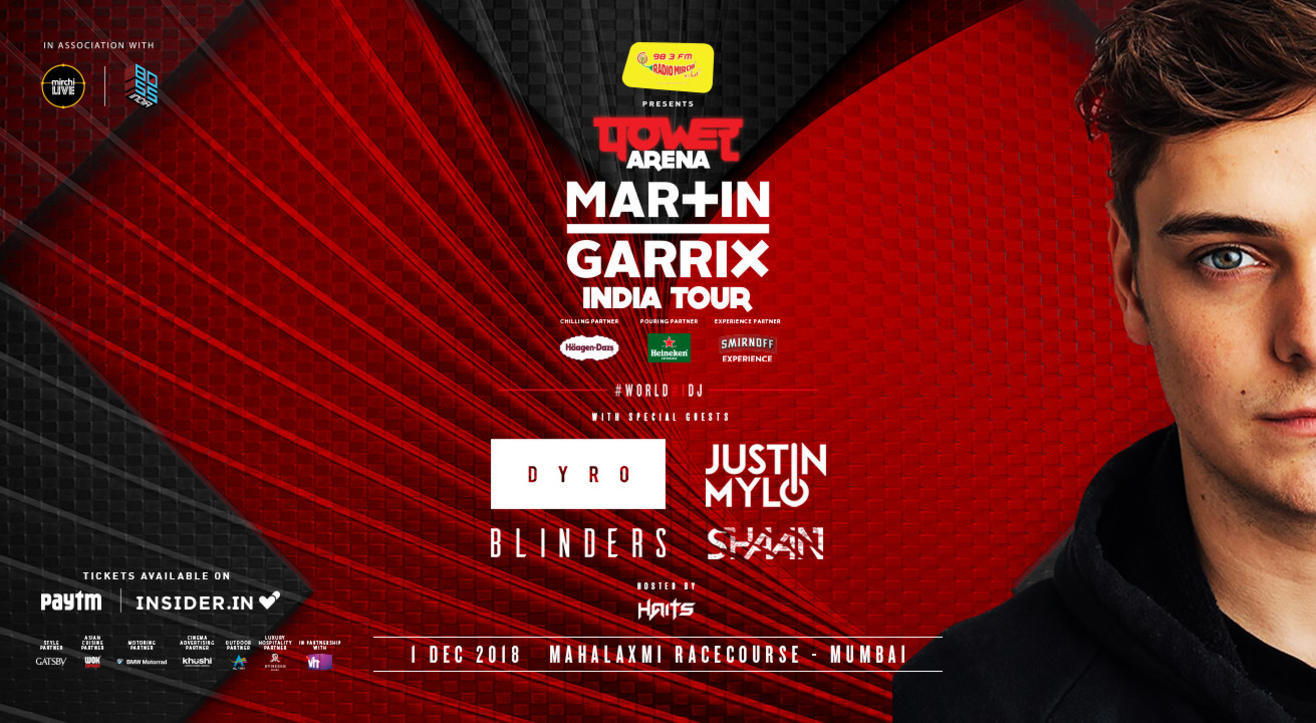 Power Arena - Martin Garrix India Tour, Mumbai
December 1 | 1:30PM (Gates Open)
Mahalaxmi Racecourse, Mumbai
Invite your friends
and enjoy a shared experience
Power Arena - Martin Garrix India Tour, Mumbai
December 1 | 1:30PM (Gates Open)
Mahalaxmi Racecourse, Mumbai
Invite your friends
and enjoy a shared experience
Invite your friends
and enjoy a shared experience
Two-time MTV EMA winner Martin Garrix is one DJ who has made his place in every music lover's playlist. Now, it's your chance to witness the world's #1 DJ in his epic India Tour: पOWEर ARENA on Dec 1, 2018.
As one of the biggest names in dance music, Garrix has headlined festivals around the globe, founded a major music label and mentored many other artists. He has also rightfully claimed his spot on Billboard's 'EDM Power Players'.
The Martin Garrix पOWEर ARENA India Tour is brought to you by Radio Mirchi- India's #1 Radio Station in partnership with BOSS India LLP.
Lineup
Blinders
Polish DJ/ producer Blinders is an emerging artist for high profile and cutting-edge house music. His original production – Riffter was a major hit and created a huge wave amidst the fan of the genre.
Backed by David Guetta, Martin Garrix and legendary BBC Radio 1 tastemaker Pete Tong, Blinders is a producer who deserves your attention.
Shaan
SHAAN started his DJ/Producer career at the age of 15 and debuted at Asia's premier music festival – Sunburn Goa 2010. He was the youngest DJ to play an international music festival and has quickly risen to become India's #1 Most Followed DJ.
In 2014, SHAAN became the first Indian DJ to play at Tomorrowland.
Justin Mylo
Justin Mylo is a 22-year-old DJ who has played at some of the biggest known festivals like Tomorrowland, Sunburn & World Club Dome.
His collaboration with Martin Garrix, & Bouncy Bob, is renowned all over the world.
Dyro
Jordy van Egmond known by his stage name Dyro is a Dutch DJ and EDM producer. Since 2010 he has released original singles and official remixes for Rihanna, Nicky Romero & Calvin Harris. In 2014 Dyro ranked No. 27 on the DJ Mag Top 100 DJs list.
Have questions regarding this event or your order?
Please mail help@insider.in or call us at +91-22-61548585 / +91-9136622662.
For corporate (bulk and hospitality) bookings
Please mail corporatebookings@insider.in, or call us at +91-22-33604736.
Note: Early Bird offer valid for a limited period, subject to availability
1. What are the dates and location for Power Arena – Martin Garrix India Tour?
POWER ARENA – Martin Garrix will take place on 1st December at Mahalaxmi Racecourse, Mumbai

2. Is there an age limit for the event?
Power Arena is strictly for over 15-year-olds. Purchase and consumption of alcohol products will be strictly controlled at all times. We will require any government photo ID proof, which will be checked when entering the event as well as at any time on venue grounds.

3. How and where do I collect my tickets/wristbands?
Bands are to be collected at the entry after the barcode scan and security check You will need photo ID proof, print out of the confirmation email from PayTM/Insider.in

4. What can I bring into the event?
The organizers reserve the right to refuse admission to the event site at any time. Also, only sling bags and ladies bags brought into the event will be searched upon entry. No back packs will be allowed inside the venue. The following items are prohibited and will not be allowed into the venue:

i. Weapons, explosives, firearms, glass bottles, aluminum cans, hazardous and breakable materials
ii. Fireworks, lasers, flashlights and anything else that can interfere with the artists
iii. Professional DSLR, recording devices, video equipment that have not been pre-approved
iv. At the artists' request, all unauthorized recording will be prohibited. (Illegal filming and/or recording will result in legal actions.)
v. Illegal items will be confiscated at the door
vi. Alcohol, food, bottles, cans, glass, animals and sound systems may NOT be brought onto the festival site
vii. No camping gear of any kind will be allowed into the venue
viii. Flags that are used to identify your group may be brought in, but discretion is advised when constructing or designing these items, as they may sometimes be considered dangerous.
ix. No Helmets will be allowed inside the festival

5. Is re-entry allowed once on the premises?
NO

6. Will I be able to purchase food and beverages at the festival?
A wide variety of food and beverages will be available for the duration of the event, supplied by various vendors at the event.
PLEASE NOTE: You may NOT bring your own food or beverages into the event area.

7. Are there restroom facilities on site at the event?
Yes, there will be sufficient restrooms for both men and women on the event grounds.

8. Do the facilities cater for disabled attendees?
Yes, the event is wheelchair friendly and toilet facilities cater accordingly.

9. What are the ticket options and information?
All tickets are sold through paytm/insider.in
A barcoded ticket (printed or correctly displayed on your phone) will need to be presented along with identification upon entering the event.
Please note: booking fees apply to all tickets

10. What is included in VIP?
Power VIP ticket holders will receive express entry through the VIP entrance; an exclusive and elevated dance floor; with a scenic view of the Main Stage, dance floor as well as private bar and toilet facilities

The additional option of a table and bottle service will be available exclusively at extra costs.
PLEASE NOTE: VIP ticket holders will have access to all areas except VVIP, service areas and backstage.

11. Can I swap/upgrade a G.A. ticket to VIP ticket?
Once bought, tickets cannot be upgraded;

12. Will there be a ticket exchange counter at the venue?
NO, you will have to get a print out of the bar code or have a screenshot of the barcode on your mobile phone to gain access.

13. Can I buy tickets using cash?
Yes, you can buy your tickets in cash from our authorized ticketing partners. List of Authorized Ticketing Partners will be out soon.

14. Can I transfer my ticket to a friend?
All tickets purchased are strictly non-transferable

15. How can I pay for my tickets?
Via Debit/Credit card or various other services available at PayTM/Insider.
Don't forget to print a proof of payment in case we need to track the payment and use the correct reference as provided.

16. What do I do in case of duplicate payment taken?
Duplicate payments have occurred, usually as a result of the buyer refreshing the payment page during the payment process. If this happens please email PayTM/Insider.in with a copy of your bank statement showing both transactions and the refund will be processed.

17. What is the ticket cancellation/refund policy?
No refunds will be given once the tickets have been booked.

18. What is Friends Power?
A unique combo package for the Martin Garrix India Tour! Simply select the Friends Power ticket on checkout.

19. What is Girl Power?
A combo package for women only, for the Martin Garrix India Tour! Get premium viewing, exclusive entry/exit points and a dedicated bar area. A two-ticket package comes at Rs 1998 only. Remember, only women can avail of this offer.

20. What time does the gate open?
Gates for the concert will open at 1:30PM

21. Can I exchange the tickets with someone later for Friends & Girls offer?
All tickets purchased will have your name mentioned with a unique Insider code. You cannot exchange/return the tickets once purchased.

22. What if I have more friends than 3 and want to buy more tickets?
You will need to purchase tickets in multiple transactions. Subject to tickets availability

23. Can I buy the Girl Power tickets if I am a guy but have a lady friend?
No. Only women will be allowed to enter the venue for the 'Girl Power' purchased tickets.

24. Can I bring anyone along, if not a friend for "Friends Power." Can it be a female or male?
You can bring anyone you like, of any gender, provided you know the person.
One of his biggest hits: Scared To Be Lonely (with Dua Lipa)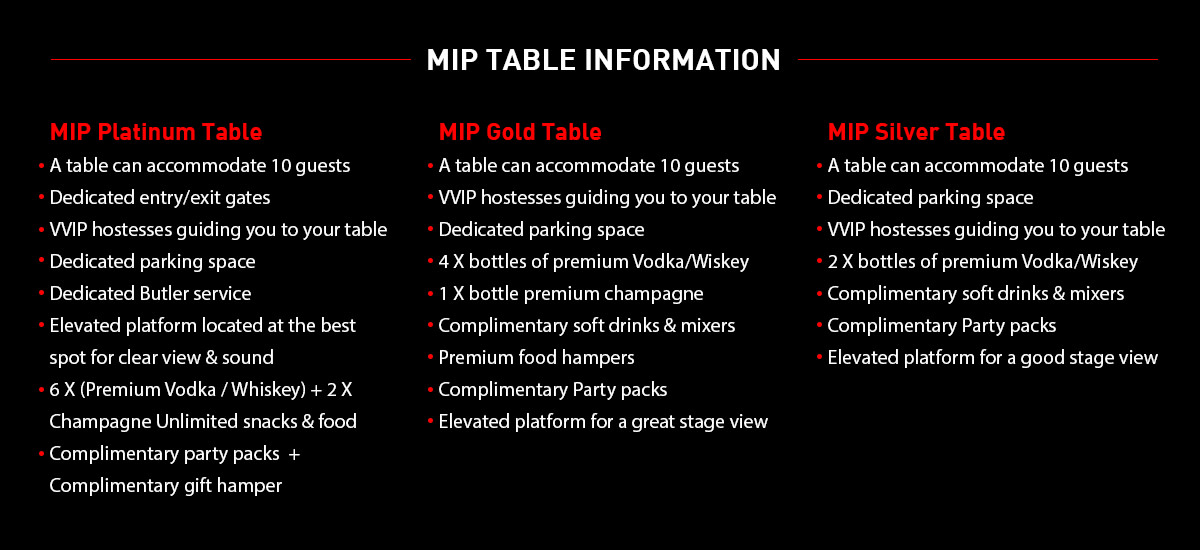 If interested, please mail us at corporatebookings@insider.in
Mahalaxmi Racecourse
Dr E Moses Marg, Royal Western India Turf Club, Mahalakshmi Nagar, Mumbai, Maharashtra 400034
GET DIRECTIONS
Power Arena - Martin Garrix India Tour, Mumbai
December 1 | 1:30PM (Gates Open)
Mahalaxmi Racecourse, Mumbai
Invite your friends
and enjoy a shared experience