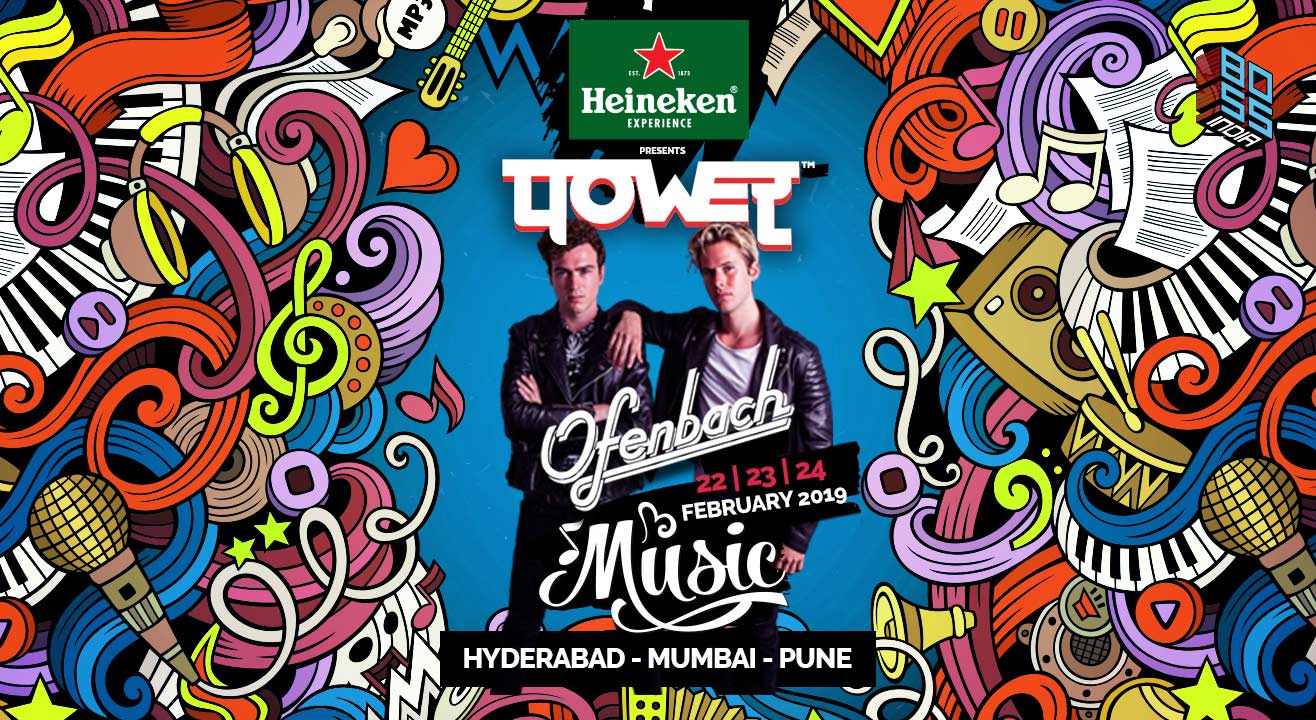 Music
पOWEर Music tour with Ofenbach | Mumbai
Venetian Luxury Bar & Gastronomy
About
पOWEर Music™, the latest offering from Boss India, is all set to revive India's club culture with a series of game-changing musical journeys. The first tour to be announced features one of the highest selling artists in Europe right now -Ofenbach. The French duo have over 1 billion streams, 15 Platinum and 12 Gold Records and are storming the global scene with their unique blend of retro rock and contemporary deep house. Rest assured, you have not heard music like this before!
After their record breaking World's Biggest Guestlist Events (featuring Hardwell, W&W, Kill the Buzz and more) and पOWEर Arena™ Tour (with World #1 Martin Garrix), Boss India brings the focus back to the music with the पOWEर Music™ Tours, in India's hottest clubs and unique locations. Let us come together and awaken the true power within. For we are the people of पOWEर.
What are the dates and location for Power Music – Ofenbach India Tour?
POWER Music – Ofenbach will take place on 22nd, 23rd & 24th February 2019 at
Hyderabad - Prism Club & Kitchen, 22nd February
Mumbai - Venetian Luxury Bar & Gastronomy , 23rd February
Pune - Playboy Beer Garden , 24th February

Is there an age limit for the event?
Power Music is strictly for over 21-year-olds. Purchase and consumption of alcohol products will be strictly controlled at all times. We will require any government photo ID proof, which will be checked when entering the event as well as at any time on venue grounds.

How and where do I collect my tickets/wristbands?
Bands are to be collected at the entry after the barcode scan and security check
You will need photo ID proof, print out of the confirmation email from PayTM/Insider.in

What can I bring into the event?
The organizers reserve the right to refuse admission to the event site at any time. Also, only sling bags and ladies bags brought into the event will be searched upon entry. No back packs will be allowed inside the venue. The following items are prohibited and will not be allowed into the venue:
Weapons, explosives, firearms, glass bottles, aluminum cans, hazardous and breakable materials
Fireworks, lasers, flashlights and anything else that can interfere with the artists
Professional DSLR, recording devices, video equipment that have not been pre-approved
At the artists' request, all unauthorized recording will be prohibited. (Illegal filming and/or recording will result in legal actions.)
Illegal items will be confiscated at the door
Alcohol, food, bottles, cans, glass, animals and sound systems may NOT be brought onto the event.

Is re-entry allowed once on the premises?
No

Will I be able to purchase food and beverages at the Venue?
A wide variety of food and beverages will be available for the duration of the event, supplied by various vendors at the event.
PLEASE NOTE: You may NOT bring your own food or beverages.

Are there restroom facilities on site at the event?
Yes

What are the ticket options and information?
All tickets are sold through paytm/insider.in
A barcoded ticket (printed or correctly displayed on your phone) will need to be presented along with identification upon entering the event. Please note: booking fees apply to all tickets

Will there be a ticket exchange counter at the venue?
NO

Can I buy tickets using cash?
Yes, you can buy your tickets in cash from our authorized ticketing partners. List of Authorized Ticketing Partners will be out soon.

Can I transfer my ticket to a friend?
All tickets purchased are strictly non-transferable

How can I pay for my tickets?
Via Debit/Credit card or various other services available at PayTM/Insider.
Don't forget to print a proof of payment in case we need to track the payment and use the correct reference as provided.

What do I do in case of duplicate payment taken?
Duplicate payments have occurred, usually as a result of the buyer refreshing the payment page during the payment process. If this happens please email PayTM/Insider.in with a copy of your bank statement showing both transactions and the refund will be processed.

What is the ticket cancellation/refund policy?
No refunds will be given once the tickets have been booked.


Ofenbach - Be Mine (Official Video)
Ofenbach vs. Nick Waterhouse - Katchi (Official Video)
Venue
Venetian Luxury Bar & Gastronomy
Plot No 50, 7th Floor, Deluxe House, Veera Desai Road, Off New Link Road, Andheri West, Mumbai, Maharashtra 400102