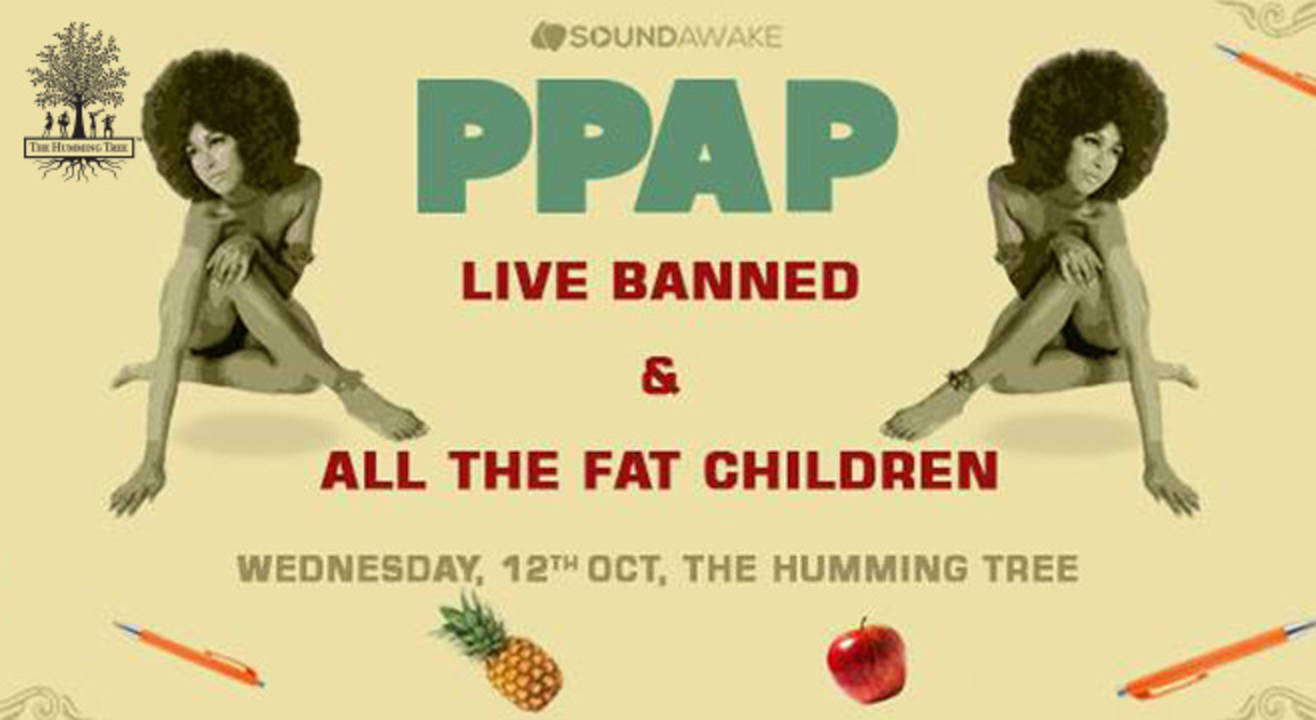 PPAP ft Live Banned | All the Fat Children
October 12 | 9PM
The Humming Tree, Bangalore
About
Watch Live Banned and All The Fat Children perform live at the Humming Tree.
Live Banned
Live Banned is a concept. Live Banned is about entertainment. The band's originals and medleys are popular for their humour that is sometimes intelligent and at other times atrocious. The performances are bold, flamboyant and energetic, influenced by South Indian music, Bollywood, Disco, Pop, Rock and Metal. The band satirises, restructures and twists popular music across genres and languages that appeals to everyone, from the man on the street to an audience from the corporate world.
All The Fat Childen
ATFC has its roots as a college band from Christ University. The three members met up at university while studying and decided to form the band. The band had performed in Bangalore with Motherjane and Pentagram. They have performed more than 200 shows so far with 30 original compositions to their credit.
A second single "Somebody Else" was released in 2015, also released as a self-produced video. The video also received air time on TV channels such as VH1 and Pepsi MTV Indies. The video was shot in a warehouse, which was painted and the process took less than twenty four hours.
"Somebody Else" was selected by Rolling Stone India as one of it's 10 Best Indian Singles of 2015.
Terms & Conditions
Please carry a valid ID proof along with you.
Security procedures, including frisking remain the right of the management.
No dangerous or potentially hazardous objects including but not limited to weapons, knives, guns, fireworks, helmets, lazer devices, bottles, musical instruments will be allowed in the venue and may be ejected with or without the owner from the venue.
The sponsors/performers/organizers are not responsible for any injury or damage occurring due to the event. Any claims regarding the same would be settled in courts in Mumbai.
People in an inebriated state may not be allowed entry.
Venue rules apply.