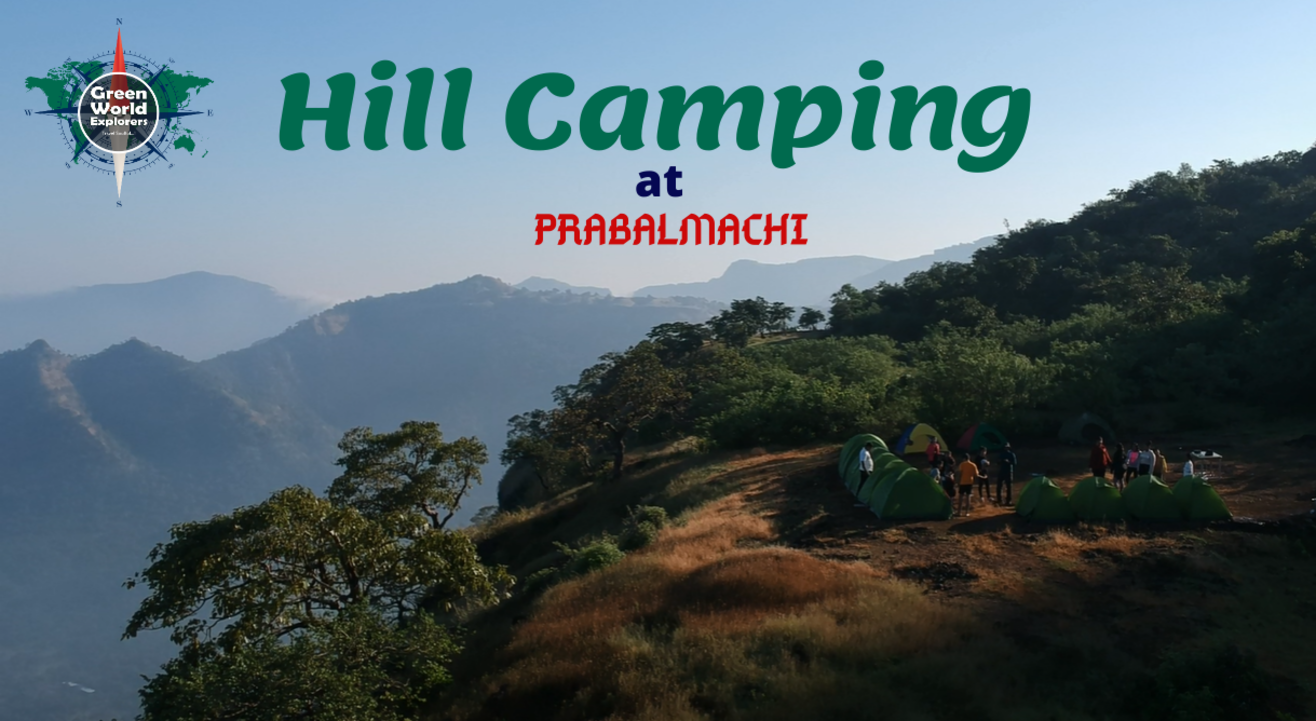 Camping
Hill Camping at Prabalmachi
About
Prabalmachi
Prabalmachi is situated between Matheran and Panvel in Raigad District in Maharashtra, India. A rustic village, the base of Fort Prabalgad and Kalavantin, is filled with greenery and is away from hustle and bustle of city. Height of the Prabalmachi village is 390 metres above sea level.The Prabalgad Fort stands at an elevation of 2,300 feet in the Western Ghats. The fort was previously known as Muranjan until it was taken over and renamed by the Maratha forces under Chhatrapati Shivaji Maharaj's rule. The fort has a Ganesh temple and some unidentified stone ruins. Its sister fort is Irshalgad. Right next to Prabalgad, to its north, lies the steep Kalavantin fort. Prabalmachi camping provides an amazing view of the two fort standing tall and facing each other. The mild breeze in the evening and traditional food by the villagers adds to the experience.
Type: Hill Fort
Height: 2320 Feet
Grade: Easy
BaseVillage: Thakurwadi
Region: Panvel
Major Attractions:
1. Scenic view of city from Prabalmachi / plateau and the cool breeze
2. Enjoy a panoramic view of the Surrounding and the city
3. Amazing hike in the woods
4. Wonderful climbs
5. Camping at the top of the plateau
6. Games with lots of fun
Itinerary
DAY 1 - Saturday
06:00 pm Meet at Panvel Station
06:15 pm Move towards Thakurwadi (Base Village) in our transfer vehicle
07:15 pm Start trek towards Prabalmachi after a brief session
08:45 pm Reach campsite at Prabalmachi and get Refresh
09:30 pm Prepare for a night under the sky, have delicious local cuisine for dinner, let the Arijit Singh in you come out, play a few games, share stories (especially ghost stories), make new friends and enjoy the campfire.
11:30 pm Off to the tents for a sound sleep (For those who are very sleepy.Day Ends
DAY 2 - Sunday
07:00 am Wake up call, get refreshed by a hot cup of tea and breakfast
08:00 am Move towards Kalavantin Durg, for those who would like to trek. Others can enjoy their morning at Prabalmachi
09:30 am Reach the pinnacle, bask in the majestic view from the top, take selfies with an amazing background
10:00 am Start the descend towards Prabalmachi
11:00 am Reach Prabalmachi, Campsite
11:30 am Start to descend towards Thakurwadi (After a mandatory group pic!!!)
12:30 pm Reach Thakurwadi, say your goodbyes with a promise to meet again, leave for Panvel in our transfer vehicle. This brings us to the end of our trip, Or rather just the beginning.
Inclusions
1. Transportation from Panvel to Base village to Panvel by private vehicle.
2. 1 Breakfast- Sunday
3. 1 Dinner - Buffet (Veg/Non-Veg) (Saturday)
4. Tent 2 People Sharing Basis. (Blanket, Mattress)
5. Adventure Equipment
6. Toilet Facilities
7. Basic First Aid
8. Guide and expertise charges.
9. Forest Entry Fee
Cost :
1199/- Per Person
Exclusions
1. extra meals cold drinks.
2. water bottles
3. anything not mentioned above
confirmation only after full payment.
On first come first serve basis, so please Register at earliest and book your tents in advance!
booking is non-refundable.
NOTE: entry will be confirmed only after
Things to Carry
1. Bottle of Water (at least 2 liters)
2. Identity Proof
3. Ready to eat food like plum cakes, dry fruits etc.
4. Torch
5. Jackets and woolens as it would get cold in the evening and morning.
6. Cap, Camera
7. Good Trekking shoes
8. Personal care stuff, ORS, medicines which you require usually
9. A haversack to put all the things in, please do not carry sling bags or jholas
Disclaimer
All the participants whether travelling by local train/bus or private vehicle must reach at the meeting point at the given time. The organizers will wait for you at the meeting point for not more than 15mins. Post which the organizers may go out of network range and will not be able to assist you to the base camp. In such situation the organizers shall not be liable for any inconvenience what so ever and the participants will be considered as "no show" for which no refund will be given. In any case the leader's decision will be final and no arguments or objection from the participants will be entertained. During the event if any participant does not follow safety instructions and indulges in acts that lead to physical harm, the organizers will not be held liable for it. If the weather conditions are unfavourable or that the time of a natural calamity on or before the trek, the event will be cancelled, and no refund will be given in this case. Stay options mentioned in the itinerary are subject to availability and natural conditions i.e. tents can't be pitched if it rains and/or rain storm is being predicted. In such cases an attempt will be made to provide shelter for the night. Food during the trekking and camping events will be basic as it will be sourced locally from villages and will be cooked by villagers. The Tickets can be cancelled 7 days prior to the event and 90% amount will be refunded. Any refund in terms of miscount in no. of bookings can be requested before 48hrs of the event. No refund will be processed of once the event gets over. All participants are deemed to be physically fit for the event. In case a participant decides to dropout during the event he/she has to bear the extra cost of arranging his/her return. This cost will be charged at-actual-basis. Participant is responsible for his own valuables as there are no luggage safety lockers in any of the base camps. Participation will be at your own risk and the organizers will not be held responsible for any accidents, loss of life or valuables.