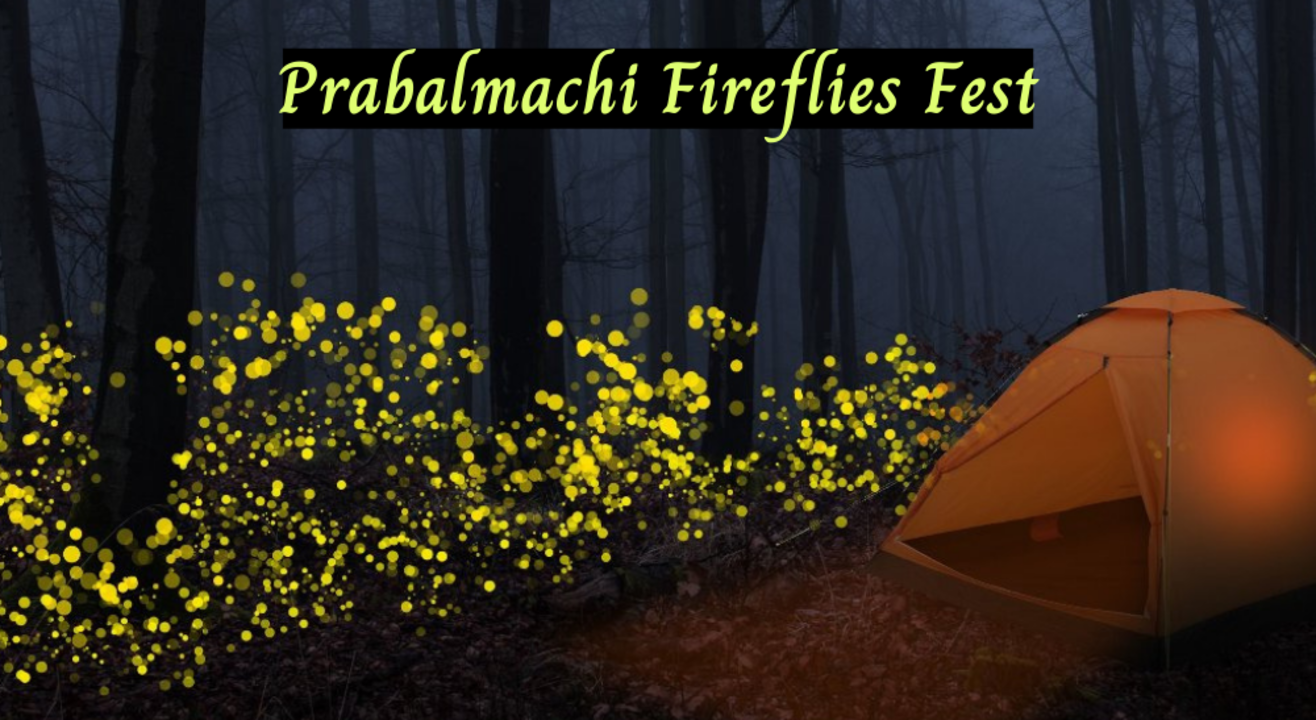 Prabalmachi Fireflies Camping and Trekking | Liveb4youdie
May 21 | 4:30PM - June 26 | 12:00PM
Camping at prabalmachi, Mumbai
Step out and enjoy this event
Invite your friends
and enjoy a shared experience
Prabalmachi Fireflies Camping and Trekking | Liveb4youdie
May 21 | 4:30PM - June 26 | 12:00PM
Camping at prabalmachi, Mumbai
Step out and enjoy this event
Invite your friends
and enjoy a shared experience
Covid 19 Safety Measures
This event adheres to the following

Health & safety measures
Invite your friends
and enjoy a shared experience
Covid 19 Safety Measures
This event adheres to the following

Health & safety measures
About the Event:
Highlights:
Twinkling Fireflies are the highlight of this journey
Camping at the top of the plateau
Enjoy the view of the Pinnacle with the stairway leading to the top and peer into the scenic geographies
Explore one of the most popular Kalavantin Durg treks which is positioned at around bases in the Raigad quarter of Maharashtra at an altitude of 2205 feet
The journey is a perfect bone for newcomers or adventure campaigners as you get to enjoy the beauty of rocky terrains, lush verdure with your team
Short trek through meadows and dense forests.
Stargazing at night bonfire & music
About Prabalmachi Fireflies Camping and Trekking:
Fireflies or lightning bugs are structured with specialized cells in their abdomen which emit light. This process is called bioluminescence and is shared by many other organisms, mostly sea-living or marine organisms. Pre-monsoon climate is the ideal period for fireflies and glow-worms for mating, they light up to attract their mate. Hundreds of fireflies gather together on a tree displaying their bio-luminescent lights in the dark nights.
Imagine a thousand twinkling lights in the forest. Enchanting right? Now imagine witnessing this phenomenon live. One of the most brilliant spectacles put on by Mother Nature at Prabalmachi, before the onset of the monsoon. This is, of course, the annual mating congregation of fireflies who descend upon this plateau to start a wonderful beginning. Their bioluminescence creates magical patterns in the dark and makes you dream with eyes open.
But the magic doesn't end there. Indulge in setting up your tents, make your own barbecue as you sing under the moonlight and the starlit sky around bonfires while relishing in locally cooked food and experiencing the warm hospitality of the locals of Prabalmachi. In the morning, descend with memories or challenge yourself for an adventure as you can hike up the thrilling Kalavantin Durg or the mighty Prabalgad.
So, what are you waiting for? Just put on your trekking shoes, take your camera, and begin the journey with Liveb4youdie.
Detailed Itinerary:
Day 1
Saturday
04:40 pm Meet LiveB4YouDie Team at Panvel Station
04:45 pm Move towards Thakurwadi (Base Village) in our transfer vehicle
05:30 pm Start trek towards Prabalmachi after a brief session
07:45 pm Reach campsite at Prabalmachi & get Refresh
09:30 pm Prepare for a night under the sky, have delicious local cuisine for dinner,
10:30 pm Night walk to spot Fireflies around us enjoy watching them back to the campsite, and If tired can retire and take rest in tents.
11:00 pm let the Arijit Singh in you come out, play a few games, share stories (especially ghost stories), make new friends and enjoy the campfire.
12:00 am Off to the tents for sound sleep (For those who are very sleepy :P). Day Ends
Day 2
Sunday
06:00 am Wake up call, get fresh an up.
06:30 am Move towards Kalavantin Durg, for those who would like to trek. Others can enjoy their morning at Prabalmachi.
07:30 am Reach the pinnacle, bask in the majestic view from the top, Witness the sunrise from the top. Take selfies with an amazing background.
8:00 am Start the descend towards Prabalmachi
09:00 am Reach Prabalmachi, Campsite have Tea & Snacks
10:00 am Start to descend towards Thakurwadi (After a mandatory group pic!!!)
12:00 pm Reach Thakurwadi, say your goodbyes with a promise to meet again, leave for Panvel in our transfer vehicle.
This brings us to the end of our trip, Or rather just the beginning.
Inclusions:
Transportation from Panvel to Base village to Panvel by private vehicle.
1 Breakfast- Sunday
1 Dinner - Buffet (Veg/Non-Veg and Jain) (Saturday)
Tent 2 People Sharing Basis. (Blanket, Mattress)
LiveB4YouDie Expertise Representatives
All guide and local expertise charges.
First-aid assistance.
Exclusions:
Anything other than mentioned above.
Any kind of personal expenses.
Things to Carry.
Identity proof (Must)
A bottle of water (At least 3 Litters) Must
Camera (on your own risk)
Some ready to eat food - Plum cakes, Biscuits etc.
Torch with an extra battery (Must)
Extra Pair of dry clothes
ORS, Glucose, Electrol, Personal Care Medicine those which you require usually.
A good a trekking shoe, and extra pair of floaters and socks
Please avoid wearing Gold and other ornaments.
Cap
A haversack to put in all the things to be carried, so that one has ones hands-free.
NOTE:
Firefly sightings are dependent on weather conditions. Ideally, this is the best time to sight them. However, we do not take responsibility for low firefly sightings.
Avoid carrying heavy weight backpack for this trek. Keep everything covered in a plastic bag as there can be chances of raining.
The food provided would be a simple village food
This is a budget nature trip. The facilities available at the campsite are minimal.
The tents are simple but cozy, non-luxury tents. The food will be simple but tasty authentic village food.
Since the campsite is at an eco-sensitive zone, permanent toilets are not available at the campsite but can be accessed at a walking distance.
In case of any unexpected change in weather or other unforeseen situations that are beyond our control and due to which camping may not be feasible, the operator will try their best to make alternate stay arrangements in the nearby homestay OR village (subject to availability).
In case it rains, a campfire will not be possible.
The itinerary is indicative only. A circumstantial delay can be expected on the day. Please make post-trip plans after adding a buffer accordingly
Basic Washroom facility (Indian Toilets) available at the Fort, its Trekking, not a leisure trip so one needs to prepare themselves accordingly.
We won't allow any traveler to reach at the Base Village by their own vehicle, as the route is complicated and it creates too much of chaos, we want a smooth and super happening trip.
You can come till the meeting point in your own vehicle and park it there and join our transport from their itself.
Please go through the complete itinerary, we won't entertain any request of leaving early from the event. It's a group event, not a customized one, so please adhere to the schedule and take back lovely memories.
Camping at prabalmachi
Thakur Wadi, Panvel Region, X6J8+P6P, Prabalmachi, Maharashtra 410206, India
GET DIRECTIONS
Prabalmachi Fireflies Camping and Trekking | Liveb4youdie
May 21 | 4:30PM - June 26 | 12:00PM
Camping at prabalmachi, Mumbai
Step out and enjoy this event
Invite your friends
and enjoy a shared experience