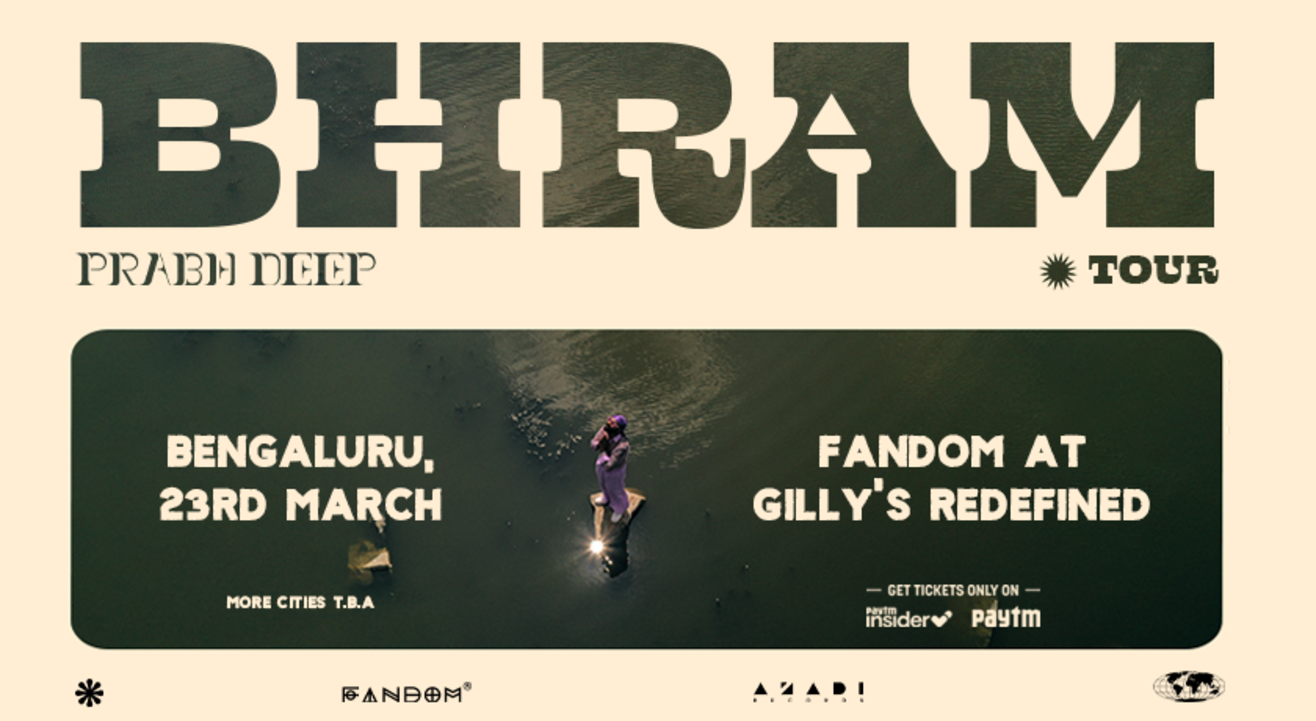 PRABH DEEP - BHRAM TOUR | BENGALURU | 23RD March
March 23 | 9PM - March 24 | 12AM
Fandom at Gilly's Redefined, Bengaluru
Invite your friends
and enjoy a shared experience
PRABH DEEP - BHRAM TOUR | BENGALURU | 23RD March
March 23 | 9PM - March 24 | 12AM
Fandom at Gilly's Redefined, Bengaluru
Invite your friends
and enjoy a shared experience
Invite your friends
and enjoy a shared experience
Watch Prabh Deep perform his masterpiece BHRAM live for the first time, as he embarks on a cross-country tour. The Delhi-based multi-faceted artist has evolved into one of the region's brightest visionaries, making his mark as one of the best storytellers in the game today.
Having carved a space for himself as an avant-garde creative visionary in India's cultural landscape who is consistently reimagining and reinventing his art, he brings an intermedia experience that combines his music and visual cosmos. Performing live in Fandom at Gilly's Redefined, Koramangala, Bengaluru!
Venue: Fandom at Gilly's Redefined, Koramangala, Bengaluru
Time: 9 pm Onwards
Age: 21+
Applicable to patrons above the age of 21. Must carry a valid, govt. approved photo ID. No refunds on purchased tickets are possible, even in case of any rescheduling.
A cover charge of 499 INR is applicable at the gate which can be redeemed against Food and Beverages.
Security procedures, including frisking, remain the right of the management.
No dangerous or potentially hazardous objects including but not limited to weapons, knives, guns, fireworks, helmets, laser devices, or bottles, will be allowed in the venue and may be ejected with or without the owner from the venue.
The consumption of narcotics and illegal substances is strictly prohibited, and all concert-goers are advised against their usage in the venue or around the venue's premise.
The sponsors/performers/organizers are not responsible for any injury or damage occurring due to the event. Promoters or venue is not responsible for the loss of any personal belongings.
People in an inebriated state may not be allowed entry.
Organizers hold the right to deny late entry to the event.
Venue rules apply. Rights to admission are reserved by the venue.
Loose Cigarette packs and illicit substances are prohibited and will not be allowed on the premises.
Fandom at Gilly's Redefined
1st floor of Gillys redefined,# 413, 100 Feet Road,, 4th Block, Koramangala, KHB Block Koramangala, Koramangala 4-B Block, 5th Block, Koramangala, Bengaluru, Karnataka 560034, India
GET DIRECTIONS
PRABH DEEP - BHRAM TOUR | BENGALURU | 23RD March
March 23 | 9PM - March 24 | 12AM
Fandom at Gilly's Redefined, Bengaluru
Invite your friends
and enjoy a shared experience